1. Choose Colourful Candles or Candle Holders, to match Your Wedding Colour Theme
Whether your wedding colour palette consists of bright bold colours or gentle colour shades, you could buy a set of candles to match the theme.
You might be able to find exactly what you are looking for in local shops. Try browsing in gardening centres, home decor shops as well as discount stores.
If you don't find the right candles or candle holders locally or online, don't worry. You could easily purchase glass paints and create DIY candle holders by applying glass enamel over simple small glass cups. Use a good quality brush, for a smooth finish.
Here is an example of candles holders that will match a vintage wedding theme, by Avalon Somerset on Etsy: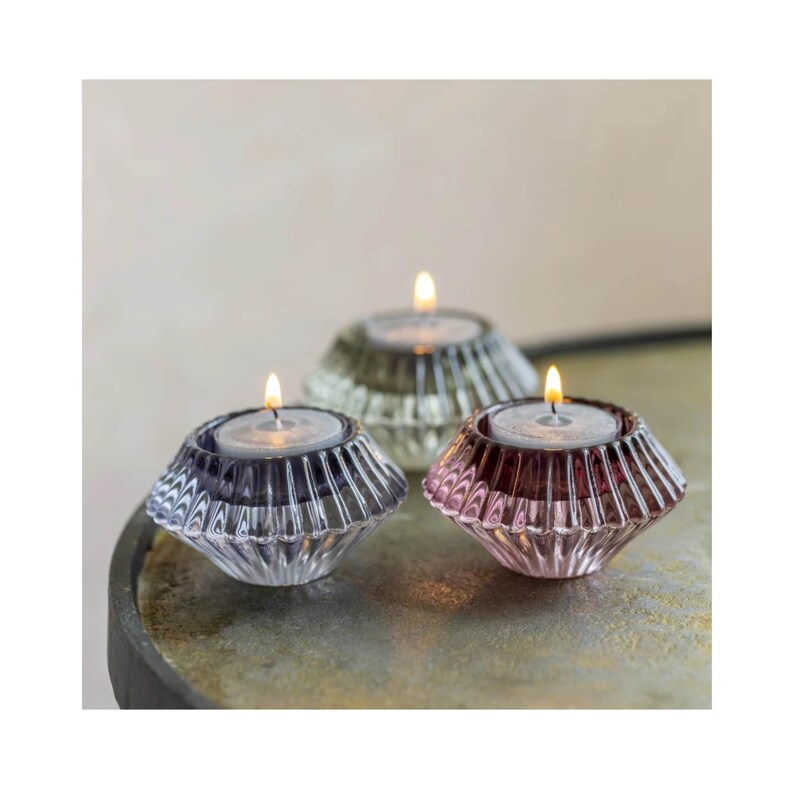 2. Set the Atmosphere with DIY Floating Candles
If you are keen on simple DIY projects, then floating candles could be just the thing for you!
Floating candles can be purchased in bulk, as can bowls or glasses. Floating candles can be arranged in a large shallow bowl. Petals or small flowers could be added to float on the water surface, creating a truly romantic look.
Or, you could use small glasses, such as those shown on the photo on the left. These glasses could have all the same size or you could group various sizes. Place one candle into each glass and once you add water, you are done!
If you feel creative, add pebbles or shells to the bottom of each glass. Crystals or pearls will also look beautiful at the bottom of the glass or the bowl.
Colourful floating candles are another option. Here again, you could either settle on one colour shade or you could combine various colours, to match your wedding colour theme.
Here is an example of a beautiful candle mix, with candles in different sizes, by Your Creative Gift Shop, Etsy.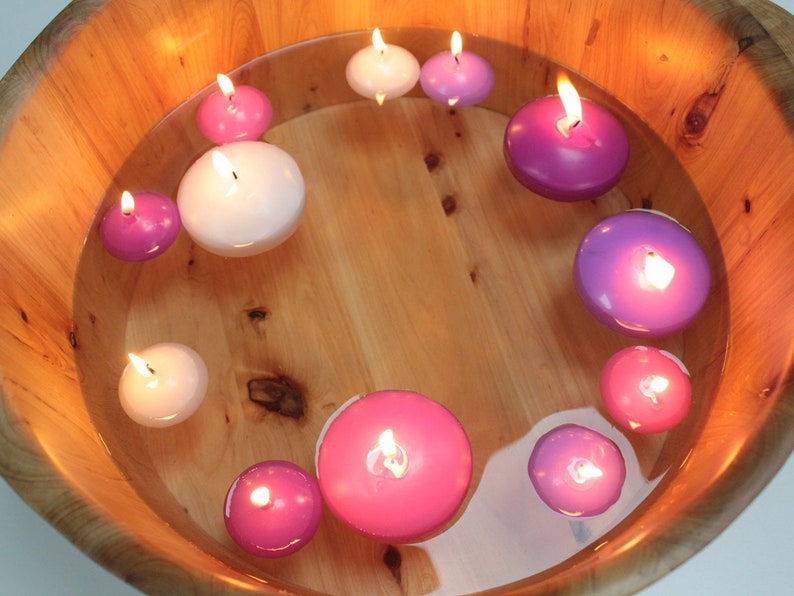 3. Choose Candle Carousels for "Something Different"
Candles carrousels are sold under various names:
Rotating Candle Holder
Candle Mobile
Rotary Carousel
Spinning Votive Candle
… to name just a few.
The heat produced by the candle sets the decoration on top in motion. Candle carousel can be very mesmerizing and you also get a bit of shadow play. If you want your wedding candles to become a talking point, this might be the type of candle to go for!
Candle carousels can be ordered online and are very easy to assemble. You should be able to find carousels with various motifs such as hearts, butterflies or roses from various online suppliers.
Silver plated candle carousels are probably most common but you will be also able to find carousels in gold, copper and brass finish.
We love this one with butterflies by KM Star 20 on Etsy.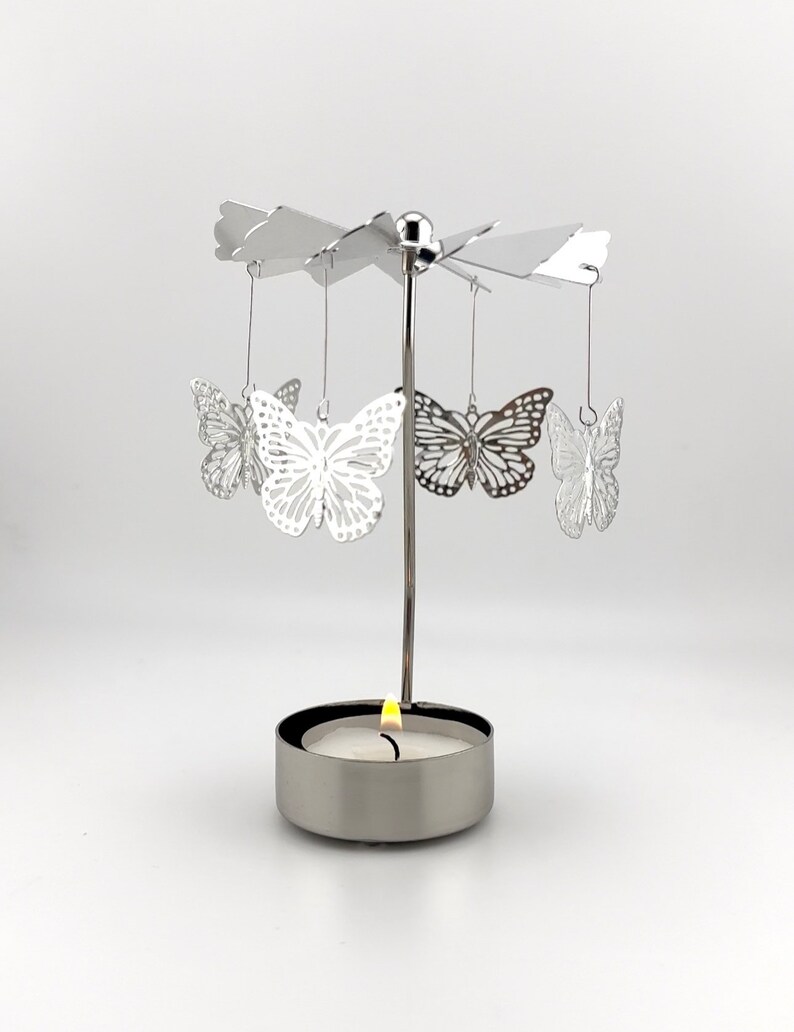 4. Jazz up Your Venue with Glass Candle Lanterns
Wedding candle lanterns will look amazing at any wedding venue. They are probably most popular at outdoor wedding receptions.
There are various types of glass lanterns. You might like lanterns with a DIY feel, such as the mason jar lanterns you can see on the photo. Or, you might prefer square glass lanterns with metallic lining.
Candle lanterns can be incorporated into table centrepieces or floral arrangements.
If you get a set of three lanterns in different sizes and place a few flowers in between these lanterns, you will be amazed by the result. Roses or hydrangea look particular stunning when placed next to lanterns.
Hanging lanterns are popular with all true romantics. If you decide to make your own DIY glass lanterns, make sure that all flammable materials such as ribbon are far enough from the flame and that there are some holes or gaps for air to flow through.
Decorative metal chain is probably the best choice of material when it comes to hanging lanterns.
For a truly unique look, choose candle lanterns with etched glass effects or with metallic filigree detailing. Stain glass lanterns are also sure to create a wow factor at your wedding.
You might like these lanterns with a natural feel by Elizabeth Dawn Crafts on Etsy.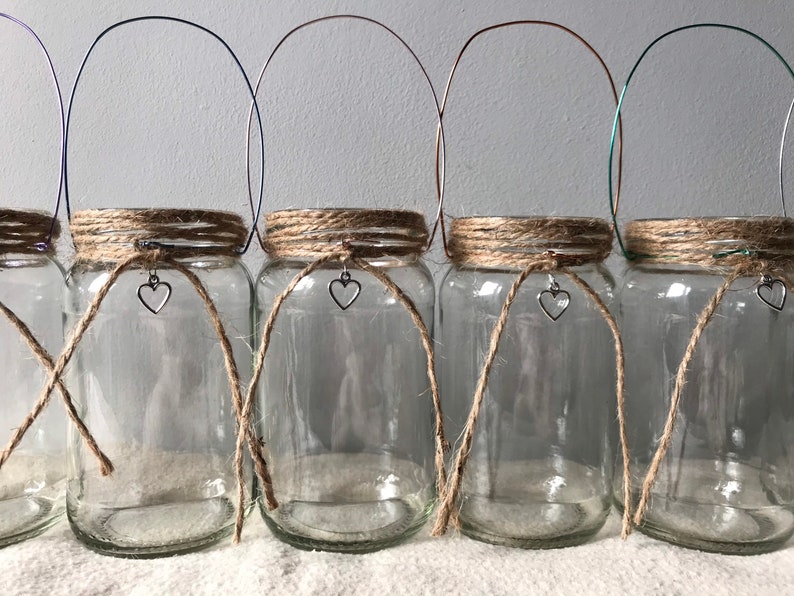 5. Use Dinner Candles to create a Timeless Feel
For a classic look, choose tall dinner candles.
Ask your friends what type of dinner candles might look best at your weddings. Many people like pure white or ivory candles but others might come up with some wonderful ideas such as gold coloured, purple or burgundy candles.
Candles in gentle colour shades such as ballet pink or sage green will also look amazing.
You could use very simple candle holders. Or, choose candle holders that will stand out, such as tall crystal candle holders or brass candle holders. These will need to match or complement the rest of the table decorations.
Dinner candles give wedding tables a luxurious feel. They look amazing when placed at the centre of the table, over a table runner made of lace or any other beautiful fabric.
Dinner candles stand out on photographs and will make your wedding venue the perfect timeless backdrop where the most wonderful memories can be captured on camera.
Whichever type of candle you choose, consider saving some for later. Use these 'leftover' candles to decorate your table at your first wedding anniversary or at special occasions you will share as the new Mr. & Mrs.
The beautiful blue dinner candles on the picture below are by Seventh Heaven Aroma, an Etsy Seller.