Rose petals, champagne bubbles, confetti and satin ribbons… the perfect ingredients for creating the right ambiance at a wedding reception.
But now, ….did anyone say pumpkins? Well, why not? Let's look at some option how pumpkins can be incorporated into weddings.
Disclaimer: The links below are affiliate links. If you click through any of the links and make a purchase, we might earn a small commission but that's at no extra cost to you.
If you want to give your wedding reception a cosy, warm feel, pumpkins might be just the way to go! Wedding pumpkin DIY projects are fun and are suitable for crafters of all levels, even those of you who haven't made anything in years.
As pumpkins and squashes come in various colours, you could either create decorations in autumn colours such as warm shades of orange, brown and dark green or you could mix different shades of light green and dark green with off-white and grey.
Pumpkins and Flowers
Let's start with pumpkin flower arrangements.
Probably all of us have the experience of scooping out the juicy bits of a big round pumpkin (or a wonky pumpkin) to create a scary Halloween decoration.
You could create an unusual base for a flower arrangement using the same technique.
No need for a scary face this time, one cut through the upper part of the pumpkin will be enough.
The edge could be smooth, wavy of scalloped, that's entirely up to you. Once you scoop out the soft parts of the pumpkin, you can pop in a wet flower arranging foam brick. Add flowers, twigs and branches. Once finished, you can use your pumpkin creation as a table centrepiece.
If you want something even more special how about the velvet pumpkin that you can see on the photo below, by Handmade Dolls by Yana on Etsy?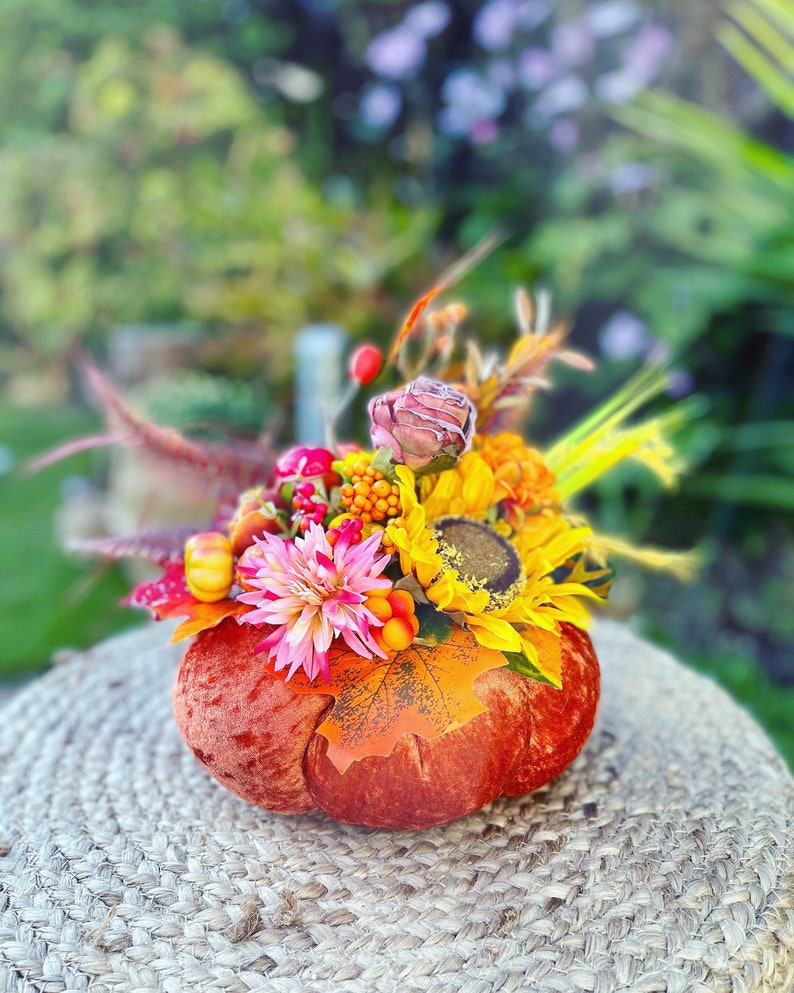 Pumpkins Candles
You could also create various decorations consisting of candles and pumpkins. If you choose orange pumpkins, team them up with pretty orange, yellow or red candles.
If you choose white or green pumpkins, use white or silver candles.
The arrangement does not have to be a design masterpiece, a simple candle surrounded by a few miniature pumpkins, placed on a wooden frame will do just fine.
Here again, these arrangements can be used as table centrepieces.
If you would like to add a bit of sparkle, choose a candle holder with a bit of glitter or glue sparkly diamantes onto the pumpkins. For a striking look, dip each pumpkins in glue and glitter.
Ready made candles can look adorable as well, we love these by Le Bon Candles on Etsy.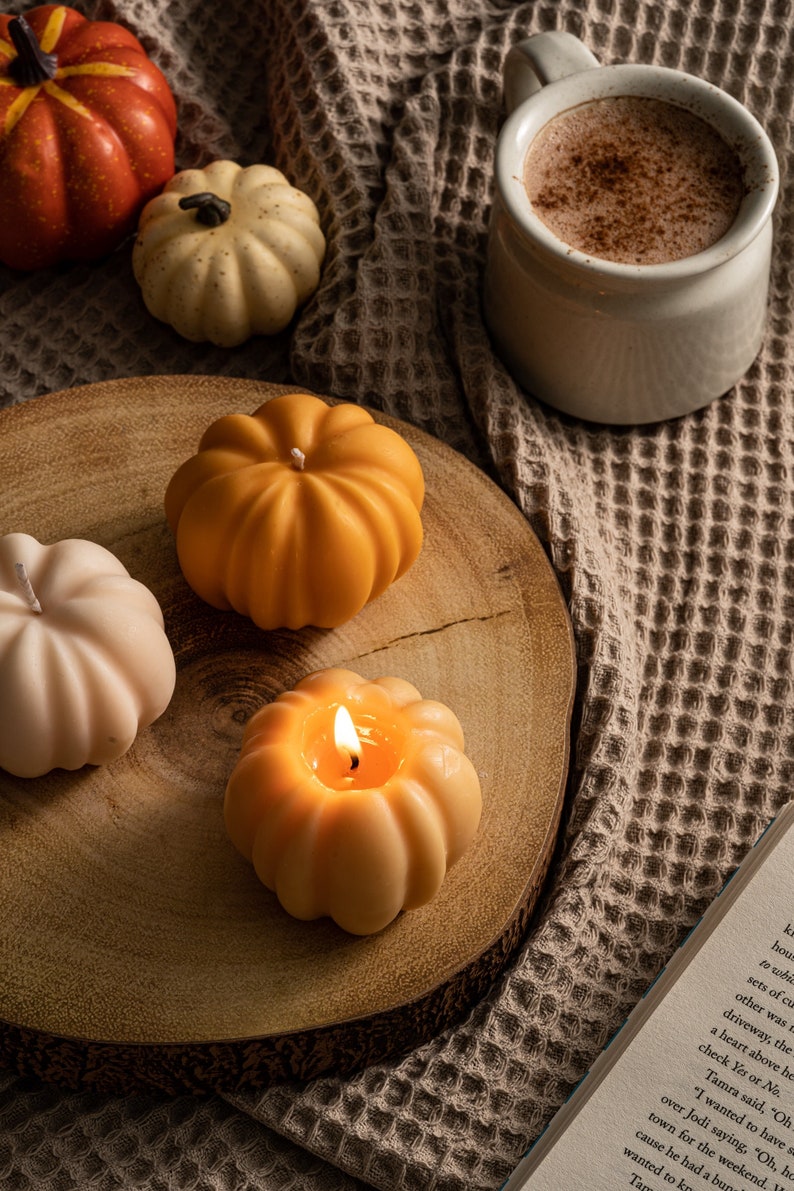 Pumpkin Place Card Holders
And here is another idea: pumpkin table number holders. If you are looking for a simple project, simply draw the table number directly onto the pumpkin, using a sharpie.
If you are after a slightly more challenging DIY project, spray paint each pumpkin with silver or gold paint. Wrap wired ribbon or a piece of hobby wire around the top of the pumpkin and attach a table number on top.
The same idea could be used for name cards. Spray-paint mini pumpkins and write guest names directly onto the pumpkin. Or, punch a hole in each place card. Pull a ribbon through the hole a tie the ribbon to the top of a miniature pumpkin.
The place card holder on the photo below are by Busy Bees Craft Studio on Etsy.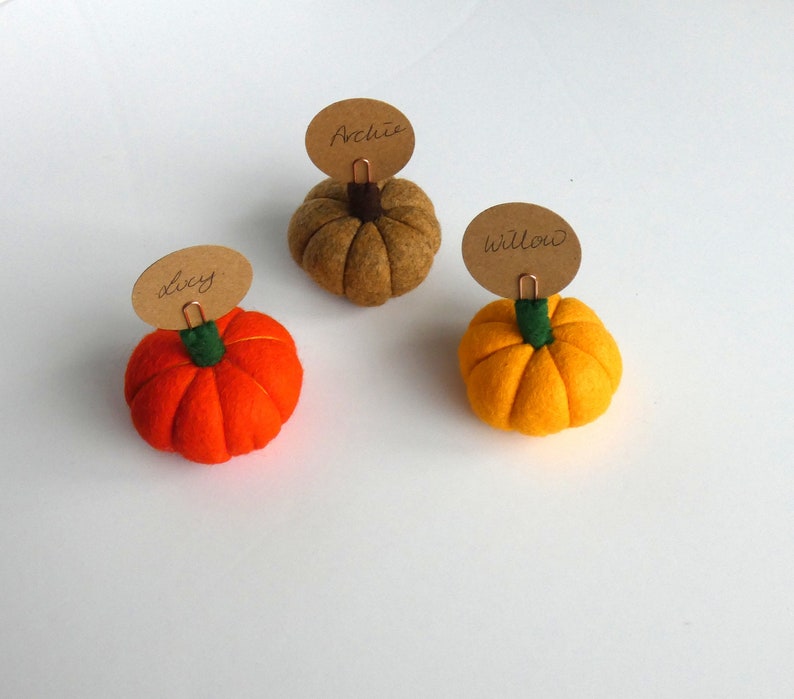 Pumpkins as Table Decorations
Pumpkins also look pretty when used as table decorations.
Place a few pumpkins or small squashes on a table with simple table cloth. You could use a table runner as well.
For an eye-catching arrangement, use pumpkins in a few different colours, such as white, light green and dark green.
Add other decorations such as candle holders, crystal vases, flowers and napkins.
Coloured autumn leaves will be a nice addition to a table decorated by orange pumpkins. Scatter table crystal or white flowers will look amazing at a table decorated by white and/or green pumpkins.
You might like concrete pumpkins such as these by Meraki Boutique Home on Etsy.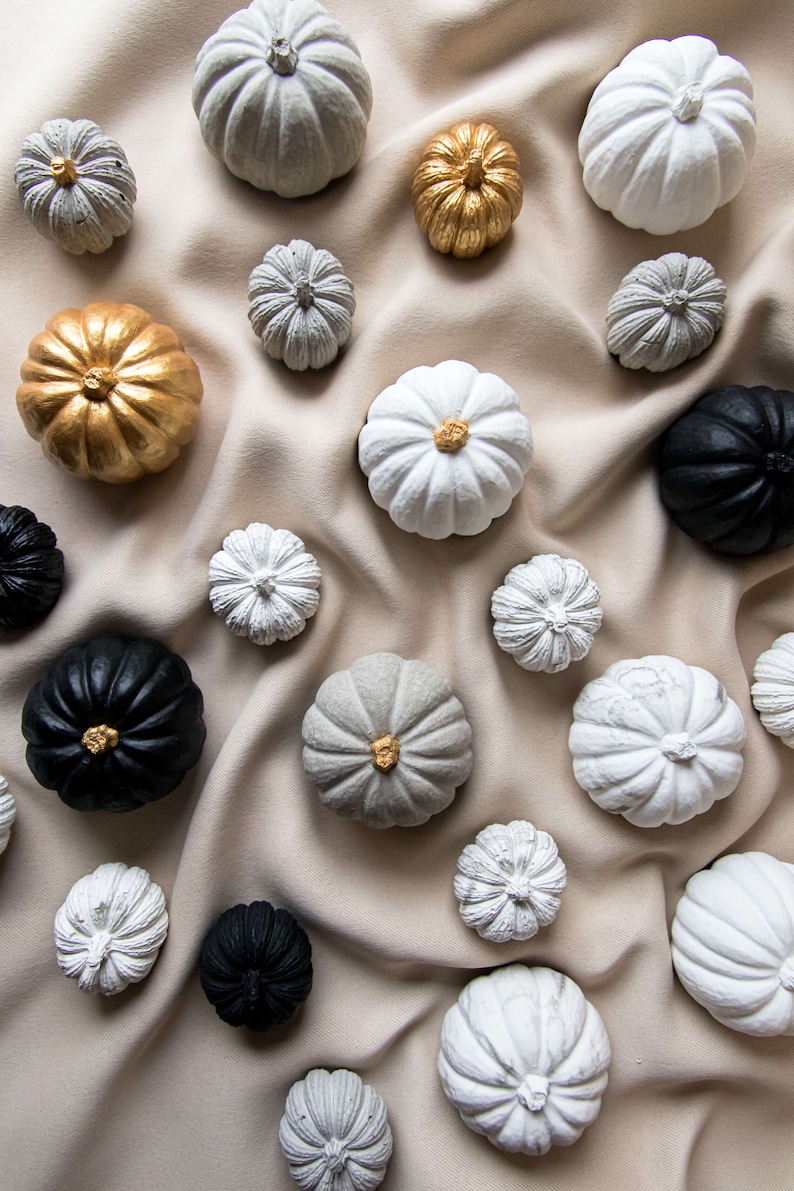 Pumpkin Pie
And finally, let's talk pumpkin pie! There are myriads of pumpkin pie recipes online although you might want to stick to your secret family recipe to make the wedding reception special.
You could decorate the edges of the pie with heart shaped pastry pieces. Or, you could use motifs that match your wedding theme, such as leaves.
You could arrange your pumpkin pies onto a three tier cake stand or place them on a table together with other sweet treats.
Mini pumpkin pies will also look great and could double-up as wedding favours for your guests.
You could experiment with the flavour, your guest might like this pumpkin pie with nutella by The Italian Pastry Store on Etsy.