Are you planning a winter wedding? If you're looking for a unique and magical way to decorate your wedding venue, why not try snowflakes? Snowflakes are not only beautiful and festive, but they also symbolize purity, individuality and harmony. Here are some tips on how to create a winter wonderland with snowflakes for your special day.
Snowflakes are a perfect way to decorate your wedding venue with style and elegance. They will make your wedding day unforgettable and enchanting for you and your guests
Disclaimer: The links below are affiliate links. If you click on any of the links and make a purchase, we might earn a small commission but that is at no extra cost to you.
1. Acrylic Snowflake Decorations
Acrylic snowflake decorations come in many different shapes and sizes. They look pure and romantic and are simply perfect for winter weddings.
Clear acrylic snowflakes look best at weddings styled in silver, white and light-blue tones. But you can't go wrong with snowflakes at winter weddings. If you have your heart set on a warm Christmas colour scheme, perhaps a combination of dark red, dark green and gold, you can be sure that clear snowflakes will still blend in nicely.
Acrylic snowflake ornaments could be given to guests as practical wedding favours with an elegant tag with the words "thank you for sharing our special day with us". Or, you could collect all snowflakes that were used for decorating the wedding venue. and place them in a nice box. This box could be then given as a special Christmas tree decoration set to the parents of the bride or the groom. Or, the snowflake decorations could be kept by the new Mr & Mrs, brightening their household each Christmas.
Here is another idea for you. Use acrylic snowflakes personalised with guest's names, like the one on the photo below by Digital Cat Stories on Etsy as place settings. Your guests will then keep this truly special personalised item and use it as a Christmas decoration.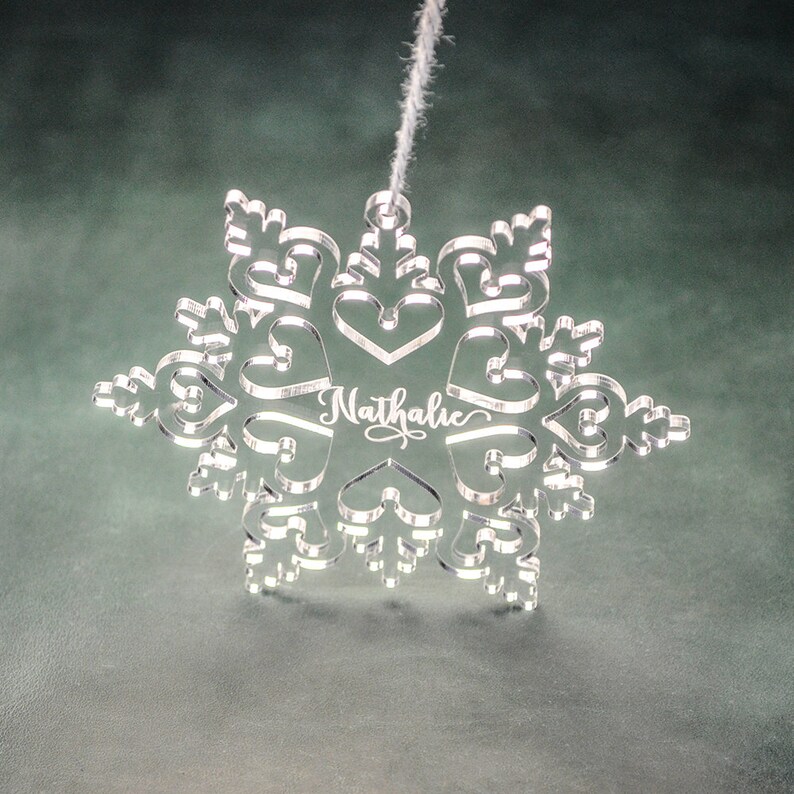 ---
2. Snowflake Cocktails
Winter cocktails often have the form of winter warmers. Cranberries, cinnamon, cloves and brandy might be the flavours that come to your mind when winter cocktails are mentioned.
Cocktails can also have a crisp, icy look. The edge of the glass can be coated in sugar, resembling freshly fallen snow. For an fresh, icy look, serve your coctails in etched glasses with snowflake motives. Or, get eye-catching cocktail stirrers that are snowflake-shaped, such as those on the photo below, by Clouds and Currents on Etsy. Printed cocktail napkins with the happy couple's initials and snowflakes is another option of the perfect finishing touch.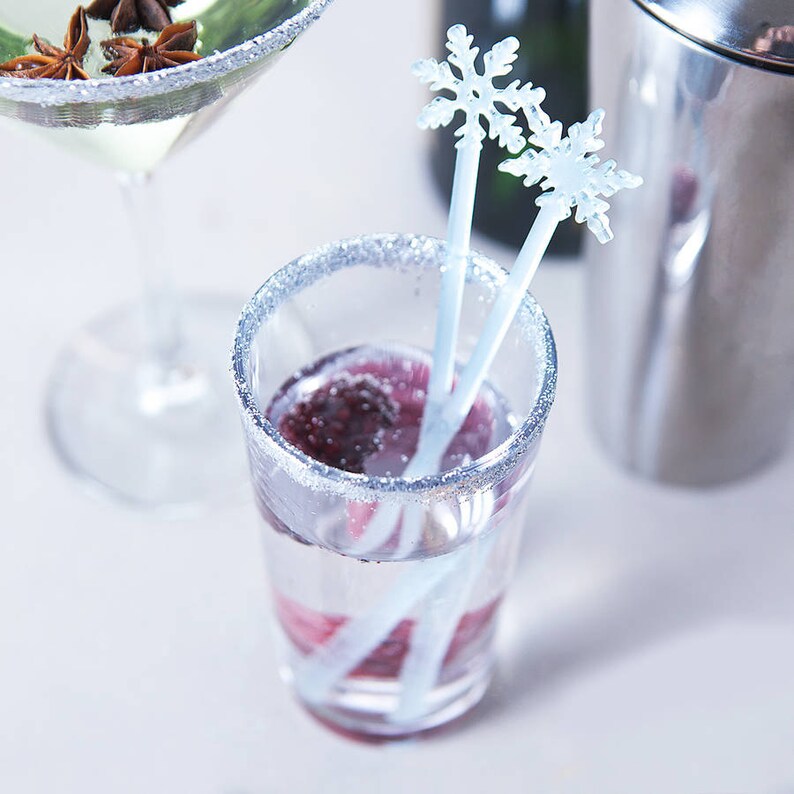 ---
3. Snowflake Cookies
Snowflake-shaped cookie cutters are not difficult to find. For a very simple DIY project, use the same cookie cutters for the cookies and the sugarpaste.
A snowflake cookie covered in white sugar paste is nice enough on its own. Snowflake cookies could be arranged on a tray or in a basket.
You could use a small piping bag to decorate the cookie, forming neat lines.
To make the cookies very personal, pipe the guests' names on the cookies and use them as place settings or as wedding favours.
Here is a link to an adorable cookie cutter on Etsy, by Little Barn Cake Supply.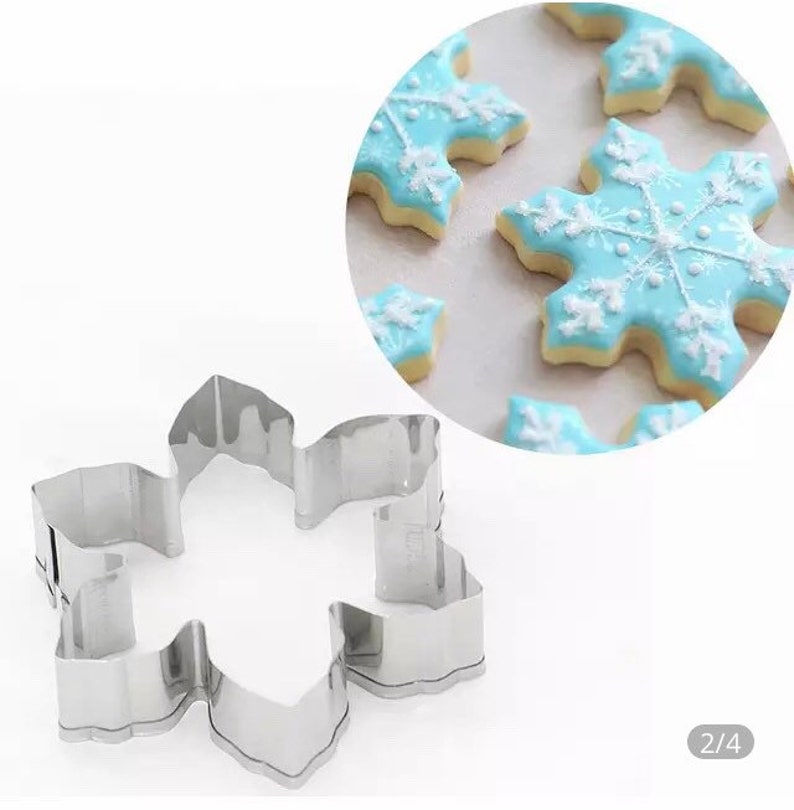 ---
4. Snow Photography
Couples getting married in Nordic countries or other countries where snow is practically guaranteed during winter could explore various photographic opportunities.
The bride's and groom's initials or the wedding date could be written in snow and photographed. Even a simple heart drawn in snow will look marvellous on photographs.
The couple could make a heart-shaped snowball and hold this snowball in their hand, with the wedding rings showing.
5. Snowflake Confetti
Miniature snowflakes, whether made of paper or wood could be used as table confetti. Plastic confetti also looks fabulous but if you prefer an eco-friendly option, paper or wood is a far better choice.
Be playful when arranging your confetti. Try scattering adorable miniature snowflakes across the whole table or create a patch with snowflakes in the central part of the table, instead of using a table runner. Or, place tiny snowflake decorations around your centerpiece or around other decorations, such as candles.
For that "Aww" moment, place snowflake confetti in flower girls baskets and let the flower girls scattered them onto the aisle, while they walk. Although snowflkes represent winter you can be sure that this scene will melt everyone's heart!
Here is an example of nicely made wooden confetti, by All The Year Round Shop on Etsy.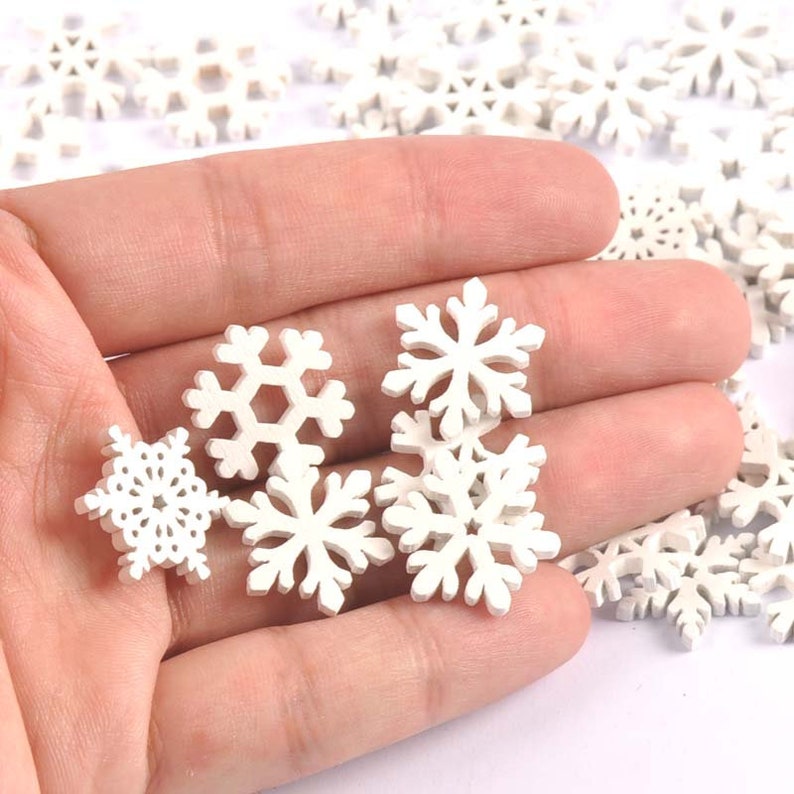 Learn More
Would you like to learn how to make bespoke bridal headpieces and how to turn this hobby into living? Check out our one-year online diploma course BH&J Pro (Bridal Headpieces and Jewellery) by clicking here >>>
Alternatively, e-mail us at hello@weddingcraftsacademy.com or call us on (0044) 07938 236 497