In the mood for something pink and sweet? Let's indulge in some romantic treats today. We bring you nine simple ideas of pink desserts that could be added to a wedding menu or to a romantic menu for two.
Disclaimer: Some of the links below are affiliate links. If you click through the links and make a purchase, we might earn a small commission but that's at no extra cost to you.
1. Pink, Sweet and Good for You – Cherries and Berries
Let's start with a healthy option.
Pink comes in many different shades. Maybe your dinner could be followed by a healthy fruit salad or a bowl of whole fruits, such as deep-pink cherries, strawberries or raspberries? If the fruit you are serving is not the perfect match to your pink colour scheme, which might be anything from ballet pink to cerise pink, you could use pink bowls, napkins or plates.
For a more indulgent option, serve cherries dipped in chocolate, on their own, or together with an dessert such as chocolate mousse. Some of your guests might also appreciate luxurious cherries soaked in alcohol, such as those on the photo below by Jacqueline Treats on Etsy.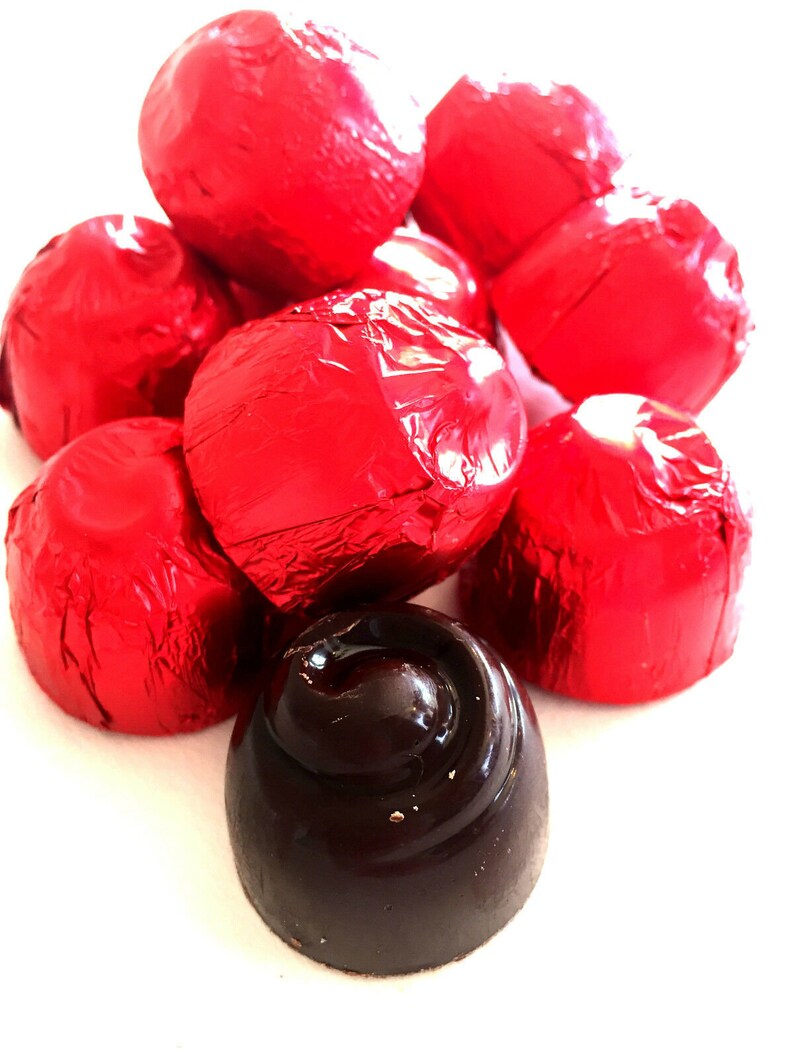 2. Stylish and Sophisticated – Pink Truffles
Quality pink champagne truffles are made with real Champagne, chocolate, cream and strawberries. They are typically dusted in very fine sugar, which makes them simply irresistible. They are definitely not an every-day type of chocolates are therefore perfect for weddings and special occassions.
If your skill set includes chocolate making, you could make your own. Maybe opt out for simple pink chocolate truffles, if Champagne ones seem too much of a challenge. If you've never made chocolates before but would like to it, here is an idea for you. With an easy DIY kit such as the one the photo below, by Gift Box Fairy on Etsy, chocolate making could be your newly found favourite hobby. You could buy a nice heart-shaped box to place handmade truffles in or arrange them on a tray.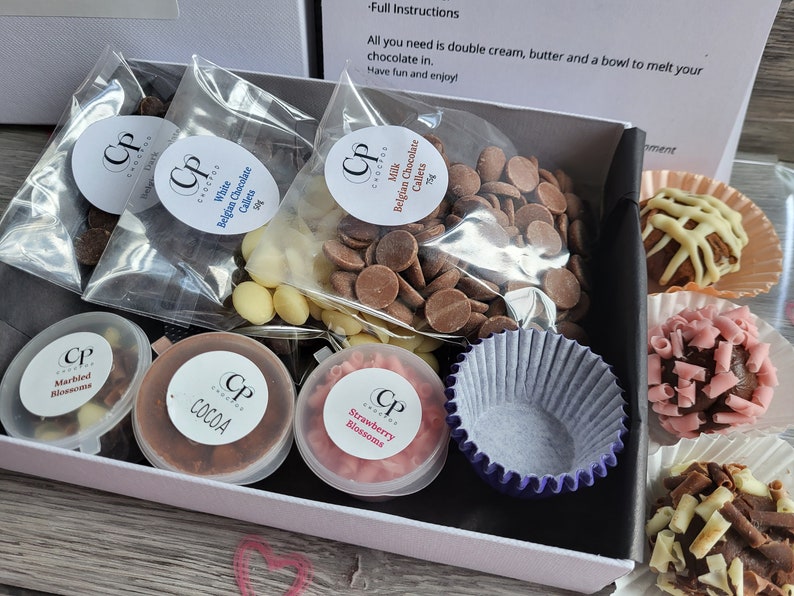 3. The Ultimate Romantic Dessert – Pink Macarons
If there was a competition for the most romantic dessert on the planet, would macarons win?
For a romantic dinner with a dessert served à la mode, you can't go wrong with macarons. Macarons look lovely arranged on a plate or a cake stand, placed in a gift box or arranged into a macaron tower.
If you want your macarons to be pink, you have many options to choose from. Raspberry, strawberry, rose, rose-champagne, pink lemonade and turkish delight are all popular when it comes to macaron flavours. The macarons you see on the photo below are raspberry flavoured and can be ordered from Sugar Glaze Bakery on Etsy.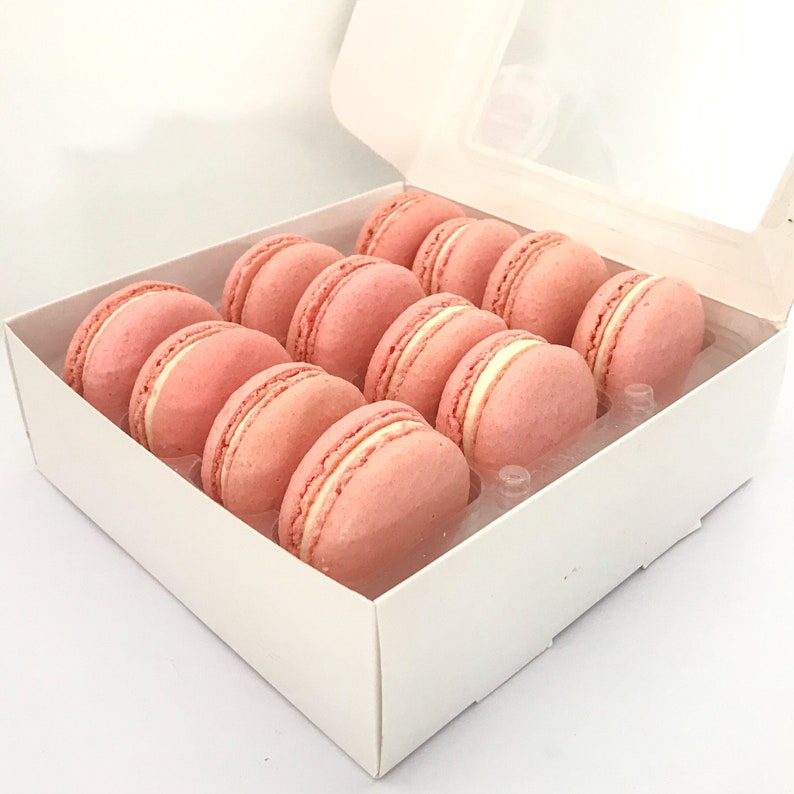 4. The Trendy Option: Beetroot Latte
Have you discovered beetroot latte yet? This intriguing drink is a hot trend on health and wellbeing blogs. Beetroot latte is typically made with almond milk and without refined sugar or syrups, the sweetness comes from the beetroot.
To enhance the sweetness of beetroot, a drop of natural honey or agave syrup can be added, alongside with other ingredients such as ginger, cinnamon or unrefined cocoa.
Although this trend might not be for everyone, if you are looking for a treat that is pink, sweet and also good for you, beetroot latte is worth considering. Here is a link to a delicious beetroot latte powder on Etsy, by Noetic Health.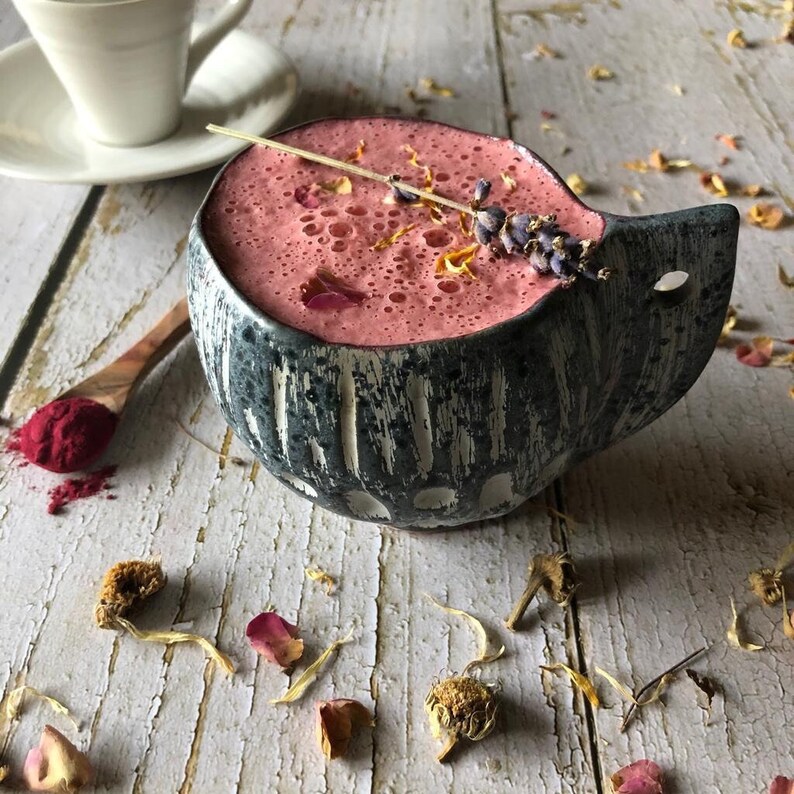 5. Love is Cool: Pink Ice Cream
If pink chocolate truffles or beetroot latte did not catch your attention, how about serving pink ice-cream or pink sorbet? A few scoops of a raspberry sorbet won't disappoint any food lover.
You could scatter some rose petals on top of your ice cream. Dried or fresh fruit will also look amazing. If you would like to use a decorative topping that will add contrast to you pretty pink ice cream, use fresh mint leaves.
Or maybe ice-popsicles might look best at your table? We absolutely love the shape of the popsicles on the photo below, made with a mould from Sugar Stamp Ltd on Etsy.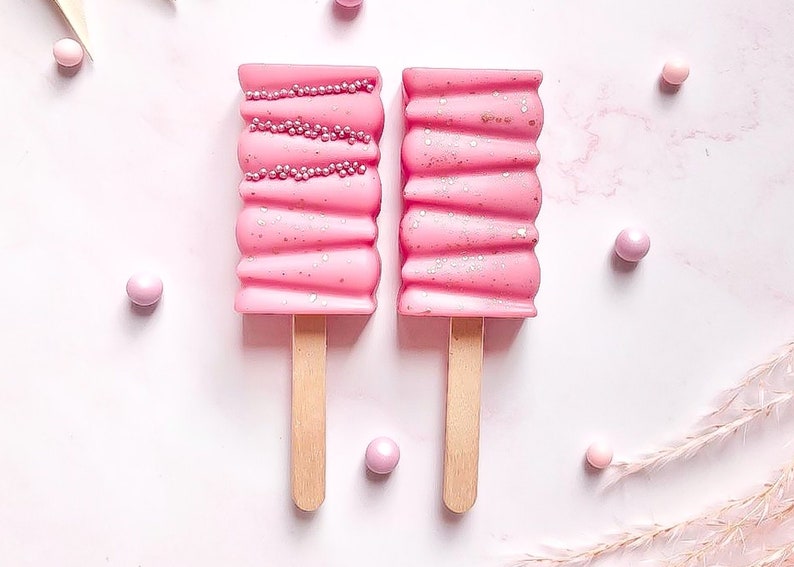 6. Grown-ups Only: Pink Cocktails
Cocktails definitely won't look out of place at any wedding reception or when served before or after a dinner for two.
Some cocktails even have the work "pink" in their name. For example, "Pink Lady" is typically made with Grenadine, gin and white eggs and is decorated with a cherry.
There are also many cocktails that have pink champagne as the main ingredient.
Gin and pink tonic is another simple yet indulgent drink.
If you like the idea of pink cocktails you will probably love this Shimmer Pink Sugar, by The Salty Rim Co on Etsy.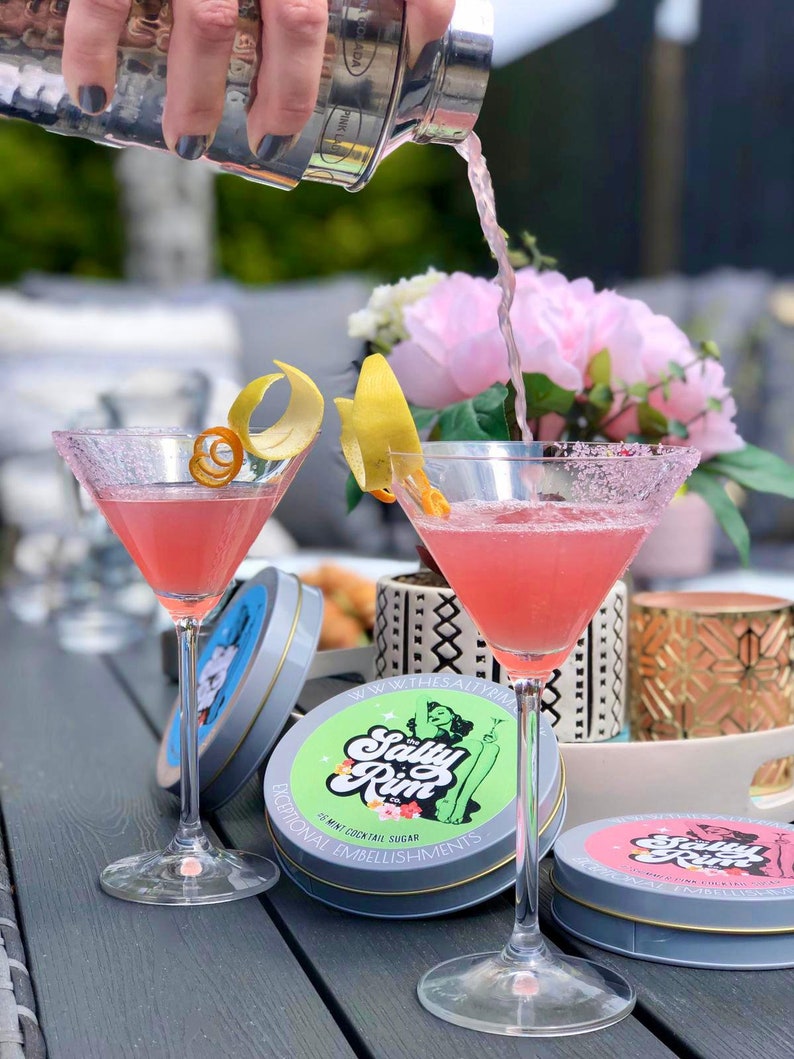 7. Pink Foiled Chocolate Hearts
If you are in rush, how about serving some chocolates in pink foil? Pink foiled chocolates could be used as table decorations. They could be scattered around table centrepieces or placed on top napkins.
Many delicatessen shops, as well as supermarkets stock pink foiled chocolates this time of year so why not add them to your menu?
Pink foiled chocolates will look beautiful whether they all have the same colour or different shades or pink. For example chocolates in baby pink foil mixed with chocolates with deep pink foil will look striking. The chocolates on the photo below are by Party Here Ltd on Etsy.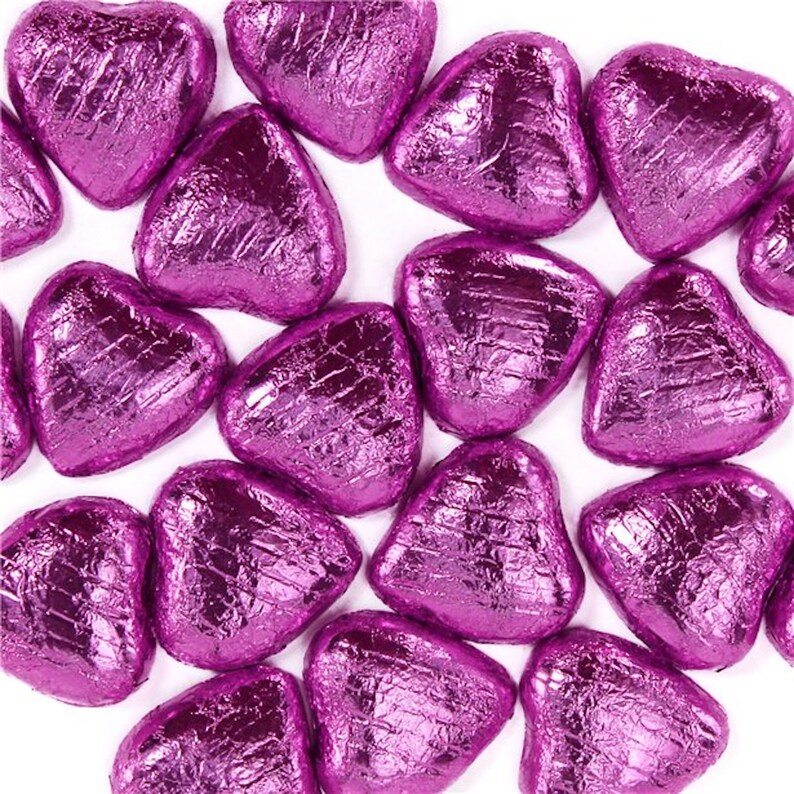 8. Ruby Chocolate
Did you know that there is a type of cocoa that is naturally pink? Ruby cocoa is used to make many different types of chocolates, including chocolate bars, chocolate truffles and hot chocolate.
If you can't decide between dark, milk or white chocolate, go pink! Ruby chocolate used be to very rare but is now available for many different suppliers. Be careful not to purchase chocolate with pink colouring rather than genuine ruby chocolate. Here is an example of ruby chocolate by Inspired Chocolate on Etsy.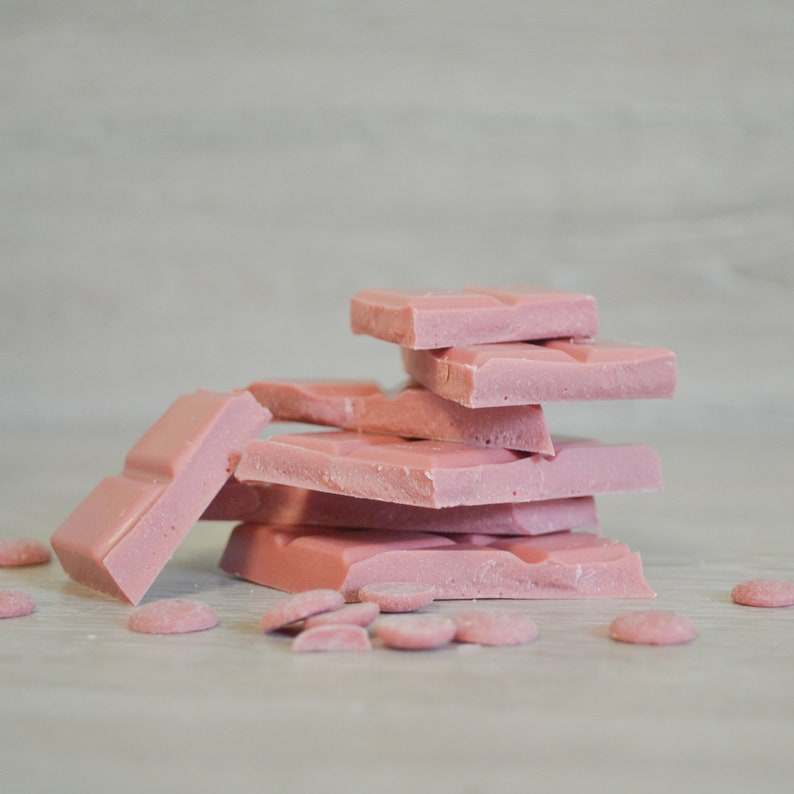 9. Toppings and Sprinkles
If you've already decided on a dessert but would like to add a touch of pink, use pink chocolate shavings, pink chocolate chips or pink sprinkles. Try to find pink decorations with natural ingredients. Some pink sprinkles are made with extras of beetroot or flower extracts. You could also melt some ruby chocolate and use this chocolate to decorate the dessert you are serving, whether you decide on a chocolate cake, a light cheesecake or stylish crepes.
Here is just one example of pink sprinkles you could use, by CJ Craft Supplies on Etsy.