Today I want to share with you some ideas for macrame decorations for weddings. Macrame is a type of textile art that uses knots to create patterns and shapes. It's a great way to add some boho chic and natural vibes to your special day. Off-white and beige are the most common maracame colours as most macrame decorations have a natural feel. But there is nothing stopping you from adding a splash of colour in the form or colourful ropes or colourful beads. And if you don't master this technique but like the look of macrame decorations, don't worry, there is a wide range of ready made product to choose from, with bespoke options available.
Disclaimer: The links below are affiliate links. If you click through any of the links and make a purchase, we might earn a small commission, but that is at no extra cost to you.
Macrame Backdrop
A macrame backdrop is a stunning focal point for your ceremony or reception. You can hang it on a wooden frame, a metal hoop, or a tree branch. You can also add some flowers, greenery, or fairy lights to make it more romantic. Let your guest swoon over a beautiful made backdrop, such as the extra large on on the photo below, by The Knot Barn on Etsy.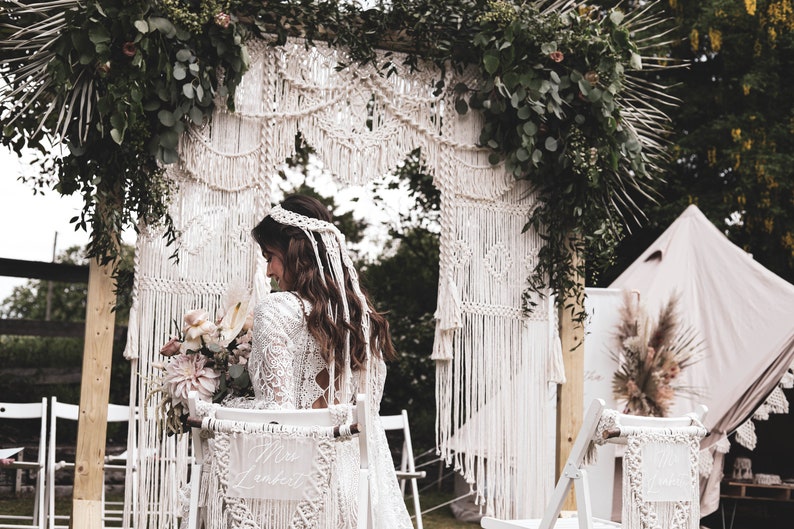 Macrame Table Runner
A macrame table runner is a simple but elegant way to dress up your tables. You can choose a plain or patterned macrame runner, depending on your style and theme. You can also layer it with other fabrics, such as lace or linen, for more texture and contrast.The one you see on the photo below if made of cotton and can be made to your exact measurements, by Wall Knot on Etsy.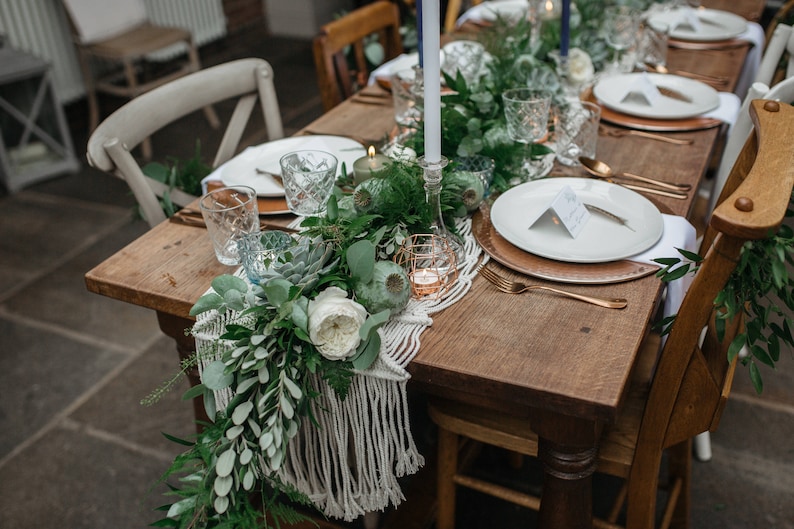 Macrame Chair Covers
A macrame chair cover is a cozy and cute way to personalize your chairs. You can use a macrame square, triangle, or circle to cover the back of your chair. You can also tie some ribbons, tassels, or pom poms to the ends for some extra flair. Here is an example of handcrafted chair decorations by Wall Knot on Etsy.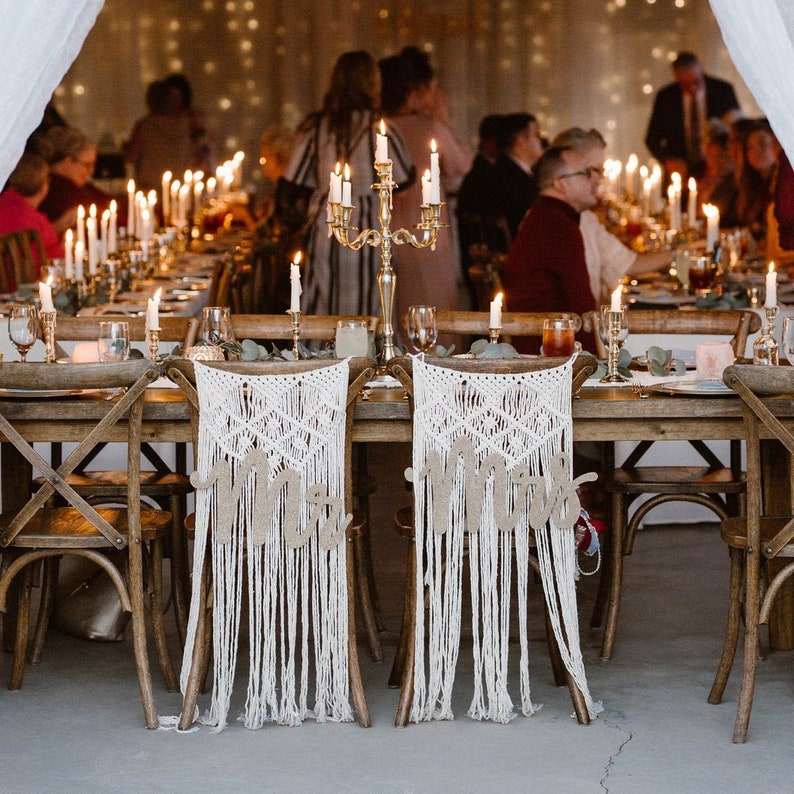 Macrame Bouquet Wrap
A macrame bouquet wrap is a lovely way to add some detail and charm to your flowers. You can use a macrame cord, ribbon, or lace to wrap around your bouquet stem. You can also incorporate some beads, pearls, or crystals to make it more sparkly. The bouquet decoration you see on the photo below is by The Knot Barn, Etsy. It can be attached to the bouquet in a fuss-free way, by simply tying around the base of the bouquet and securing with a knot.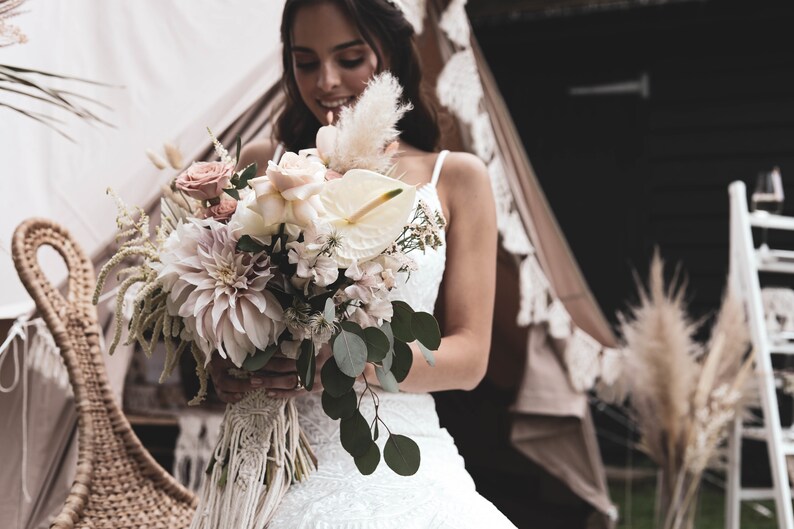 Macrame Wedding Favours
A macrame favour is a thoughtful and unique way to thank your guests for coming. You can make or buy some small macrame items, such as keychains, coasters, bookmarks, or plant hangers. You can also attach a personalized tag or card to each favour. If you would prefer a ready made macrame key rings, you might like these beautiful ones by Just Josie xx on Etsy.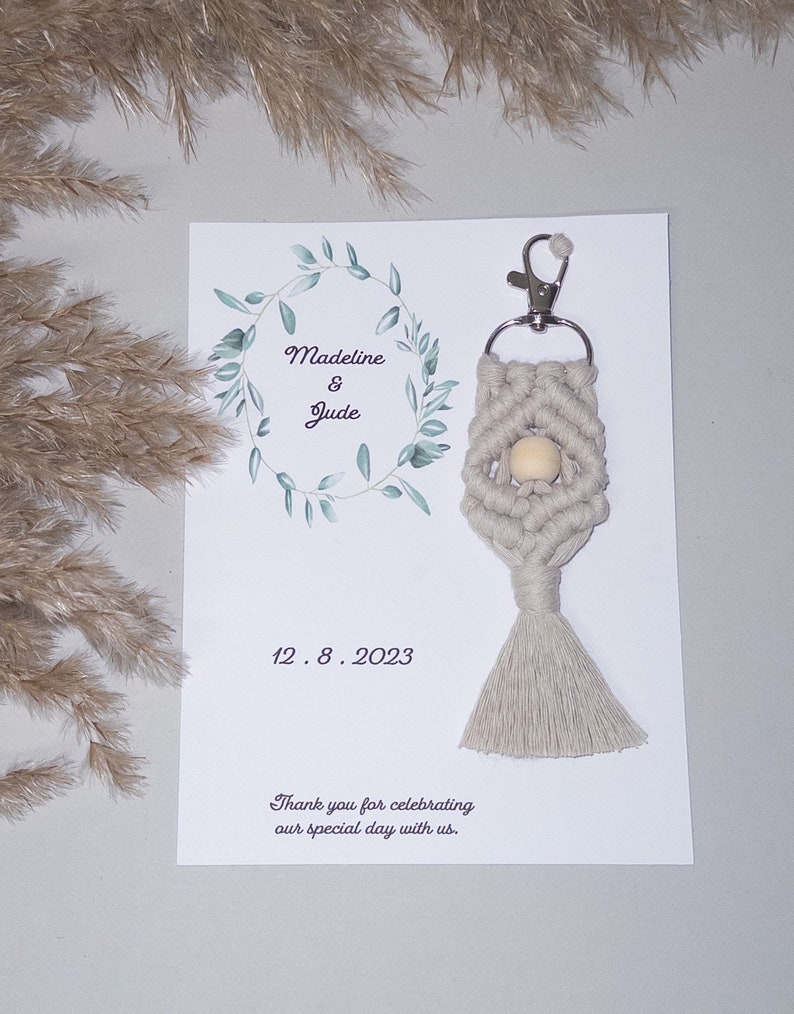 I hope you enjoyed these ideas for macrame decorations for weddings. Macrame is a versatile and beautiful craft that can add some warmth and personality to your big day.