It's so sad how many weddings are being postponed due to Covid19.
Some couples make the best of the situation and take comfort in knowing that being in love is more precious than having the perfect party on the date they have chosen.
Others get incredibly stressed and don't know where to start when it comes to the practical matters of postponing their wedding.
Whether you are planning your own wedding, are a wedding planner or just a wedding expert keeping an eye on the latest developments in wedding planning, we bring you a blog post featuring one of the latest trends in wedding stationery: "Change the Date" Cards. 
As many couples find themselves in the situation that they need to notify their wedding guests about a wedding postponement, wedding stationery responded quickly by creating various new stationery items such as "Change the Date" cards or "Change of Plan" announcements. 
We will also look at simple options such as sending e-mails or calling all relatives and friends by phone. You will also read about a real-life wedding postponement, as Lucy, a bride-to-be, shares her story with us, telling us that "The wellbeing of our nearest and dearest was far more important to us than the ceremony".
Change the Date Cards
The advantage of "Change the Date" cards is that couples don't need to worry that the new date will not be duly noted. Let's be honest, if you call all your relatives and friends with a new date, how many are likely to call back asking what the new date was? There are practical issues to consider though. Sending out an electronic notification might be a safer option, given the current circumstances. 
If you decide to go ahead with stylish printed announcements, these can be ordered from any wedding stationery supplier, as long as they offer a bespoke service. The images of "Change the Date" stationery sets you can see on the left hand side are a courtesy of a well-known International supplier Hochzeitsplaza, based in Hamburg, Germany.
If you scroll down, you will see more examples of change the date cards, this time by various independent Etsy suppliers. It's incredible how many new designs are appearing online. The selection of printed announcements that can be ordered online from various sellers is wide, from simple & humourous to elegant & handmade cards. 
Change the Date Cards by Etsy Sellers: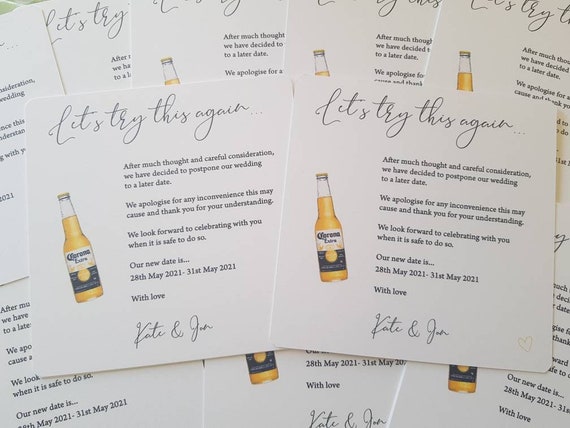 ---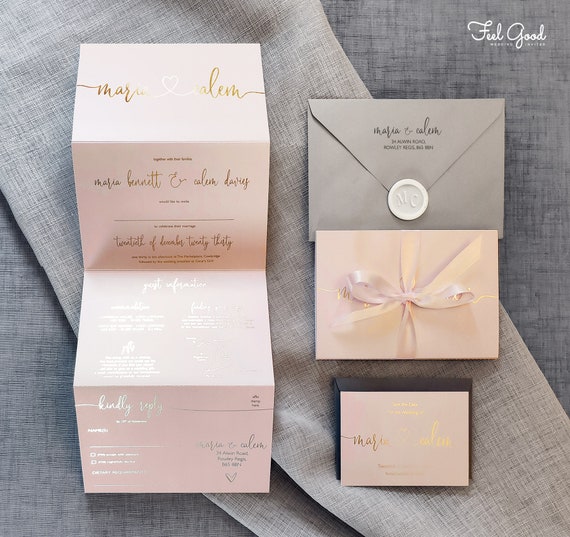 ---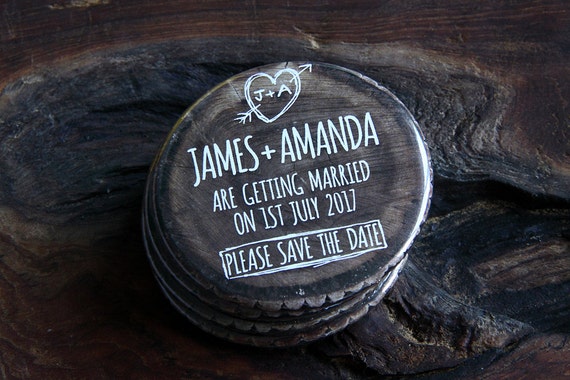 Simple Options 
Given the circumstances, couples don't need to be worried that they might disappoint their guests by not following the etiquette. Even with traditional weddings where printed wedding invites are usually expected, any solution is acceptable. Sending e-mails, social media messages or calling friends and relatives by phone is a great solution. It might be a good idea to ask for an acknowledgement that the message has been received, especially when it comes to elderly guests who get confused easily or are not likely to check their e-mails. In the ideal case, the couple will already have a mailing list and / or a wedding website and updates and notifications will be easy to send. 
---
And finally, we saved the best for last…. a real life story about couple in love, sharing their journey with us. Feel free to leave a comment for Lucy and Gill below.
Real Life Story 
When Gill proposed, we both had the same thought: Let's get married in Italy.
Over the following 18 months we visited venues, dealt with bureaucracy, overcame language barriers and bought my dress. Everything was relatively hiccup free.
Until the middle of March.
Italy was being hammered by the coronavirus outbreak. The number of cases and deaths kept increasing everyday, especially in the regions that surrounding our wedding venue.
It was heartbreaking, but we kept hoping it would all blow over. We discussed the situation almost daily for weeks on end, considering a postponement before hoping for the best.
But then we discovered that our wedding venue had closed. All our plans began to disintegrate like wet crepe paper.
The same night, we realised we had no choice but to postpone our dream wedding. Sat in the kitchen, we drafted a WhatsApp message to all our guests (who had booked flights and hotels) and broke the news. We explained the situation and how disappointed we were, but that we had no alternative.
It sounds odd, but that was the point at which things calmed down for us. The decision was no longer our own and there was nothing more we could do about it. The wellbeing of our nearest and dearest was far more important to us than the ceremony.
Since then, our friends and family have been amazingly supportive. They all responded saying how sorry they were for us and offering help and support – and that they can't wait until we can do it for real.
But, if I'm being totally honest, we don't have a new date; with the situation shifting so quickly beneath our feet, we've decided to wait until the summer to consider making new plans. We'd love to say, 'let's book in a date for next April', but we don't feel certain about that yet. We'll just have to wait and see.
If you're in a similar position, I recommend communicating with your guests once you've made a decision, rather than having to backtrack or change your mind. Just send one message that clearly explains the situation, what you're planning to do and how it affects them. I guarantee they'll be supportive of your decision.
by Lucy Mowatt, Content Marketing Consultant, Method Marketing (www.methodmarketing.org)