Writing a wedding date in a diary is a very special moment. As the date approaches couples might worry about the weather, about friends and family travelling safely to the venue, but lately, they worry most whether they will be able to go ahead with their wedding ceremony followed by a reception, without any social distancing rules. 
But once the date is in the diary, some couples don't let the day just go by, quarantine or no quarantine! An unofficial ceremony just for two is becoming common. Sometimes it's just the bride and groom exchanging rings, sometime family and friends join via Facebook live in a private group or a Zoom call. 
In this blog post, we bring you a few ideas of elements that could be used to put together the perfect home wedding ceremony just for two. 
Five simple Ideas for Weddings at Home: 
---
1. The Rings 
Most couples who chose a wedding date which is affected by Covid-19 have already purchased their wedding rings. If the rings are still to be purchased, there are many online suppliers that will guide you through the products on their website. There is also the option to purchase symbolic simple silver rings and go ring shopping once the lockdown has been lifted. 
Photo: Courtesy or of Ruby and Oscar www.rubyandoscar.com
---
2. Personalised Ring Pot
We love this idea of a personalised wedding ring pot. A ring pot just like the one on the photo can be personalised with your names and with your wedding date. This could be a lovely way of remembering the exchange of rings at home, even if an "official" wedding will follow once the lockdown is lifted. 
Photo: Courtesy of Wooden You Love
---
3. Homemade Cake
A cake for two is not too difficult to bake. A homemade wedding cake could be very simple. The cake shown on the photo is decorated with fruit and rosemary only, which couples should be able to purchase in their local shops. 
Ready-made cake decorations are another easy option. If you have no clue where to start, you could explore The Craft Company Website www.craftcomany.co.uk 
---
4. Chocolates and Treats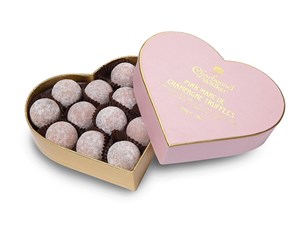 If cake baking is not your thing, how about having a box of chocolates delivered to your door? You could buy "his and hers" favourites or a romantic box of champagne truffles to tuck in. 
Photo: Courtesy of The Chocolate Trading Company 
Website: www.chocolatetradingco.com
---
5. Roses and Rose Petals 

You might be able to have beautiful flowers delivered by your local florist but if not, there are many companies who can deliver roses nationally.
Some of them can send you single roses, beautiful bouquet of roses as well as fresh rose petals.