Are you looking for some practical wedding favours that your guests will love and use? Well, you've come to the right place! In this blog post, I will share with you some of the best ideas for wedding favours that are not only beautiful, but also useful. Whether you want to give something edible, eco-friendly, or personalized, there is a favour for everyone. Here are some of the options you can choose from.
Disclaimer: This post contains affiliate links. I you click through any of the clicks, we might earn a small commission but this is at no extra cost to you.
Honey or Jam Jars
Because love is sweet. Allow your guest to take this motto home by treating them to a jar of honey or delicious jam. Small jars are not only adorable but can be personalised as well. You can hand write all labels yourselves or order labels from your local printer or from an online store.
Maybe you can think of a type of honey that represents you or your other half? Are you from an area that grows specific flowers or herbs? Perhaps lavender or wildflowers? Or would forest honey be a good choice as maybe as a couple you spend a lot of time strolling through a forest?
If you ever wondered where the term "honeymoon" comes from, it is believed that couples used to drink mead, an alcoholic beverage made from honey, after they got married.
Some couples even choose honey as their main wedding theme. Their invitations featur flower and bee motifs on their table centres are arranged in a honeycomb pattern.
If you choose jam jars instead of honey jars, you could choose fruit motifs or blossom motifs for your wedding invites, table seating cards or handmade venue decorations.
Photo: Honey Wedding Favours by Premium Direct, Etsy.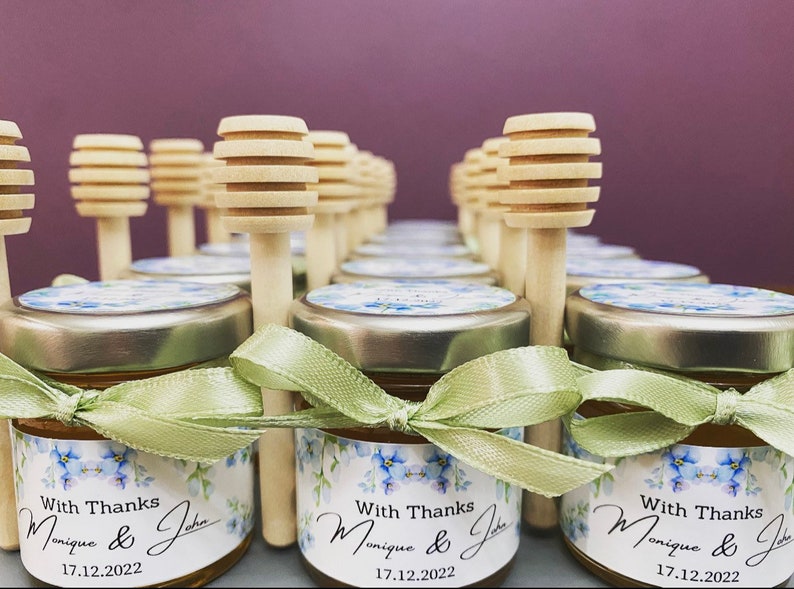 ---
Aromatherapy Soaps
Aromatherapy soaps are very versatile. They come in various colours, including natural colours that will blend in with any wedding colour theme.
You can order mini soaps in various shapes, such as hearts or butterflies. Or, you could choose simple square or rectangular soaps and decorate these soaps with ribbon.
To add a handmade touch, create your own DIY paper slings that will be wrapped around each soap bar. You could buy a calligraphy pen and write your names on each sling. Add your wedding date or a short personal message.
For a traditional look, place each mini soap in an organza bag. Attach a handwritten tag with the words "Thank you for sharing our Special Day".
Aromatherapy soaps are popular not only as wedding favours but also as welcome gifts at destination weddings. A little welcome pack left in a hotel room for your loved ones who travel from afar will be greatly appreciated.
Photo: Mini Wedding Favour Soaps by Little Handicraft Cvet, Etsy.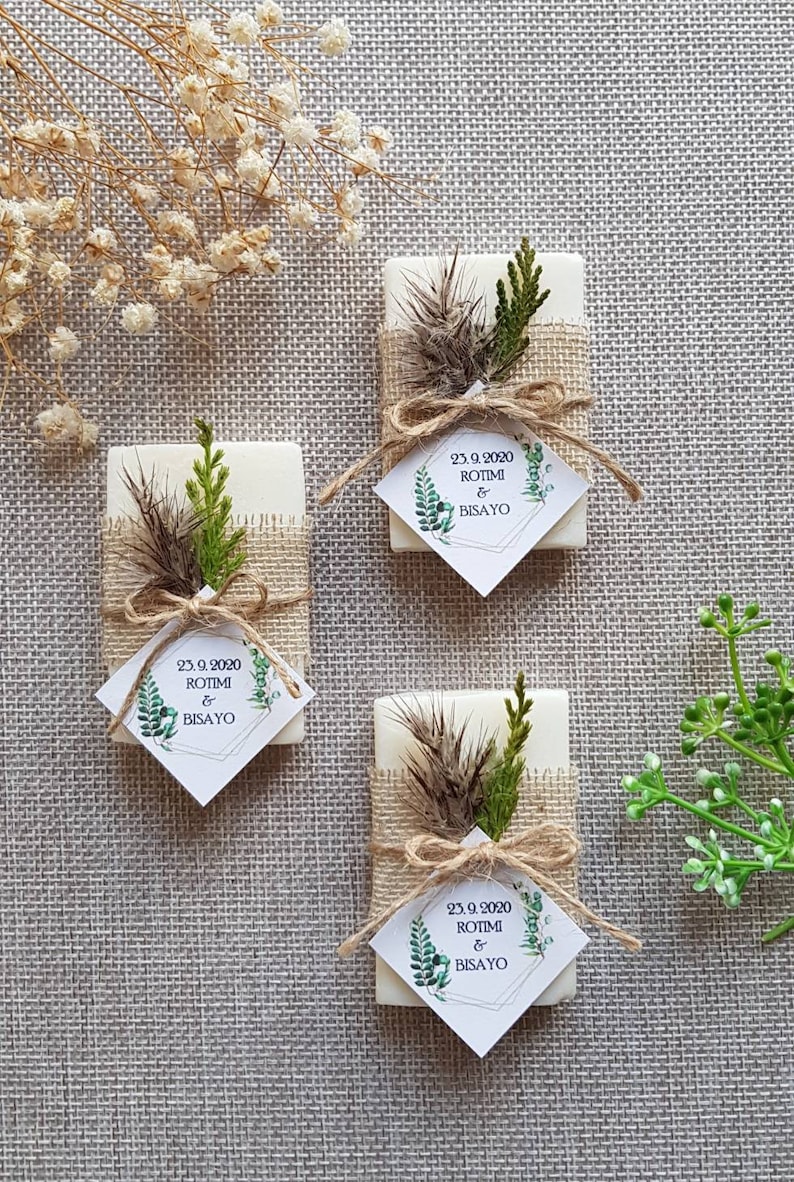 ---
Candles
There is something magical about lighting a candle. Just imagine all your guests thinking of you while lighting a candle at home, remembering all the wonderful moments spent at your wedding – dancing, laughter and friendly conversations.
Most of us associate candles with relaxation, spa treatments and romantic candlelit dinners. What a great choice of practical wedding favours!
There are various was your wedding candles could be personalised. The easiest way is to place small candles in organza pouches and add handwritten tags.
You could also wrap various decorations around your candles, such as wire with beads.
If the candle is inside a solid candle holder, you could use natural materials such as rafetta ribbon. You could also write your names and / or your wedding date on the candle holder. You should be able to find paint or a liner for any type of material – wood, glass or metal.
Crystal candle holders or engraved metal candle holders are another option you might want to consider.
Photo: Candle Wedding Favours by The Pure Heaven, Etsy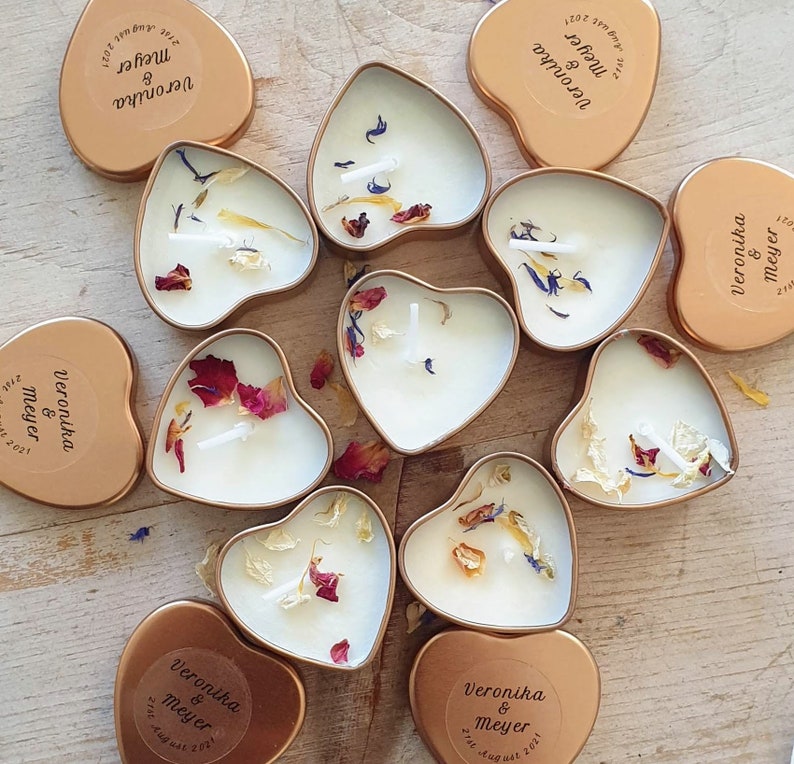 ---
Cookie Cutters
One more idea – cookie cutters.
For a warm, homely feel.
Heart shaped cookie cutters probably come to mind first. You could also choose cookie cutters that reflect your wedding theme, such as butterflies or flowers.
Cookie cutters could be placed in cellophane bags or small boxes. You could tie a ribbon around each cutter or around the transparent box.
If you have a special family recipe you would like to share with your wedding guests, print this recipe on a small card and make this card a part of the favour.
Or even better, include a blank card and ask your guess to write their favourite cookie recipe on the card. You will then have a truly unique recipe book you could share with others.
And if you, as the new Mr. and Mrs. ever fancy a lazy day and some homemade cookies, you know where to turn for a recipe!
Photo: Cookie cutter and embosser by CakeNBakeOnline, Etsy.