Whether you are a cake baker, a jeweller, a wedding planner, a wedding venue manager or you are planning your own wedding, we hope that you will enjoy this "Craft Idea of the Week" corner. 
---
Macrame Wedding Decor
Macrame is a great technique for making ceremony arch decorations, photography backdrops, bridal bouquet wraps, table runners and boho-style fashion accessories. 
If you would like to learn the art of knotting, ombre-dyeing, fraying and adding beads to macrame decorations, you might like The Craft of Creative Knotting by Fanny Zedenius, a paperback book available from Waterstones. 
Macrame decorations are typically made with eco-friendly materials such as hemp rope, so if you are looking for wedding decor that is both eye-catching and eco-friendly, this technique might be just the thing for you. 
Burlap Flowers
15.5.2020
This week, we chose burlap flowers from the "bare basics" range by docrafts Papermania. These flowers have a lovely, natural feel are very easy to work with. Each flower is approx. 4.3cm wide and has a pearl centre.
These flowers can be glued onto place cards, table numbers or could be scattered around table centrepieces. They will also look beautiful when placed on top of a folded napkin, together with a printed menu. 
Burlap has a very nice texture that is perfect for weddings styled in neutral colours. Burlap decorations are an excellent choice for brides and grooms who have decided on eco-friendly wedding decor, perhaps even with some up-cycled elements. 
---
Glitter Dipped Feathers
8.5.2020
Glitter dipped feathers are becoming increasingly popular. If you are feeling creative, you could use plain feathers and dip them in glitter yourself. There is also an easier option, as ready-made feathers with glitter are available form various suppliers. Feathers can be used as place cards, with name tags tied to them. They can be also tied by thread into a garland. You could even tie lots of feather to an arch, to create a photographic backdrop that looks angelic. 
---
A Drip Effect Hack
29.4.2020
Do you love the drip effect on cakes but struggle mastering this technique?
Don't worry, there is a very simple hack that will make your cake creations look professional.
Instead of worrying about the shape of the icing, you could use a drip cutter and cut the drip edging out of strengthened sugar paste.
Your cake will look professional and you probably save lots of time as well.
See an example of a drip cutter on The Craft Company website >>>
---
Heart-Shaped Chocolate Cups
23.4.2020
If you are looking for a DIY project to add a romantic touch to a wedding reception or a bridal shower, how about creating mouth-watering desserts, using chocolate cups? Ready-made chocolate cups come in many different shapes and sizes. We love heart-shaped cups by The Chocolate Company so we are sharing their photo plus a link to the product page >>> Chocolate cups can be filled with ganache, whipped cream or mouse and can be topped with fruit, chocolate shavings or any topping of your choice.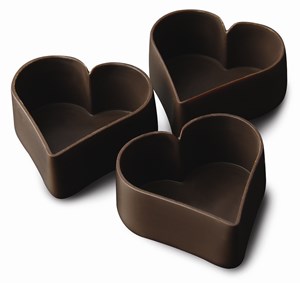 ---
Balloons Wrapped in Tulle 
16.4.2020
This project could not be any easier… you buy a few balloons and cut a few segments of tulle. Then, you need to wrap the tulle around the balloon and tie a ribbon below the balloon.  
This is a great way of matching the wedding colour theme as tulle is available in a wide range of colours. To see an example, you could see tulle in 68 colours on Minerva Crafts website >>> www.minervacrafts.com They even have a video showing you the tulle fabric.
Using tulle or any other mesh-like fabric is important. If you use organza or other type of woven fabric,  you might be disappointed with the results.  The edges will frail and you will end up with loose threads hanging at the bottom of the balloon.
While if you use tulle, you will be able to trim the fabric as needed, creating a square that will cover the whole balloon. You can also trim the fabric below the balloon easily to create the desired look. 
---
Dried Flowers – Accessories & Venue Decor
26.3.2020
---
Love Birds – Sugarcraft
19.3.2020