What is the best way to announce an unplugged wedding ceremony? And maybe let's start by asking… what exactly is an "unplugged ceremony"?
Most couples dream about a wedding filled with magical moments. Flowergirls scattering rose petals from their baskets, bride gliding down the aisle, groom trying to catch his breath when he sees the love of his life in her wedding gown and a line of guest congratulating the newlyweds. Uncle Bob pushing through the crowd to snap a picture with their smartphone might not be a part of this dream. Some couples know that they can rely on their guests. But some feel that a gentle reminder is needed, to let their guests know that enjoying themselves is their only task and photos captured by a professional photographer will be available shortly after the wedding. Disclaimer: None of the links below are sponsored links. Some links are affiliate links and the company might send us a small commission to say thank you if you make a purchase but this is at no extra cost to you. We choose products for our blog posts very carefully and never promote any products purely for financial reasons… bringing ideas and inspiration to you is always on top of our list.
---
Mentioning an "Unplugged Wedding" in Wedding Invites
Wedding invites are often sent out together with an information pack that includes a menu, a map, a list of local hotels and the details of the wedding gift list. Why not include a short paragraph asking guests politely not to take photos during the wedding ceremony?
The whole set could have the form of a pocketfold invite. Or, all the different parts of the invited could be tied together with ribbon or a paper sleeve.
Photo: Pocketfold Wedding Invite, by Say it with Prints, Etsy.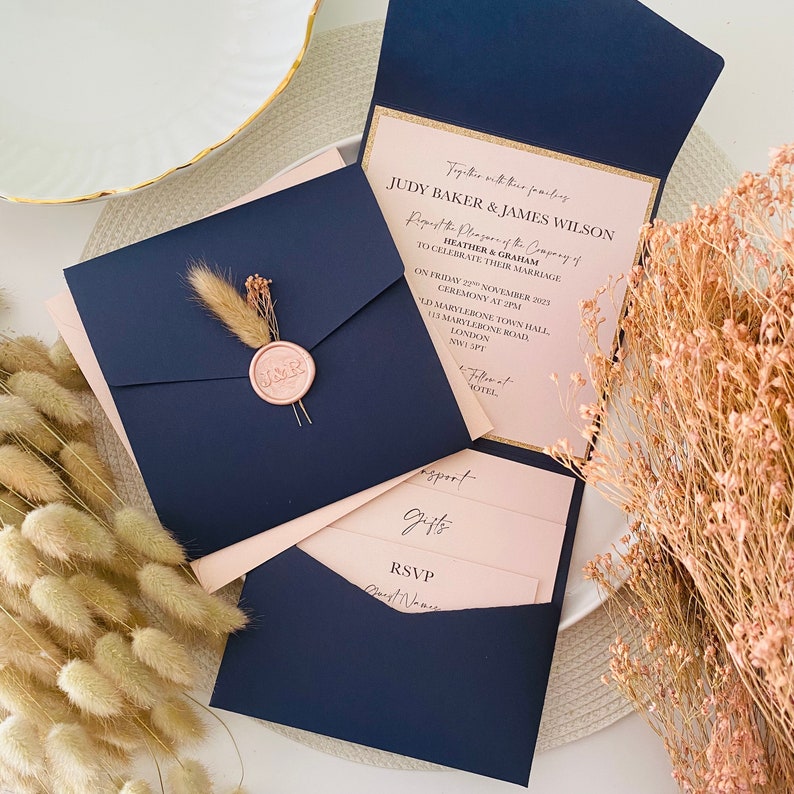 Announcing an "Unplugged Wedding"
A short announcement could be made once all guests are seated. This announcement could be made by a toastmaster, a wedding planner or by any member of the bridal party. Guests could be reminded to switch their phones off and asked to refrain from taking photos.
"Unplugged" Signs from Etsy
Designing and "unplugged wedding" sign can be fun but if you want to download a ready-made design, Etsy is a great place to look:
Photo: Unplugged Wedding Sign by Kela Paper Designs, Etsy.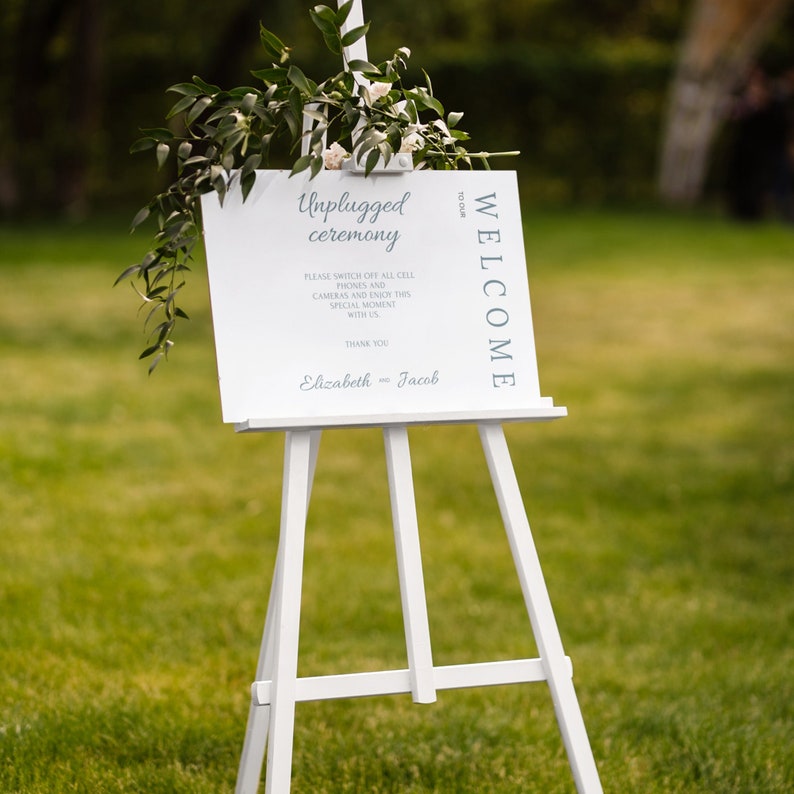 Photo Below: Large Acrylic Sign by Say it with Prints, Etsy.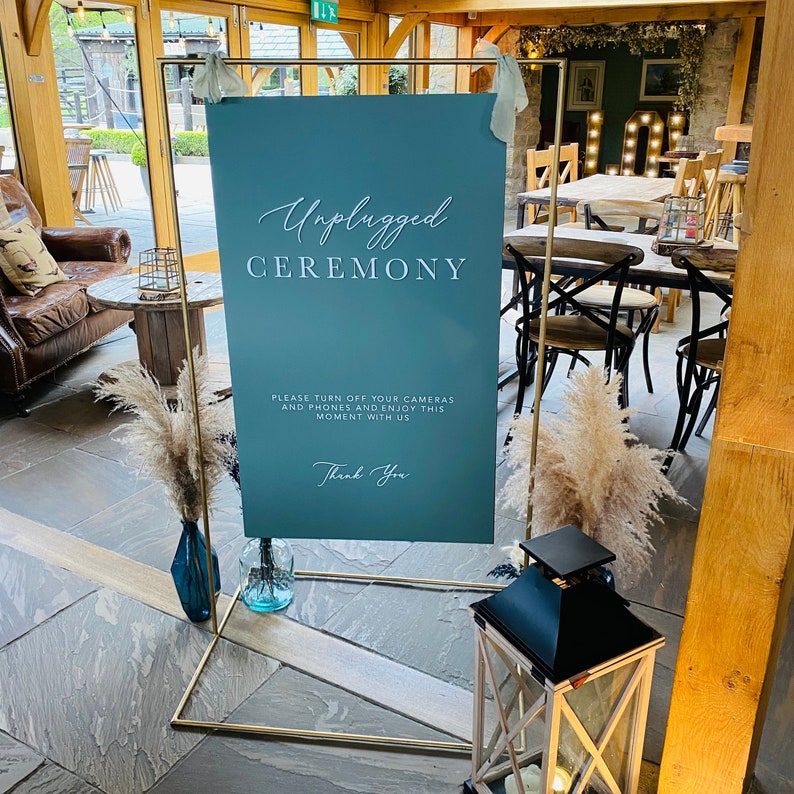 Photo Below: Sign by Kerry Butterworthstu, Etsy.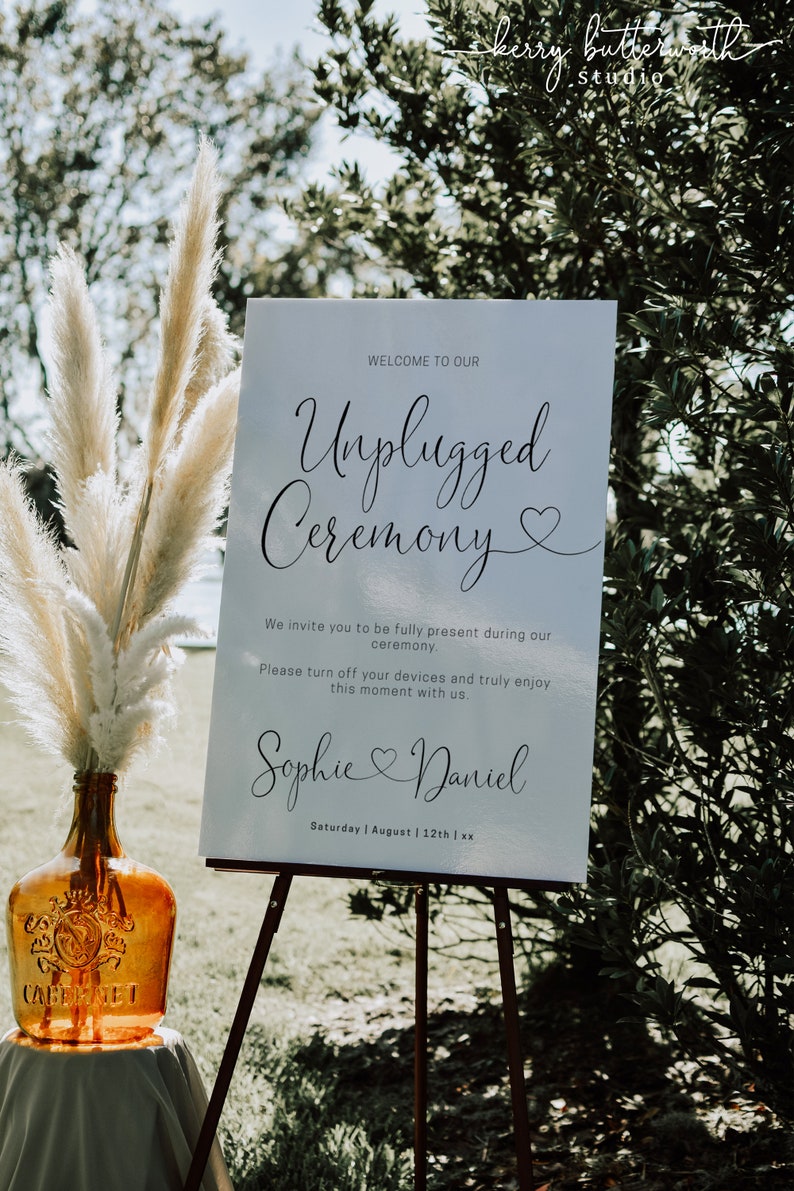 ---
DIY "Unplugged" Signs
If you would like to design your own unique sign with beautiful fonts and graphics, I would recommend exploring Creative Fabrica Website >>>
This website is packed with many wedding-worthy fonts and hundreds of beautiful graphics.
You don't need to be a qualified graphic designer to produce an elegant "Unplugged Wedding" sign, all fonts found on Creative Fabrica can be installed on your computer and used in applications such as Microsoft Word or Microsoft PowerPoint.