Most parents don't expect a wedding gift. But that just makes choosing one more challenging. How do you choose a gift that is meaningful and says a heartfelt "Thank You"? Many parents play a very active part in wedding planning and even if they don't, they cared for their son or daughter since they were born, and will probably continue to do so, in a thousand little ways. 
We published a guide to choosing gifts for mothers earlier this year. Now, with Father's Day approaching, let's have a look as some ways of rewarding the father-of-the-bride and father-of-the-groom. Disclaimer: None of the links below are sponsored links. Some links are affiliate links and the company might send us a small commission to say thank you if you make a purchase but this is at no extra cost to you. We choose products for our blog posts very carefully and never promote any products purely for financial reasons… bringing ideas and inspiration to you is always on top of our list.  
---
Personalised Cufflinks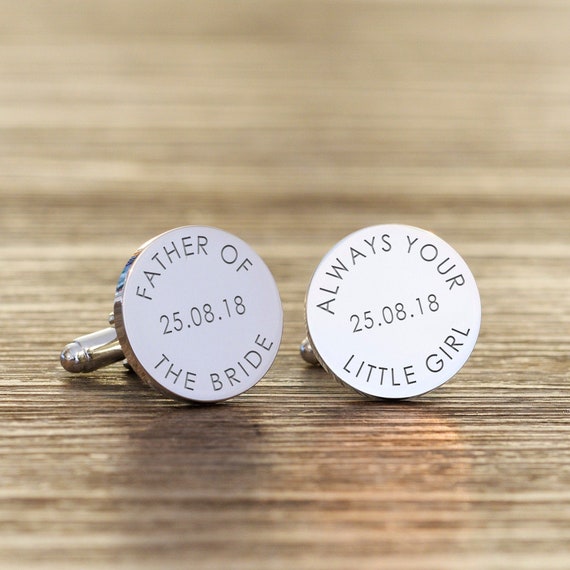 Let's start with a traditional gift. Personalised cufflinks will be a lovely keepsake that can be kept by the father long after the wedding. 
We love these engraved "Always Your Little Girl" cufflinks. They show us that the bond between a father and a daughter cannot be broken.  
The wording on cufflinks could be more formal, with a simple inscription "father-of-the bride" or "father-of-the-groom". 
View these cufflinks on Etsy >>>
---
A Tie Clip
Presenting a gift to the Father-of-the-Bride or Father-of-the-Groom on the wedding day will make them feel special.
You could choose accessories that tie up well with the wedding theme. The tie clip you see on the photo would be perfect for dads at a boho-styled wedding.
If the wedding style is classic and traditional, the tie clip could be silver or gold. It could be embellished with diamantes or with gemstones that match the wedding theme.
View this tie clip on Trendhim website >>>
---
A Sentimental Handkerchief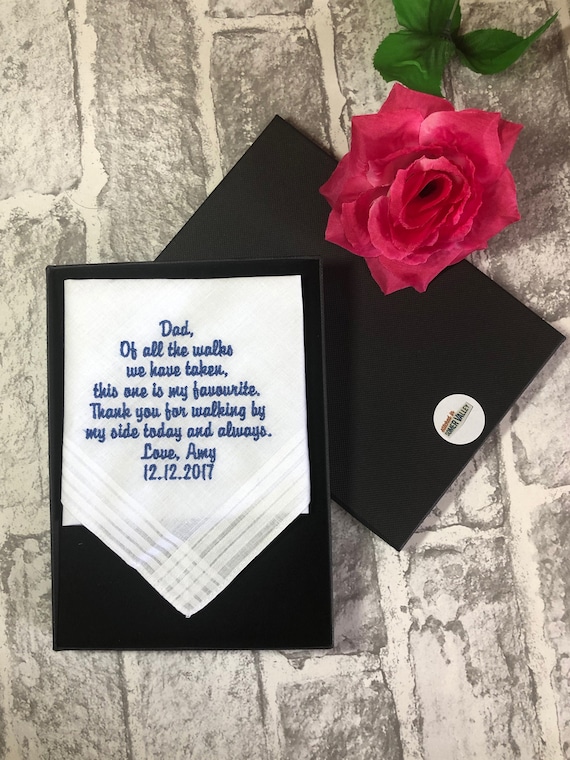 A personalised handkerchief is the perfect gift for a true gentleman. A handkerchief can be embroidered. A short message can be included.
We are sharing a photo of a handkerchief which is available for purchase on Etsy. This special gift is personalised with the wedding date and the name of the bride, plus a message which reads: "Dad, of all the walks we have taken, this one is my favourite. Thank you for walking by my side today and always."
View this handkerchief on Etsy >>> 
---
A Personalised Poem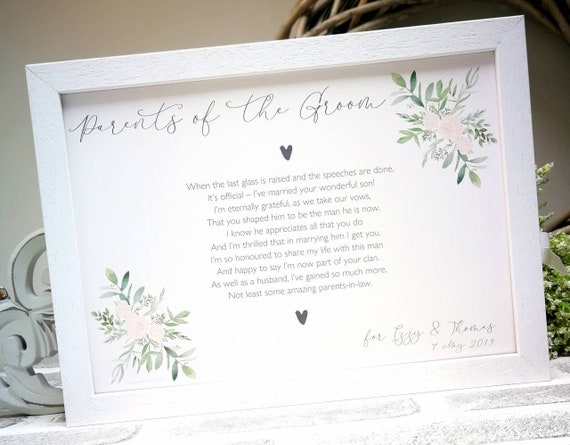 A personalised poem is yet another idea. You can work with poets, asking them to write a poem for anyone in your family.
The message could be for the father-of-the-bride or father-of-the-groom only. Or, a poem could be composed for both parents, letting them know that they will always have a special place in their children's hearts. 
---
Tree Gifts for Eco-Conscious Dads
If you are looking for an eco-friendly gift for the Father-of-the-Bride or Father-of-the-Groom, you might like tree gifts from ForestNation.
For every tree you plant yourself, they will plant 10 matching trees in a developing country.
You can even choose from many different tree seeds, including Californian Redwood, Stone Pine and Blue Spruce.
View tree gifts on the ForestNation website >>>
---
A Single Origin Chocolate Hamper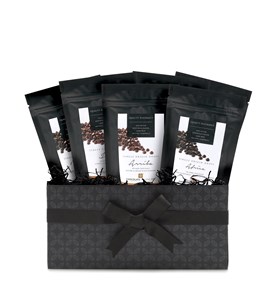 An edible gift is always a great option. We love this single origin chocolate hamper for gentlemen with a refined taste, from Chocolate Trading Company. 
The elegant hamper contains a collection of 6 single origin cocoas.
These chocolates come from around the world, so that the Father-of-the-Bride or Father-of-the Groom can appreciate the different flavour profiles of six different regions……sounds tempting, doesn't it? 
View this hamper on the Chocolate Trading Company Website >>>
---
Gifts for Theatre Lovers
Not all dads are into golf or football. If your dad loves theatre, how about getting him a ticket to a romantic play?
Or maybe a theatre-themed gift? The doorstops you can see on the photo are available from The National Theatre giftshop. 
Did you know this doorstop couple even have their names? 
"Meet Sandra: A more perfect bride you will fail to meet; friendly, bubbly, pretty, perfect smile, loves being at home and doing the chores and can't wait to get that ring on her finger. 
Meet Charles: A more perfect groom you will fail to meet; handsome, charming, rugged, manly, loves D.I.Y, and can't wait to become a father. " The National Theatre
View The National Theatre gift shop website >>>
---
A Care Pack with a Cozy Blanket
If your dad's idea of happiness is wrapping up in a blanket and having a cup of tea, he might like a gift box by Tartan Blanket Co.
"Begin creating his gift box by choosing between a lambswool blanket, scarf, or recycled wool blanket, then choose to add on any of the following: nibbles, beard care, mug, book, cufflinks, tie, wash bag, and a gift note & shortbread.
Make the box as big and full of love as you like! For an extra special touch, take advantage of our embroidery service for a gift that he will treasure forever." 
Visit The Tartan Blanket Company website >>>
---
Presentation Matters …
Stylish packaging will make your wedding gifts for the father-of-the-bride and / or father-of-the groom look even more special.
A simple gift bag with decorative tissue makes all the difference.
Or you could make them really feel like VIPs with modern magnetic gift boxes, like these.
Tiny Box Company >>>