Have you always dreamt of getting married on a nice sunny day? Sadly, weather can't be guaranteed could you always choose wedding decor carefully, to bring sunshine vibes in, even if the skies are grey. Sunflowers are a great design element for couples who love summer. Let's have a look at a few examples of how the sunflower wedding theme can be brought to life.
Disclaimer: The links below are affiliate links. If you click through any of the list and make a purchase, we might earn a small commission but that's at no extra cost to you.
Bridal Bouquet
Sunflowers look nice when tied into a bouquet on their own but they also look pretty when mixed with other flowers, such as gerberas or daises.
Wrapping burlap or raffeta around the stems will give the bouquet a rustic look. Satin ribbon would be also an excellent choice, especially if the wedding scheme includes colours such as royal blue or dark pink.
As sunflowers are strong and enduring, in many cultures they represent strength and loyalty. And as they turn towards the sun, these blooms remind us that we should always look at the positive side of life.
Photo: Dried Flower Bouquet by FG Flowers and Wreaths, Etsy.
Bridesmaids Bracelets
A sunflower is a beautiful jewellery motive. The bride could wear a pair of earrings or a pendant necklace with sunflowers, in silver or gold finish.
But let's talk about bridesmaids.
Bridesmaids jewellery pieces with sunflowers look very special. We love this bracelet, with the card "You are My Sunshine". Bridesmaids often fill the wedding party with laughter and sunshine so a bracelet such as this one would be very fitting.
Although sparkly jewellery sets are wonderful, it is often items such as handmade bracelets that make the wedding unique.
We all know that only one lucky lady will be able to catch the bouquet. Maybe being gifted a bracelet with a sunflower which is similar to those in the wedding flower arrangements might feel as special as catching the bouquet?
Photo: Sunflower Bracelet by Belle AS, Etsy.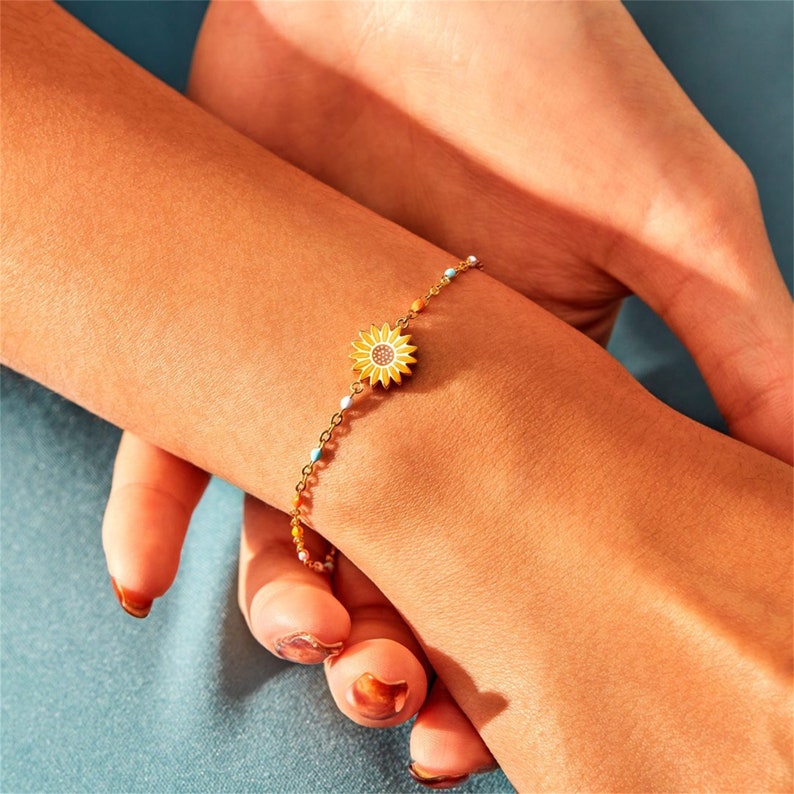 Flowergirl Sunflower Hair Clips
Flowergirls and young bridesmaids might prefer something that is easy to wear, such as a set of hair clips, made with felt.
Most flowergirls have a guaranteed "cuteness overload" factor whatever they wear but a pretty hair decoration might be just the perfect finishing touch.
A flower clip could be also the perfect thank you gift and a beautiful keepsake the little princess can take home with her.
This clip could be also attached to a page boy's shirt pocket or to a hat.
Photo: Felt Sunflower Hair Clip Set by The Felt Meadow, Etsy.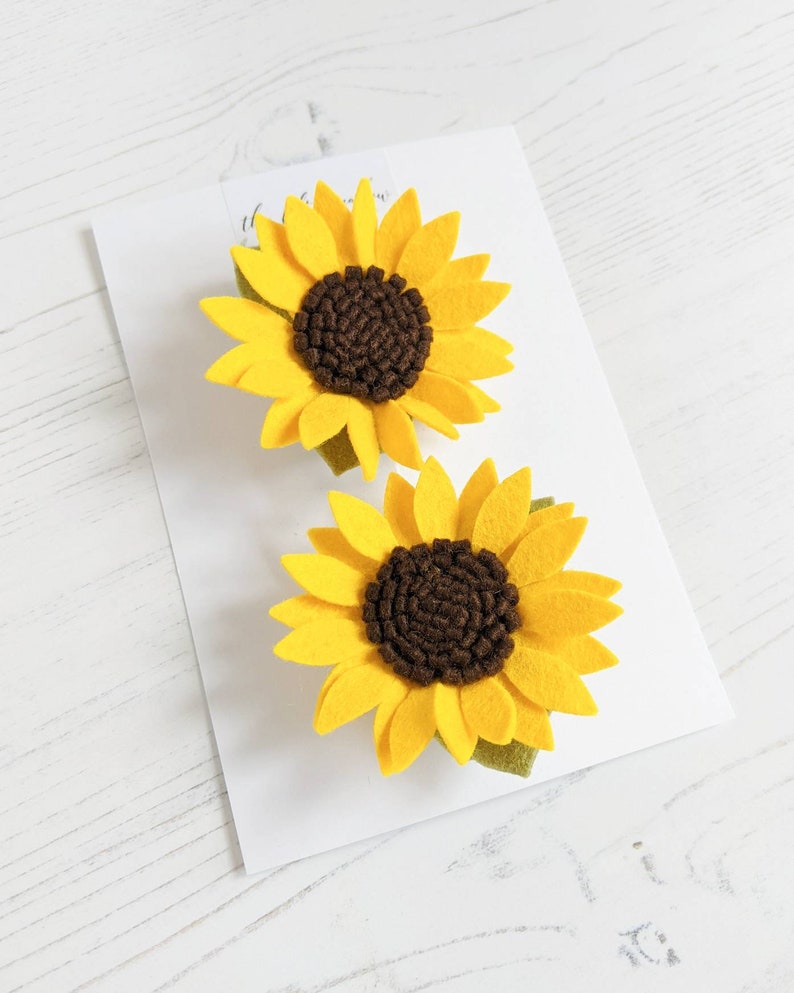 Sunflower Sugarcraft Decorations
You could ask your cake maker to use sunflower-shaped ornaments when decorating your cake. Or, you could opt out for a simple cake and use sugarcraft decorations for other treats, such as cake pops or cookies.
Sunflower-shaped cookies could also double up as wedding favours and could be placed in transparent pouches with a ribbon and a name tag. Or, even better, the guest names could be written in icing.
Photo: Sunflower cake toppers by Sprinklers Toppers Ltd, Etsy.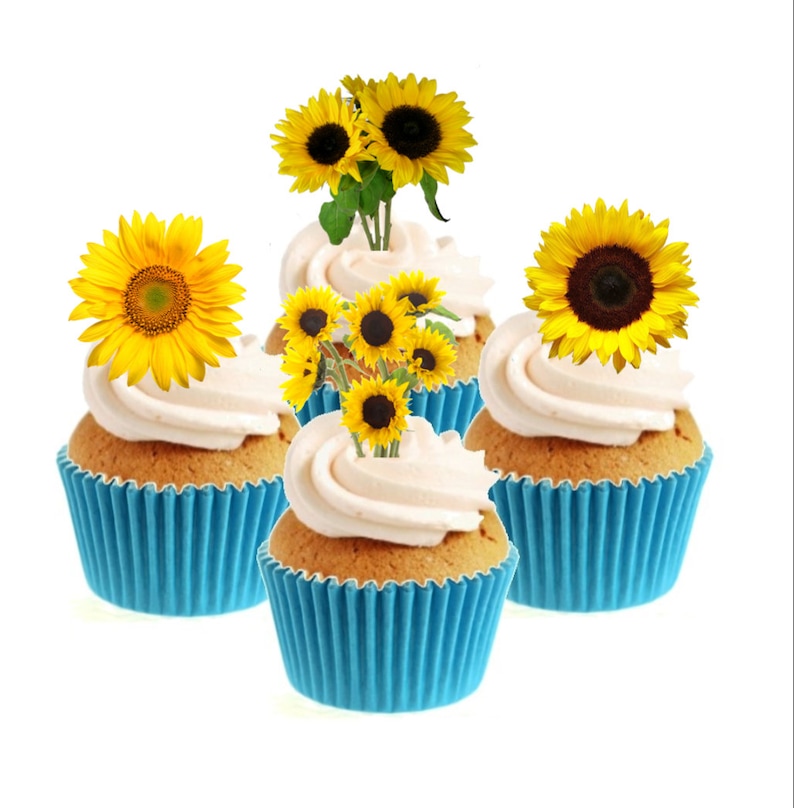 Yellow Bridesmaids Gowns
If your wedding theme is built around sunshine and sunflowers, choosing the colour of bridesmaids dresses won't be difficult!
Yellow bridesmaid dresses look stylish and tend to look less formal than let's say navy gowns. Many yellow bridesmaids dresses are made from soft, flowing fabric that will look gorgeous in summer breeze.
Yellow bridesmaids dresses will look beautiful when combined with either silver or gold accessories.
And did you know that sunflowers can be used for dying fabric? It would be the seeds rather than the yellow petals that were used in ancient times for dying fabrics. So maybe this might not bring a ray of sunshine to your wedding but might be an interesting project to try some other time.
Photo: Yellow Maxi Dress by TDY, Etsy.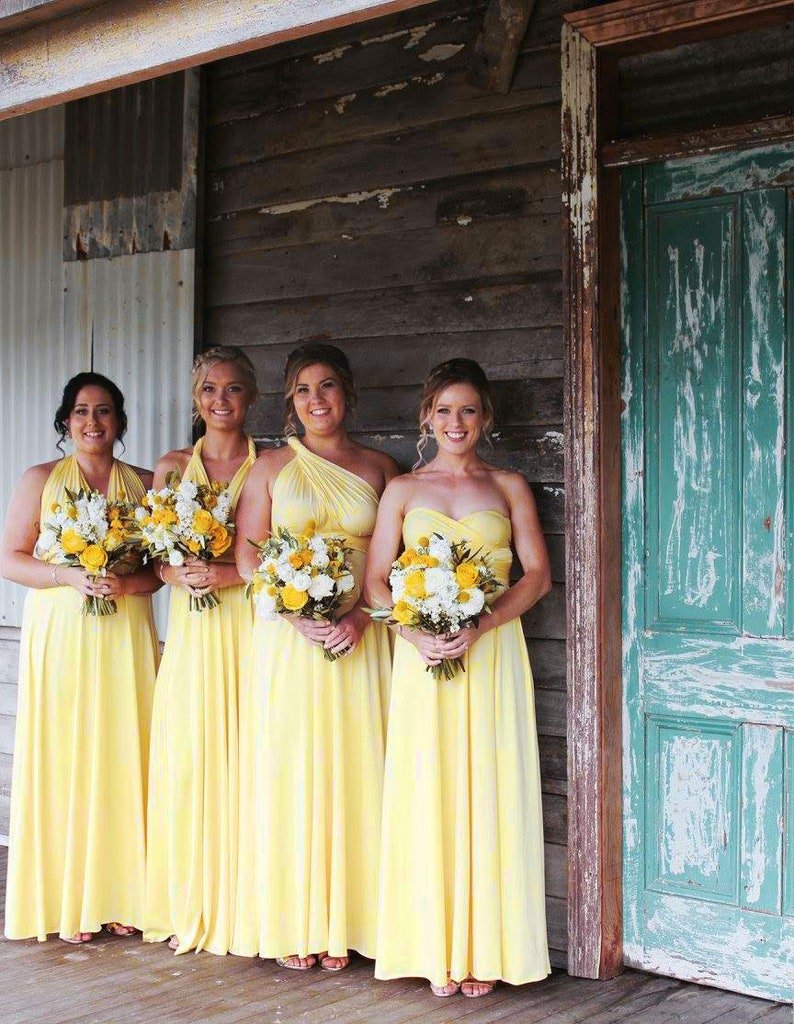 Wedding Favours with Sunflower Seeds
If you like sunflowers, then you will love the idea of small takeaway packages in the form of "Let Love Grow" wedding favours, filled with sunflower seeds.
You can probably already picture all your guests planting sunflowers in their gardens, cherishing the memories of your special day.
As other types of wedding favours, "Let Love Grow" packages can be personalised with the newlyweds' names, the date of the wedding and could also have an additional message, such as "Thank you for sharing our special day with us."
Plantable favours are the perfect choice for eco-conscious couples.
Photo: Wedding Favours by Be Inspired Ltd, Etsy.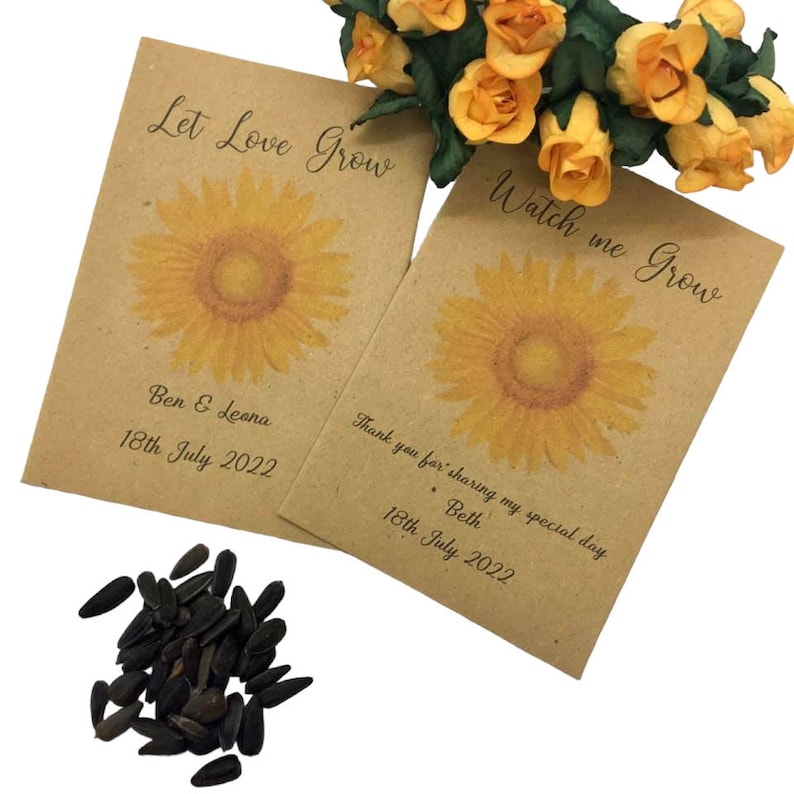 Unity Wedding Candle with Sunflowers
Weddings are filled with magical moments… walking down the aisle, exchanging rings, lighting a candle. There are many different wedding traditions but if lighting a candle is going to be a part of your wedding ceremony, why not choose a candle you love?
Wedding candle represents unity of the new Mr. & Mrs. And there are many similar traditions. For example, in some cultures, it is common to mix coloured sand, also to represent unity.
Ceremonies like these don't need to be too official. You could decorate your candle with small fabric sunflowers and raffia ribbon or you could get a candle with printed sunflower graphics. And you if are using sand, how about using bright yellow sand in the mix?
Photo: Unity Wedding Candle by Simply Unique UK, Etsy.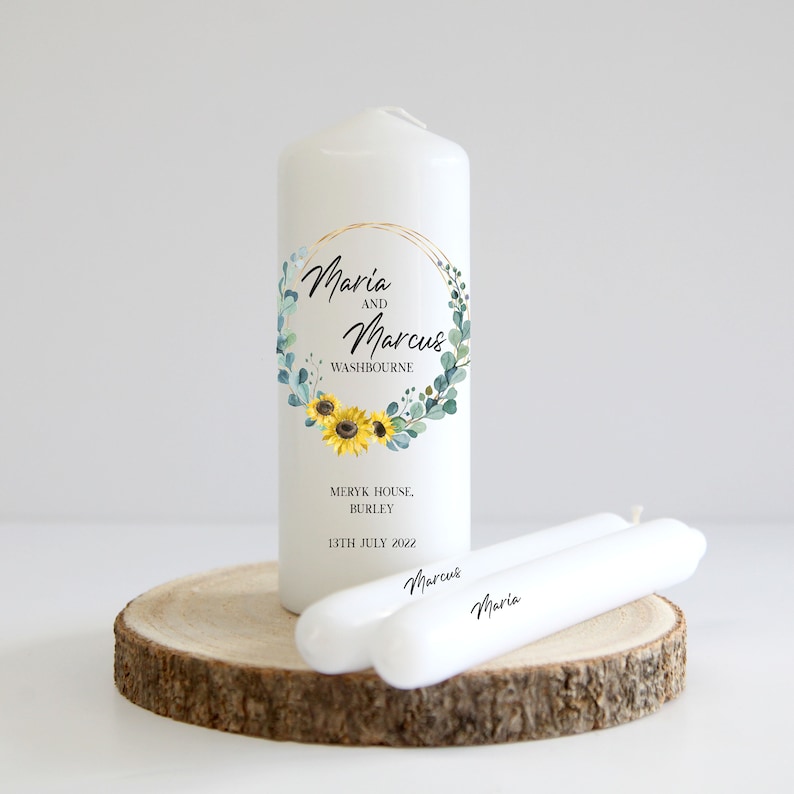 Printed Invites with Sunflowers
Even your wedding invites, or bridal shower invites could have sunflowers on them. You could ask your stationery company to include a photo of sunflowers, hand painted sunflowers or modern sunflower graphics.
The invites could be placed into white or yellow envelopes. In either way, your wedding guests will get the first taste of what the wedding atmosphere will be like… filled with love and sunshine.
Hand painted sunflowers look very artistic and will look perfect on invites when used together with modern calligraphy fonts.
Photo: Invite template by Jemolina Art, Etsy.