Some traditions are worth keeping. Finding your "Something Blue" could be a fun project and a great conversation topic on your wedding day. To support small businesses, we have put together a few ideas of "something blue". All items mentioned in this article are handmade by Etsy sellers, some can be customised upon request. Disclaimer: None of the links below are sponsored links. Some links are affiliate links and the company might send us a small commission to say thank you if you make a purchase but this is at no extra cost to you. We choose products for our blog posts very carefully and never promote any products purely for financial reasons… bringing ideas and inspiration to you is always on top of our list.
Lace Garter with Blue Ribbon
A garter with a blue ribbon or blue sew-on embellishments will be perfect for you if you want to be dressed all in white but also wear something blue, which is hidden.
Don't forget to ask your photographer to take a photo of you with your dress rolled up a bit, showing off your garter! Or, use your garter for setting up a beautiful photography scene, together with your jewellery pieces and items such as perfume bottles, to capture treasured memories.
The garter on the photo has been made with modern Venetian-style lace. Italy has a long lace-making tradition and modern lace of this type is typically inspired by vintage lace made by skilled lace makers.
Photo: Something Blue Garter by Beu Beu Design, Etsy.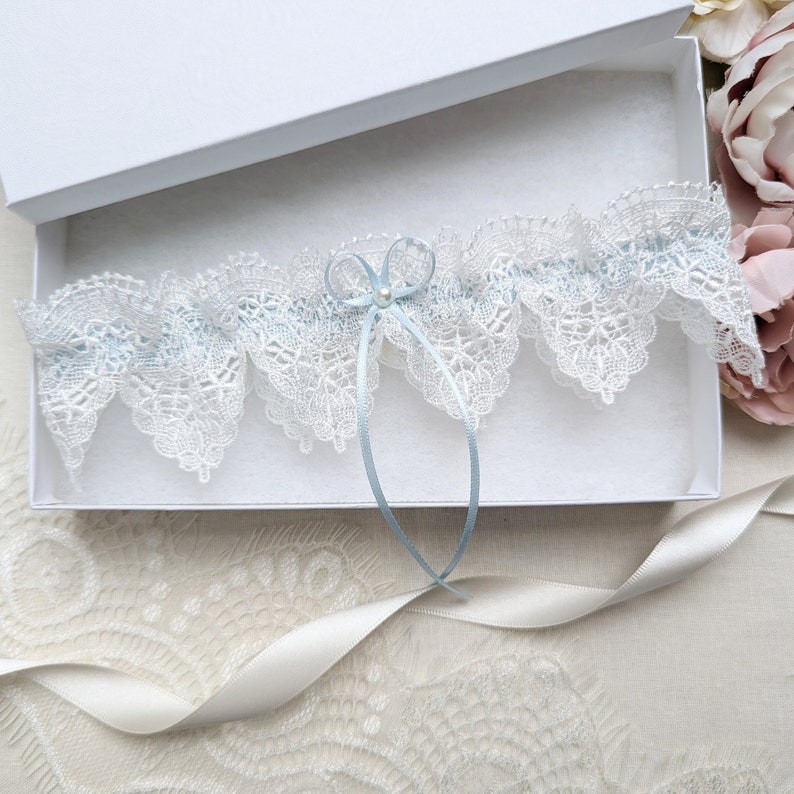 Blue Trinket Dish for Wedding Rings
If you are looking for a nice keepsake rather than something to wear on the day than this gorgeous handmade trinket dish might be the perfect choice.
It is hand-painted and could be incorporated into the wedding ceremony. Just imagine the best man holding this celestial handcrafted dish with your wedding rings on it… doesn't it sound tempting?
If you believe that you and your other half were a match made in heaven than this small accessory is the perfect way of showing your love that reaches beyond the stars.
Photo: Trinket Tray by CW Photo, Etsy.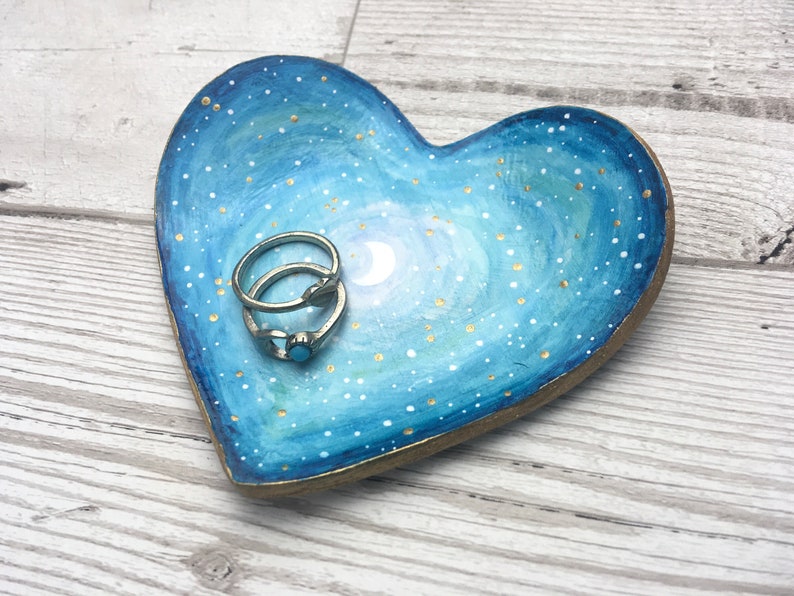 Blue Wedding Charm with a Lucky Sixpence
If you are superstitious, you might want to know that a silver sixpence is believed to bring prosperity to the newlyweds.
But superstitious aside, aren't accessories incorporating a genuine silver sixpence stunning?
The metal this authentic coin is made of is called "cupronickel" and can represent "Something Old". The bow made of pale blue double satin ribbon represents "something new". An ivory freshwater pearl has been "borrowed" from the ocean and your "something blue" will be a mountain blue jade bead.
The whole package "something old, something new, something borrowed and something blue and a silver sixpence for your shoe" … all in one small handmade charm.
Photo: Lucky Sixpence Charm by Prenoa Jewellery, Etsy. https://tidd.ly/42qm4YM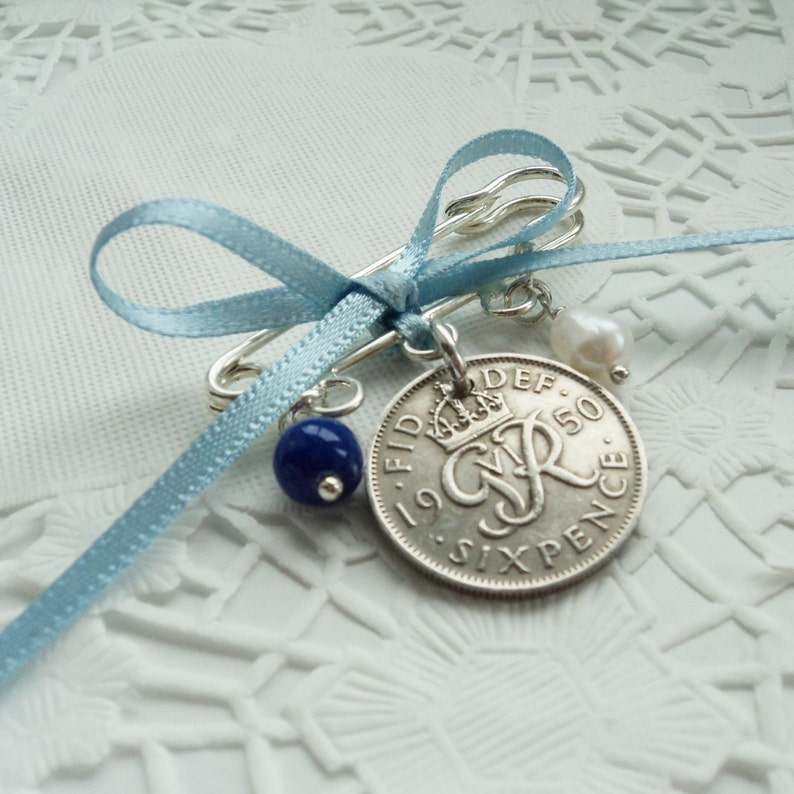 Forget-me-not Seeds
"Something blue" does not have to be worn by the bride on her wedding day. It could be a beautiful keepsake or even a mini gardening project!
We came across this amazing idea of a card and a pack of forget-me-not seeds that can be grown by the bride as her "something blue".
It's entirely up to you whether you plant the seeds on your wedding day and watch them grow or try to time your gardening project in a way that will allow you to have home-grown forget-me-nots as part of your wedding decor. Be aware – you might need to plant them more than a year in advance.
Photo: Flowers grown from seeds, by Green Grow Seed Supply, Etsy.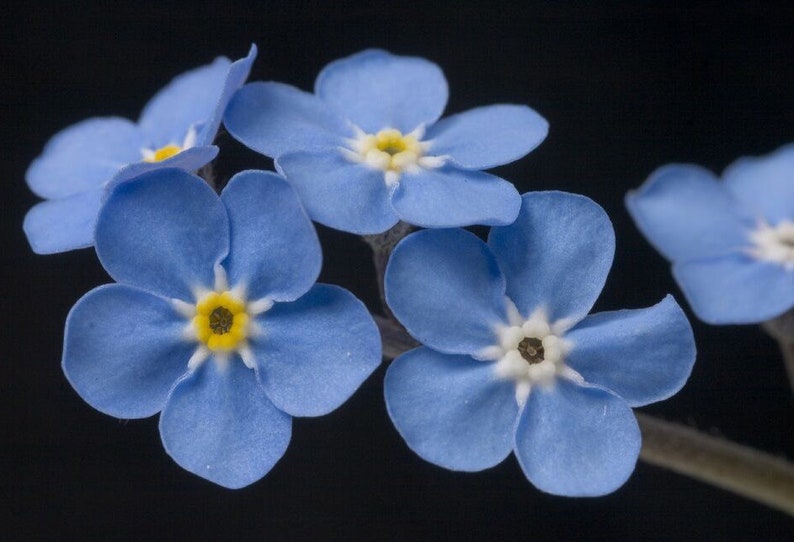 Forget-me-not Necklace
If you love forget-me-not flowers but the "mini gardening project" mentioned above failed to catch your attention, how about a necklace made with real flowers?
The dainty flowers you can see on the photo have been expertly encapsulated in crystal clear resin and turned into a unique decorative pendant.
The sphere was hand-sanded and polished by the crafter and was attached to hypoallergenic stainless steel bail cup.
You can even choose your preferred chain necklace length.
With a necklace like this, you can be sure that all eyes will be on you and you will receive many compliments that are not likely to be forgotten.
Photo: Necklace by Buttonsy Jewellery, Etsy. https://tidd.ly/3VWukgx
---
Floral Crown
For an easy to wear headpiece, how about a floral crown? Most floral crowns are adjustable and can be worn by adults or children, as they are secured by a ribbon at the back of the head.
The handmade floral crown on the photo is made of high-quality faux flowers, including meadow flowers.
This would be the perfect headpiece for a boho bride or for any bride trying to create a relaxed look.
Photo: Beaded Floral Crown by Raindrops on Roses x, Etsy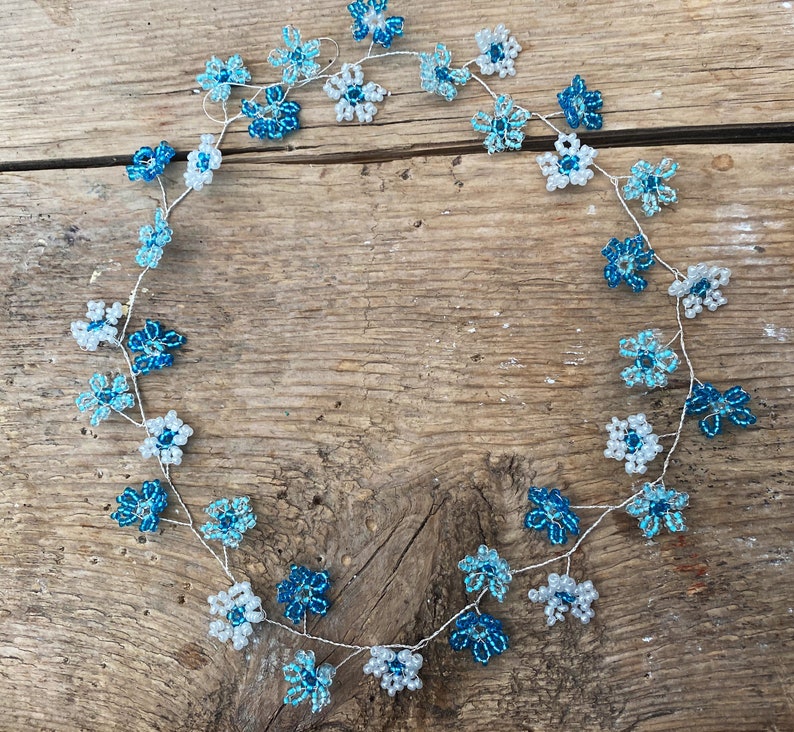 Statement Soutache Necklace
This statement necklace might not complement every type of bridal gown but how gorgeous would it look when worn for example with a flowing dress at a beach wedding?
The name of the necklace is "Hematite Ocean" and this beautiful piece features gemstones, soutache elements and genuine Swarovski components.
The eye-catching necklace would also make a nice bridesmaid's piece. It complements dresses made of white, ecru, grey, navy blue or black fabrics.
The UK-based crafter makes each piece individually and can alter the colours for you as needed.
Photo: Necklace by eMKa HandMade, Etsy.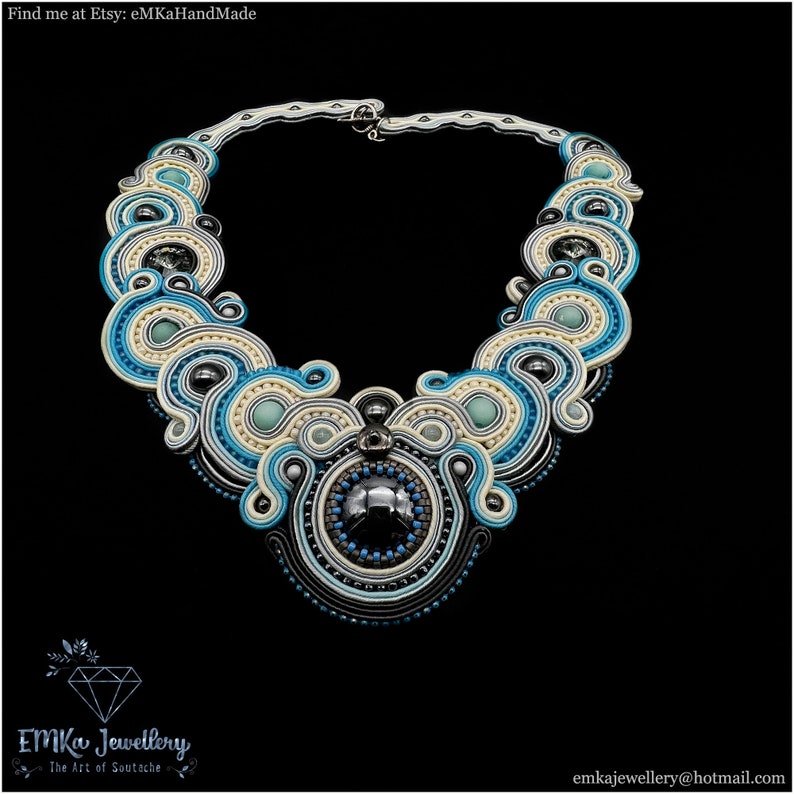 ---
One-of-a-Kind Bridal Hair Comb
To combine your "something old" and something blue", how about a hair comb with genuine vintage components?
Some designers look out for beautiful vintage accessories at all times and when they come across a piece which looks special, they remodel it into a gorgeous hair ornament.
The vintage component used for making the hair comb on the photo was most likely made in the era of 1930-1960 and would not look out of place at a Great Gatsby themed wedding. If you like this piece, you will need to hurry, it is one-of-a-kind!
Photo: Bridal Hair Comb by Krausz Jewellery, Etsy.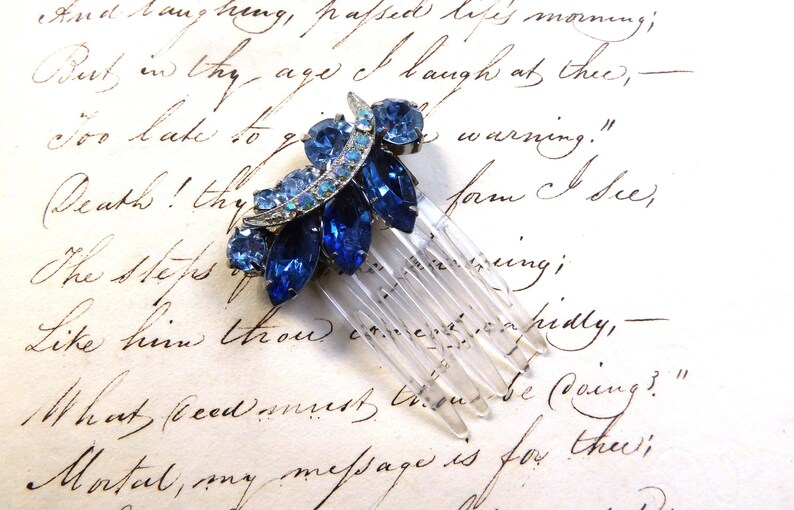 Sea Glass Earrings
Isn't the concept of sea glass fascinating? A little piece of broken glass falls into the sea and the waves polish it for us and turn it into the perfect jewellery making component.
There is also a jewellery making technique which mimics the natural process. Pieces of glass can be placed into a speciality tumbler for a long time, together with diamond sand, until they look exactly like pieces of glass found on the beach.
Sea glass jewellery pieces look very harmonic and will help you create a balanced bridal look. Your "something blue" could be also "something old". Plus, you will be the ultimate "eco-friendly" bride, as you would be upcycling unwanted pieces of glass.
The earrings on the photo were expertly made with cultured sea glass by Esther Dobson Art, Etsy.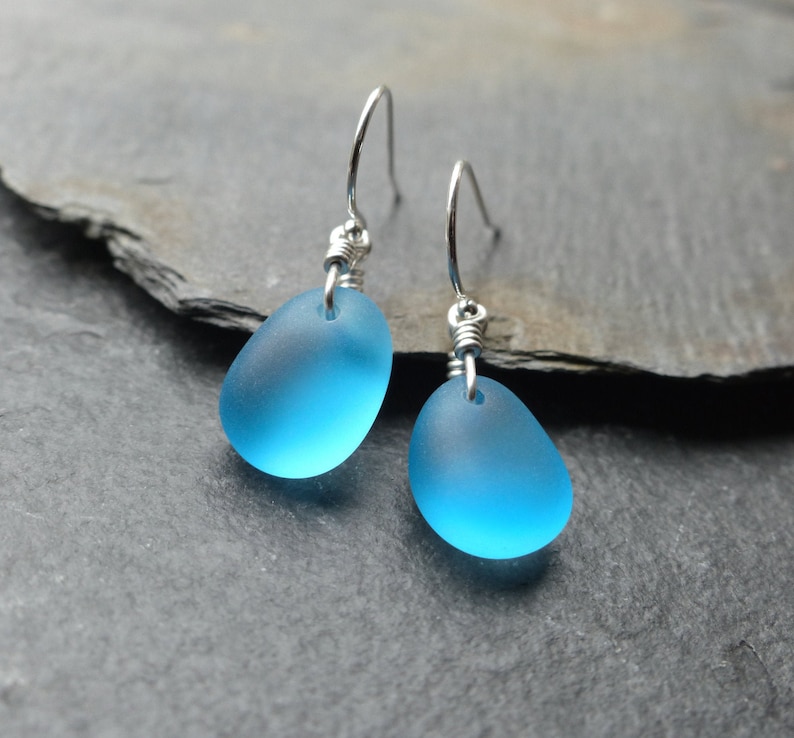 Sapphire Hair Pin
There are many different types of blue gemstones. Agate has a soft blue colour, Lapis Lazuli has a midnight blue colour and topaz comes in a lovely shade of light blue.
But if you ask your friends what is their most popular precious stone is, they might say it's Sapphire.
Accessories made with genuine Sapphires worn on the wedding day will become a treasured heirloom jewellery.
But if you are looking for something a bit more budget-friendly, faux Sapphires made of glass or synthetic gemstones can also make a statement.
We love this hair pin with artificial sapphires available from an Etsy seller. It can be customized with different colours – crystals or pearls.
It could be worn by the bride as her "Something Blue" but would also go well with blue bridesmaids dresses. And even the-mother-of-the-bride and mother-of-the-groom might find that this hair pin complements their outfit perfectly.
Photo: Hair Pin by English Bridal Shop, Etsy.