If you follow wedding trends, you might have come across discussions whether macarons are the hottest trend, pushing wedding cupcakes aside or whether cake pops are the latest must-have for chic couples. But when it comes to wedding cookies, these never seem to be out of fashion, possibly due to the fact of how versatile they are. The can have marble icing, they can have the shape of the bride's dress and they can be made in practically any colour scheme. 
While browsing products on Etsy, I was surprised how many ready-made cookies there are out there, all ready made by professional and semi-professional bakers. So I have decided to write a blog post about them, sharing my finds with you. Disclaimer: Our blogs post as well as our digital magazine contain affiliate links. Companies might send us a tiny commission if you click through an affiliate link and make a purchase but this is at no extra cost to you.
I hope that you will love all these beautiful hand-decorated cookies as much as I did when I was putting together this blog post…. I thought that these all look really delicious and all are a true piece of art! 
Engagement Cookies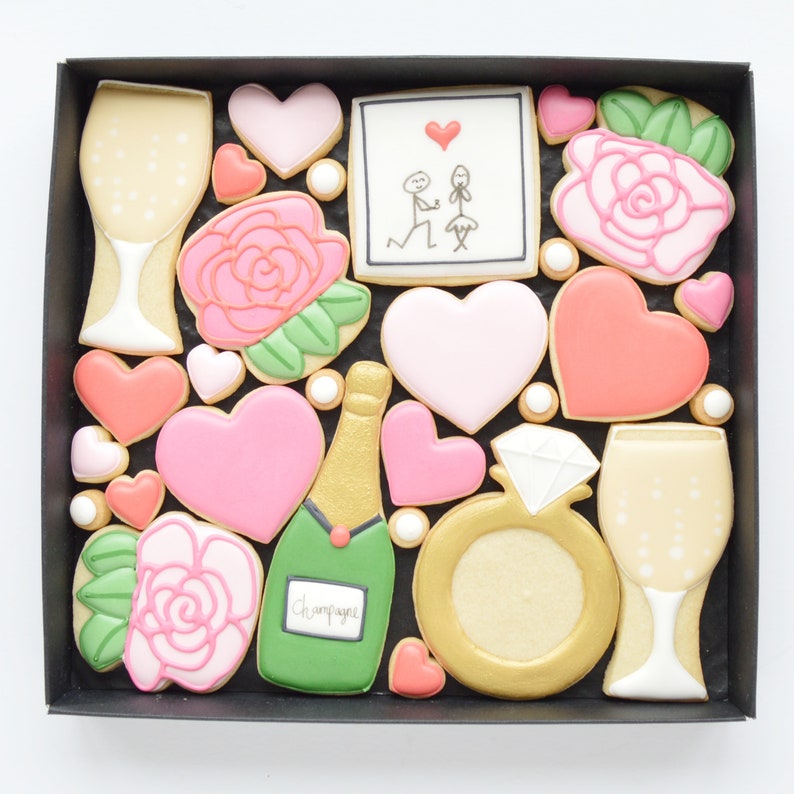 If you love colourful treats, you will love this engagement cookie box by Katie Biscuit box. 
Consisting of a Champagne bottle cookie, two glasses of bubbly cookies, a cookie with a doodle of a proposal, a few roses and lots of hearts, this box would be the ideal present for a newly engaged couple and will definitely become a talking point at any engagement party. 
All these gorgeous biscuits are handmade and flavoured with Madagascan Vanilla.
---
Wi
ll You be my Bridesmaid? Cookies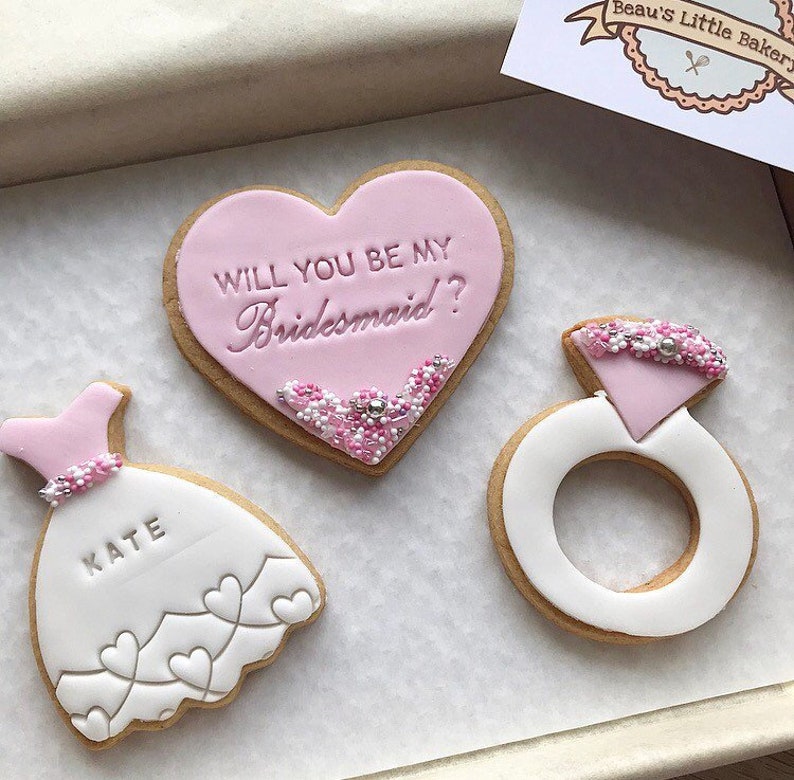 "Propose" to your bridesmaids with style with these gorgeous cookies. When asking the question "Will you be my bridesmaid?" surprise them with this truly special treat. 
We love just about everything about these cookies by Beau's Little Bakery … the font, the colours, the overall style! 
---
Hen Party Cookies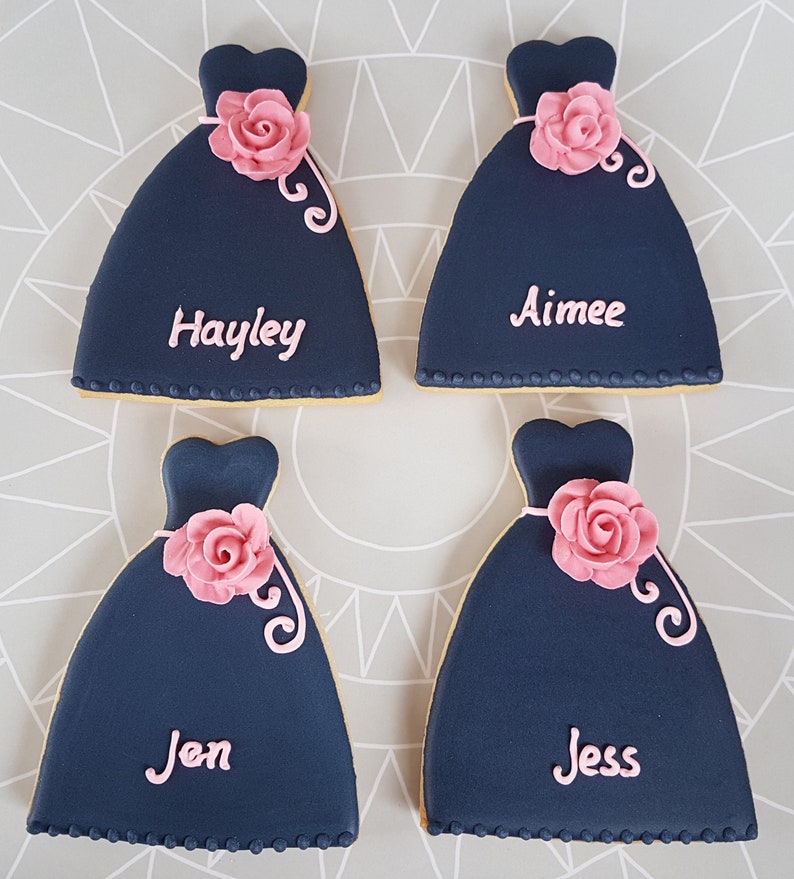 To plan the most stylish hen party, consider ordering personalised cookies. 
The cookies on the photo are by Custom Cookie Design and are personalised with names. The same cookies would make a lovely thank you gift to be given to bridesmaids on the wedding day. 
---
Wedding Favours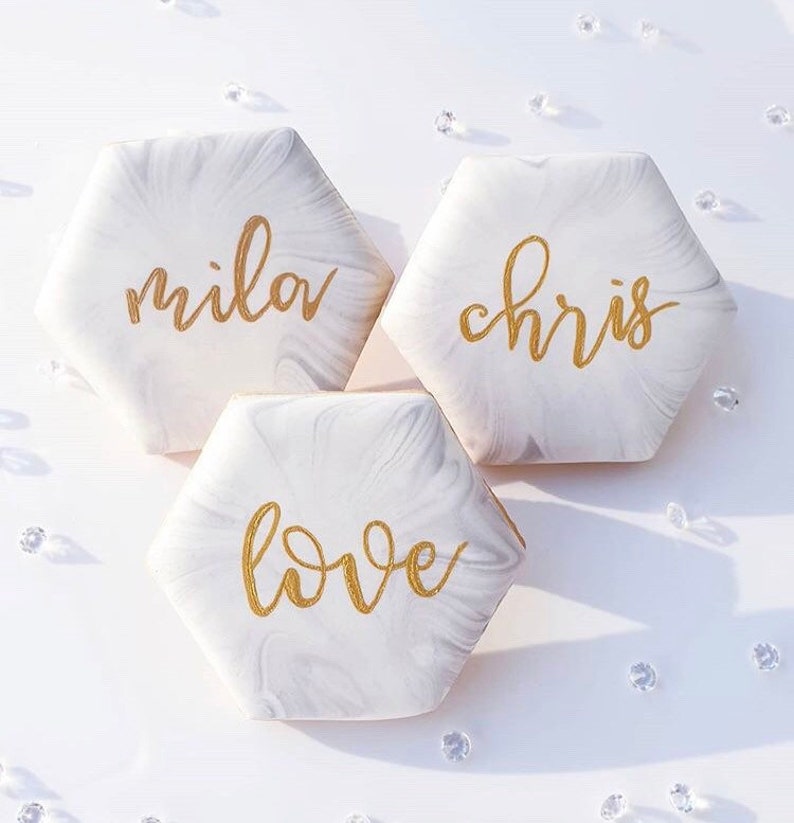 Do you like the idea of edible wedding favours?
This Etsy seller, Victoria Treats is happy to change the design for you, to ensure that these cookies reflect your wedding theme. 
You could even order a combination of cookies and macarons. 
---
Place Settings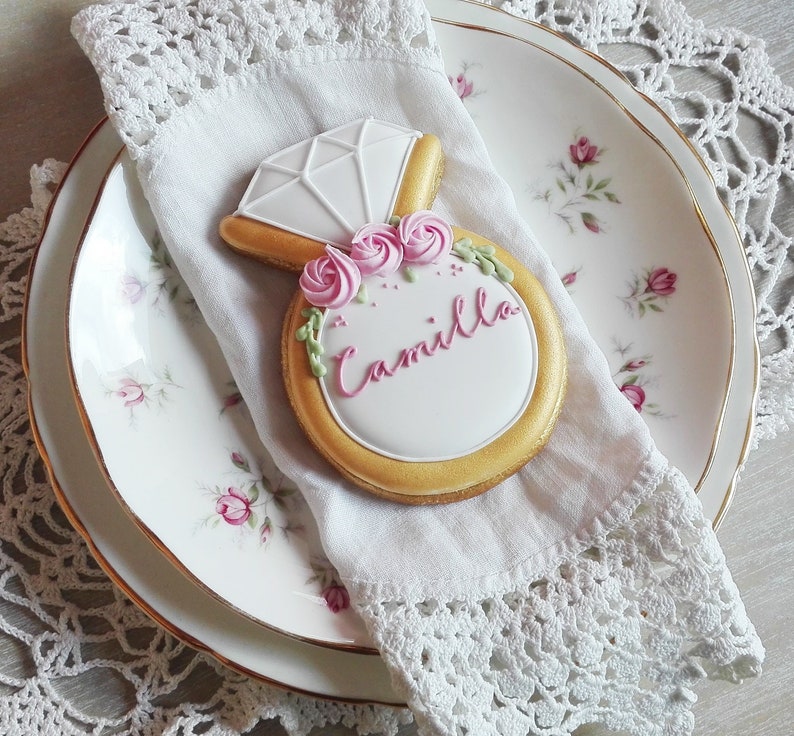 Cookies with names will make lovely wedding favours but could be also used as place settings. 
How lovely is this diamond ring design by Sylvia's Gingerbread? 
Some bakers have managed to bring sugarcraft to perfection and each line and each smallest decoration is just perfect. 
---
Wedding Day Cookies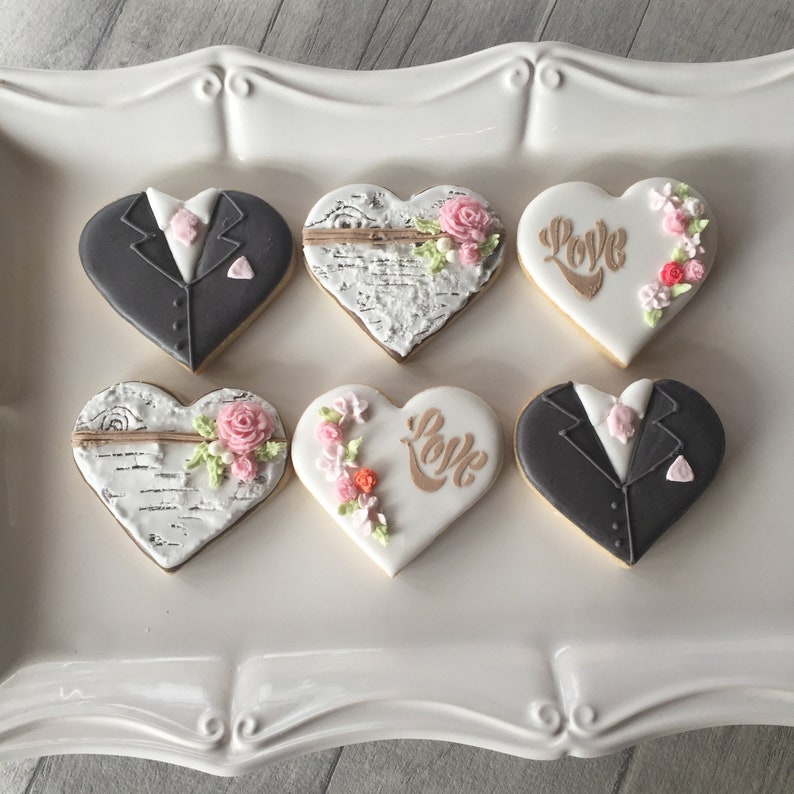 Wedding cookies could be also displayed at a cake table, added to sweet carts or left as a surprise in a hotel room for guests travelling from afar. 
There are so many styles to choose from, from traditional to funky. 
We find that the detailing of these cookies by Piping Good Biscuits is just extraordinary, especially all the dainty roses. 
---
Thank You Cookies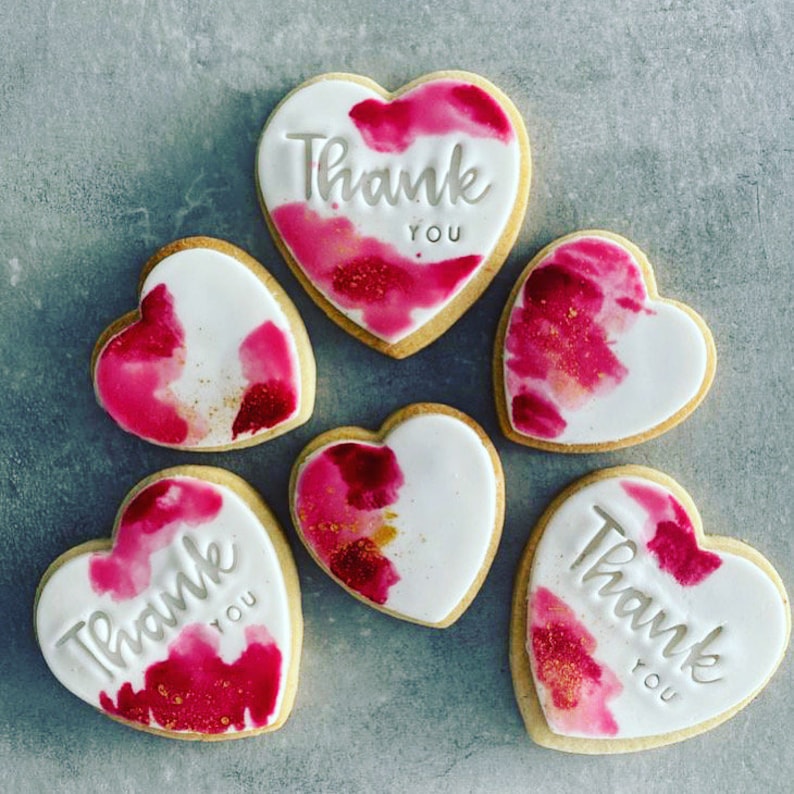 And finally, cookies could be used to say Thank You to all your loved ones, … the parents of the bride and groom, the bridesmaid and ushers or even special guest such as grandparents.
The heart-shaped biscuits on the photo are by Teacups and Tandems, another Etsy Seller.
The have a modern feel and their icing looks almost like a watercolour paining.
About Wedding Crafts Academy 
We are dedicated to helping engaged couples, wedding suppliers and other small businesses. If you are planning a wedding, do check out our Digital Magazine A Handcrafted Wedding, DIY Projects, Wedding Inspiration section, Colour Palettes, Craft Idea of the Week and our Wedding Trends section. 
If you are wedding microbusiness or are thinking about launching a business, learn more about our Pricing Spreadsheet and Pricing Course, Bridal Headdress Design Course, Microbusiness of the Month Blog Series, Super Simple Tips for Microbusinesses videos and Trade Shows and Events reviews 
For updates by e-mail, please join our mailing list: 
,