Some of us have spent a bit too much time indoors over the past few years, so let's look at a wedding theme that's a bit different from our mundane daily lives, let's talk about travel and adventure.
Have you ever thought about styling your wedding in this team, travel and adventure? This wedding theme might not be everyone but if you are the adventurous types, it might be just the right theme for you?
Disclaimer: This blog post contains affiliate links. If you click through any of the links below and make a purchase, we might earn a small commission but that's at no extra cost to you.
Creating the Travel and Adventure Wedding Theme
Let's have a look at a few items that can be used for accessorizing and styling your wedding venue. Maybe you could start in your attic to see if there is an old suitcase or any other items you could upcycle? If you are not into DIY, you will love these ready-made items:
Vintage Airmail Save the Date Paper Airplanes
Do you remember making paper airplanes when you were a kid? Making them glide through the air, watching how far they would fly?
To add a playful element to your wedding stationery set, how about these amusing paper planes? Would your guest appreciate unfolding a paper airplane to find out that you will be continuing your adventure as Mr. and Mrs?
These airplane save the date card are by Hip Hip Hooray Studio on Etsy and can be either printed and delivered for you or downloaded as a printable file, in which case you won't miss out on all the fun of folding them.
We love this idea of paper planes with cards, making the notifications fly across the country or all over the world, landing on the tables of your family and friends who will get excited about your special day.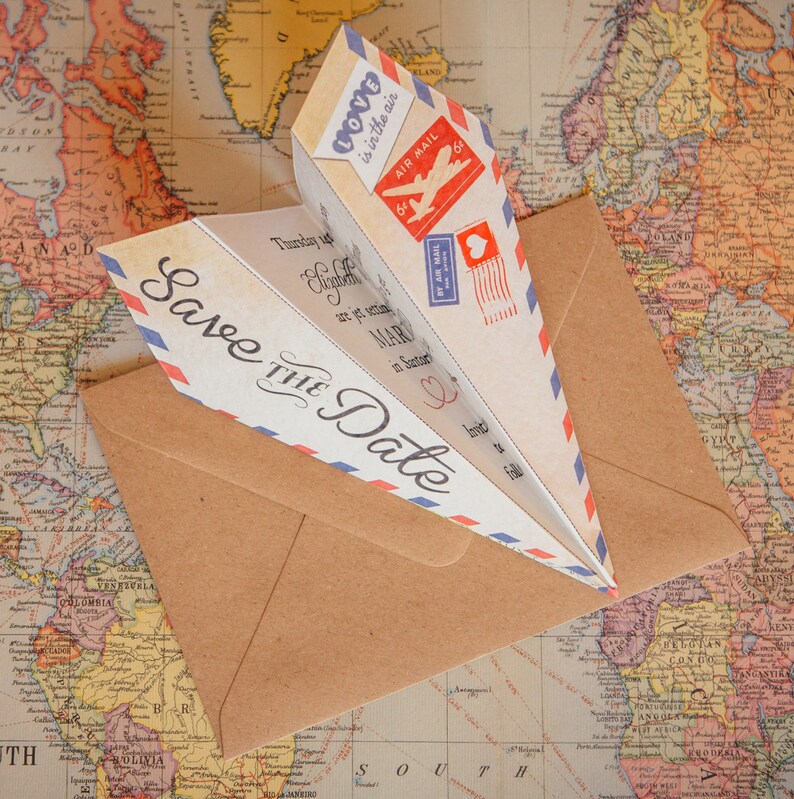 Custom Colour Tutu Flowergirl Skirt
Light and fluffy, this custom flowergirl skitt by Mimosa Couture, Etsy, will match many different wedding themes. If you want your flowergirls to feel free and unrestricted, looking joyful and playful on photos, tutu skirts are the way to go.
The skirt can be teamed up with a pretty white top or even a simple t-shirt! With a few accessories such as a pretty bracelet and or a simple hair bow, you can be sure that your little friends will turn heads at your wedding!
You can probably already hear all those "aw, how cute!" sighs. These skirts are made to order in England and you can choose from many different colours, to match your wedding colour theme.
Yards of quality tulle are used by the maker to create this dreamy, feathery look and this skirt is best work with pretty leggings underneath.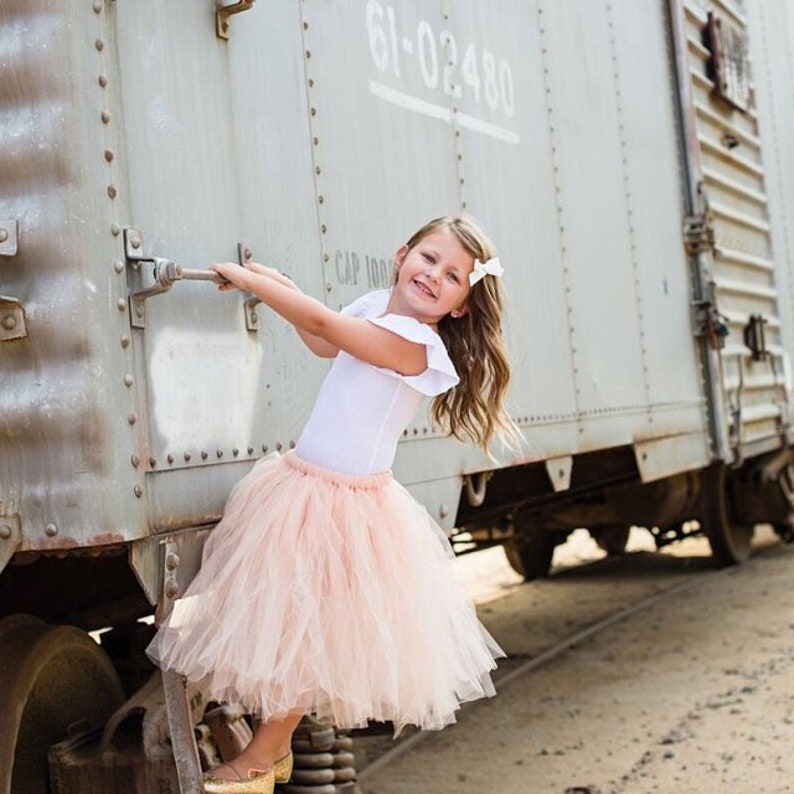 Boho Lace Floral Wedding Dress
How to choose a bridal gown for a destination wedding, now here is a question! Keeping things simple is the key but that does not mean that you need to compromise on style or quality.
You could still choose a beautiful luxury gown made with silky fabric or lace. We love this lace top gown by House of Bali, Etsy made with chiffon and lace. It's gorgeous yet not too difficult to pack to a suitcase.
We love the boho overtones of this gown. Choosing a gown for destination wedding can be tricky. To keep things simple, you need to avoid gowns with layers on layers of tulle or a even a crinoline. Such gowns can be still transported but special arrangements might be needed.
Etsy sellers, or your dress designer or staff in your local bridal shop will be able to guide you through the choices you have if you are looking for something more adventurous but not too difficult to transport.
And the great thing about simple gowns is that you could wear them for special occasions, perhaps together with a colourful coat or a sash.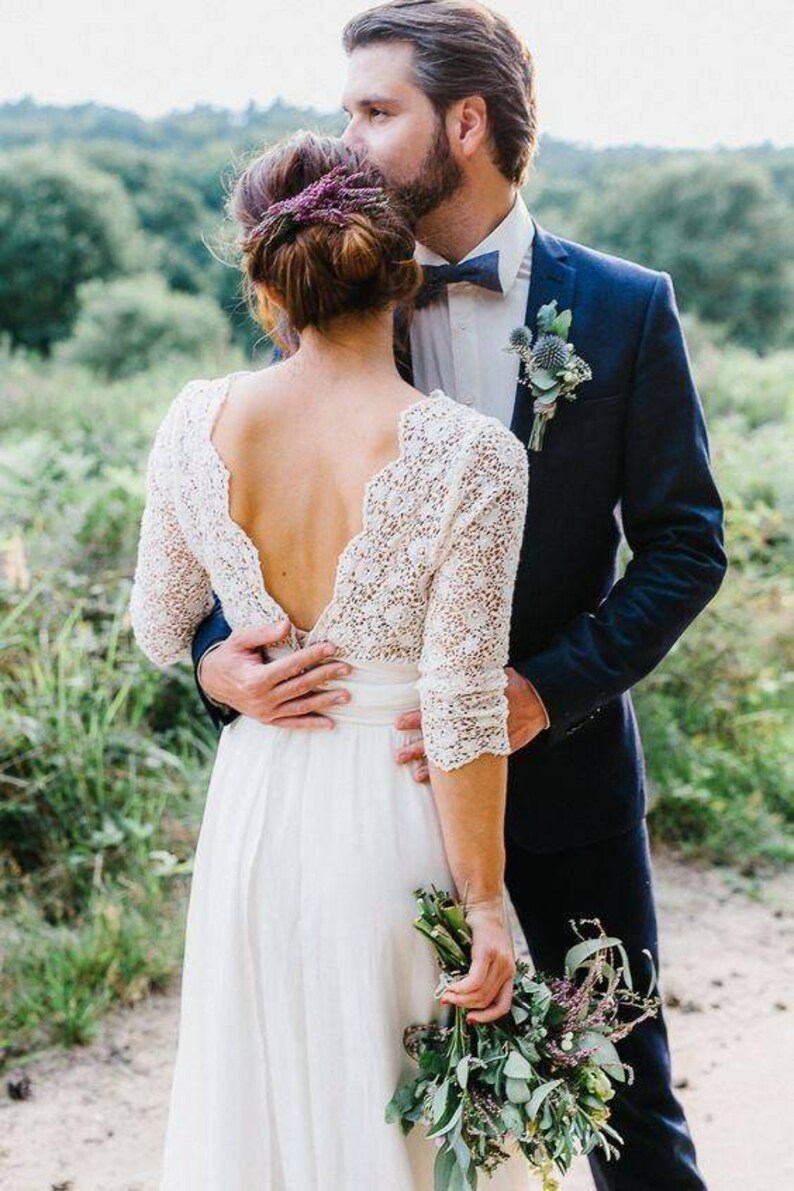 And So the Adventure Begins Wedding Guest Book
And they lived happily ever after is a phrase we all love. What a great end to any fairytale. But what about the beginning of a fairytale, should there not be a phrase as well? Maybe … And so the adventure begins….could be a fitting phrase for your fairytale life as Mr. and Mrs.?
We love this classic, yet contemporary guest book by jin.b London, Etsy It comes in many different colours and can be personalised with your names and your wedding date, making this a treasured keepsake.
Although most guests will bring cards with heart-felt messages, it is still nice to have a guest book at each wedding. Guests can scribble their wishes inside but can also compliment you on how lovely you looked on your wedding day.
When all the rush is over and you curl up quietly on a sofa as newlyweds, reading through wedding guest book messages will bring back all the lovely memories of your special day in an instant.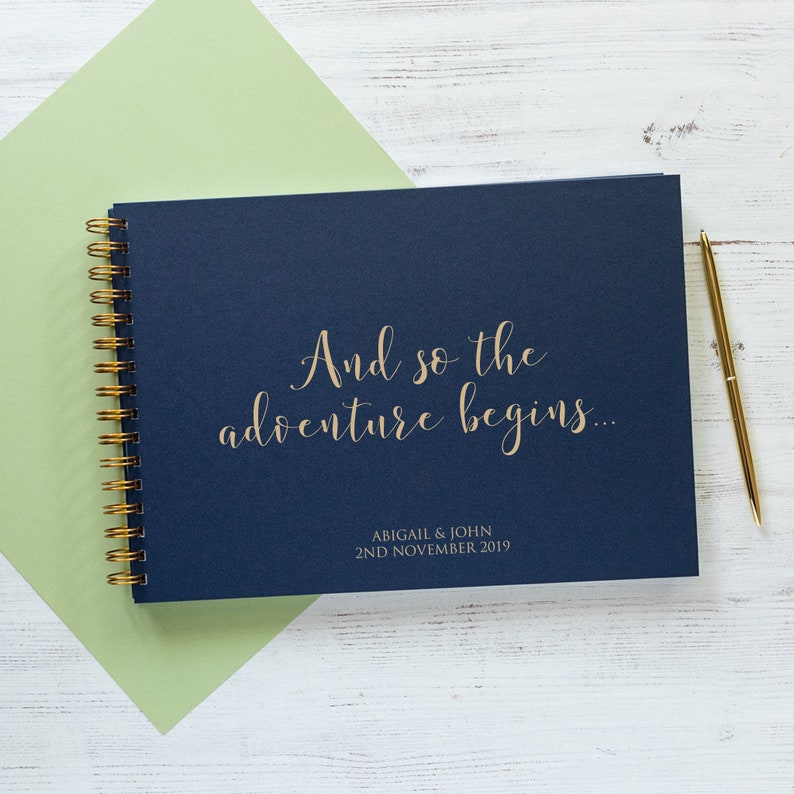 Something Blue Travel Bracelet
Something old, something new, something borrowed, something blue… and the whole world at your feet. Weddings are truly special occasions and whether you want to feel that the world is your oyster or you want to feel connected to relatives and friends from all over the world who were not able to travel to your wedding, you might like this contemporary bracelet by Diamond Rose Jewellery, an Etsy seller.
This bracelet can be made in various colours, including deep, rich sapphire, gentle and light aquamarine as well as blueish zircon.
We love this modern feel of the bracelet and think that it will look splendid whether worn by the bride or by bridesmaids. Or, it could be the perfect treasured item to pack into a honeymoon suitcase.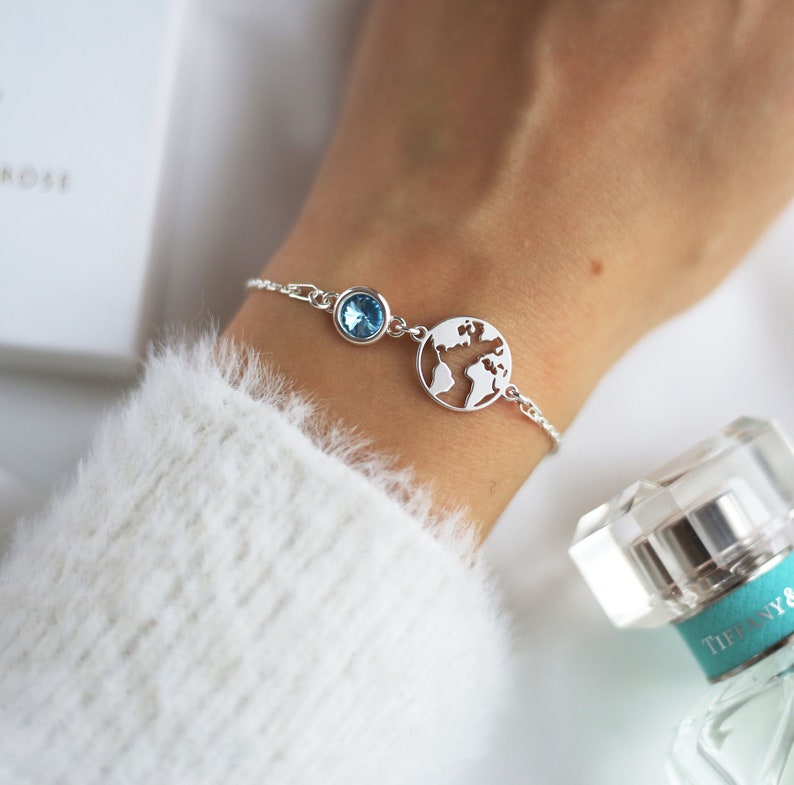 Life is a Journey Print
Some couples prefer a small neat memory box, filled with precious items such as the garter, the bow tie and a few dried rose petals. Others like more of a statement reminding them of their big day. If you base your wedding theme on travel and adventure, you might like this Life is a Journey best traveled together artwork by Happy Place Art, Etsy
It is personalised with a wedding day and the couples' names which makes is a perfect wedding gift or an anniversary gift. You could even buy little pins and mark all the breath-taking places you have visited as Mr&Mrs.
With a map like this, you don't need to worry that your life will slowly slip into a daily routine, with no excitement. You can keep your life filled with dreams and adventure.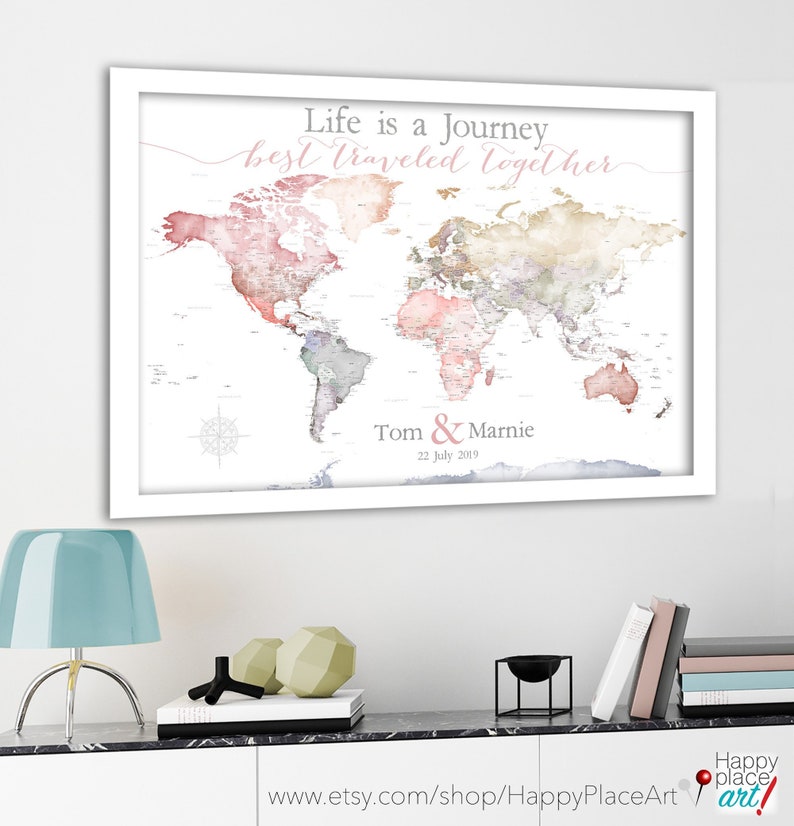 World Map Bow Tie
If you are not a fan of dots or stripes and are looking for a very special bow-tie, how about this one with a max by Astro Albatross, Etsy ? You will feel that you have the world at your feet and can think of all the amazing places you can travel to together.
This bow tie will look amazing at vintage themed weddings and won't look out of place at modern, chic weddings. Wear the tie with a tweed jacket for an authentic vintage feel or choose a modern wedding, in black or navy, creating a striking look.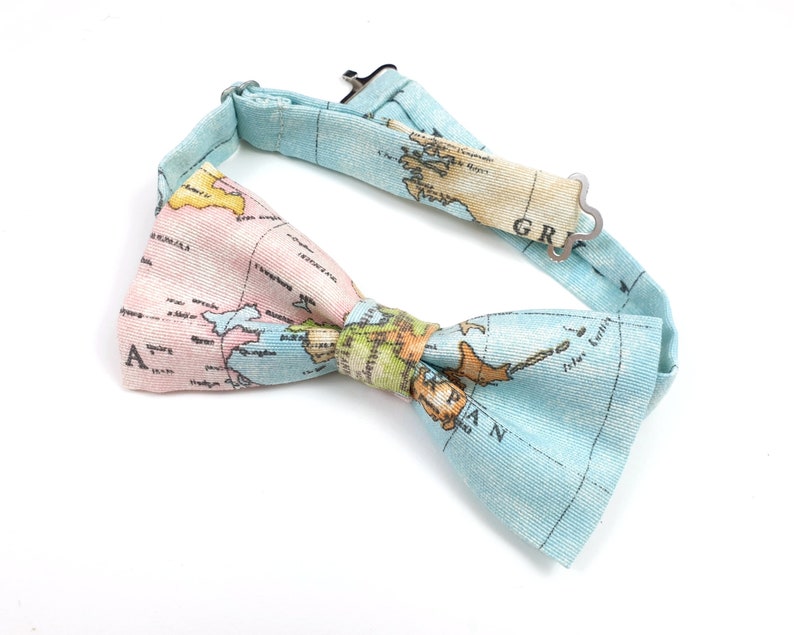 Personalised Travel Wallet
Many couples feel more relaxed on their special day if they know that everything has been organised to perfection. If you are dashing off to the most romantic honeymoon just after the reception, it might help to have all travel documents in one tidy wallet. And why not choose a stylish, personal one like this one by Creative Blossom Ltd, an Etsy seller ?
You can place your passports, foreign currency and your boarding tickets inside and if you are the modern digital type, don't worry, a mini ipad can fit inside as well.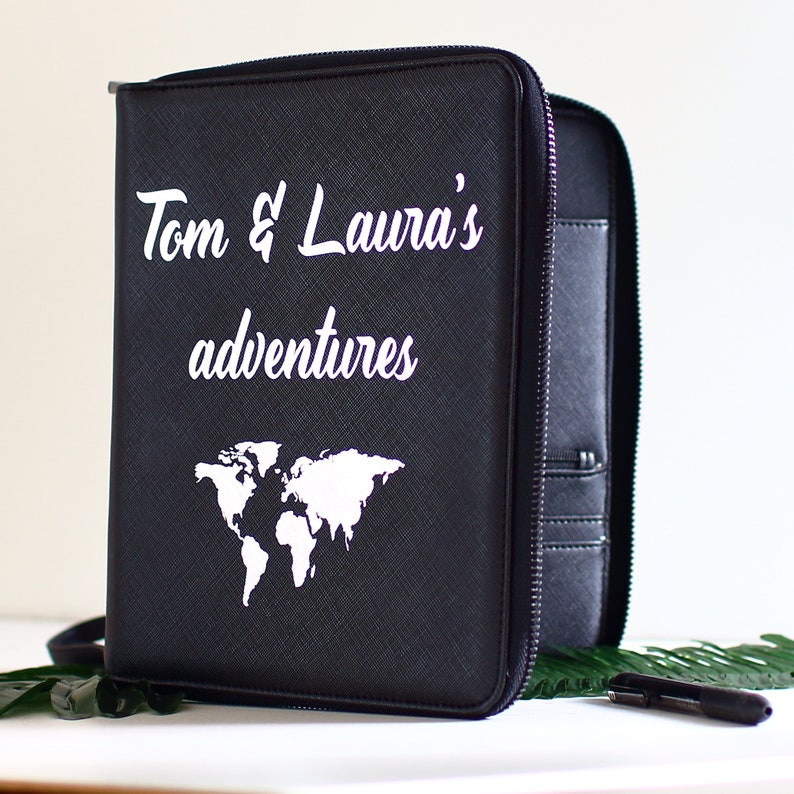 Alternative Wedding Dress
If you like travelling light, you will love this bridal gown by Lace and Love Brides on Etsy.
The dress is made with comfortable materials and the only accessory that is compulsory with this dress is your smile!
When shipping bridal gowns to a destination wedding, it's best to place them in a separate suitcase and label the suitcase with the words "handle with care".
Cufflinks
If you mention wedding cufflinks to friends, they will be probably thinking of silver or gold, engraved and personalised with your initials or the wedding date.
But wedding cufflinks can be much more than just a small piece of metal holding sleeves together. We love these cufflinks with rustic wooden plates by Showstopper Supplies, available on Etsy . They look like a small piece of art, with a tiny airplane flying around the bride and groom's initials and then taking off, with the wedding day written underneath.
These cufflinks have a rustic feel but don't worry, they are carefully sanded and hand finished with a coat of protective Danish oil, and are packed in a presentation box.
What a beautiful keepsake which could be displayed or placed inside a wedding memory box, alongside with other items such as a garter or the bride's hair adornments.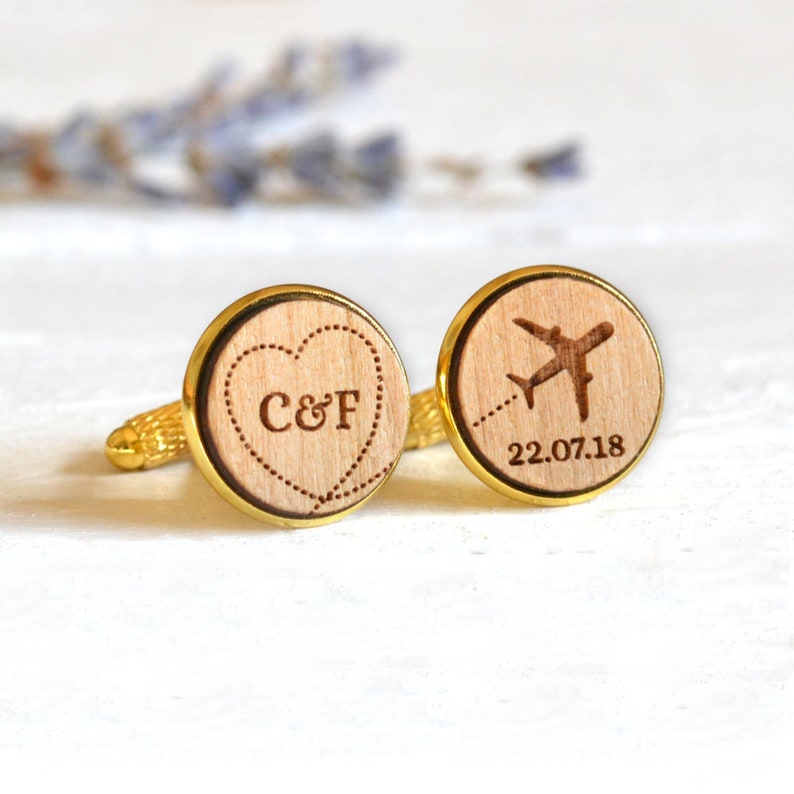 Bridesmaid Dress
If you are looking for bridesmaids dresses for a destination wedding, you might want to choose something easy to wear and easy to transport.
To take stress out of your wedding planning, investing into a small, portable clothes steamer might be a great idea, as all your bridesmaids will be able to borrow it and ensure that their dresses are flawless.
The dress on the photo is by Sophie Juliette Designs, Etsy. We think that this beautiful shade of teal is very fitting for a destination wedding, especially if the wedding is at a seaside.
To flatter different body shapes, this dress has many variations such as strapless or halterneck. You can even purchase matching flower girl dresses and accessories such as ties and cravats.
With beautiful custom made dresses like this, all you will need to worry about is what tune to choose for the bridesmaids to walk down the aisle, setting the atmosphere for the arrival of the bride. Maybe a dreamy harp or a very gentle piano music will be the best choice? That's entirely up to you!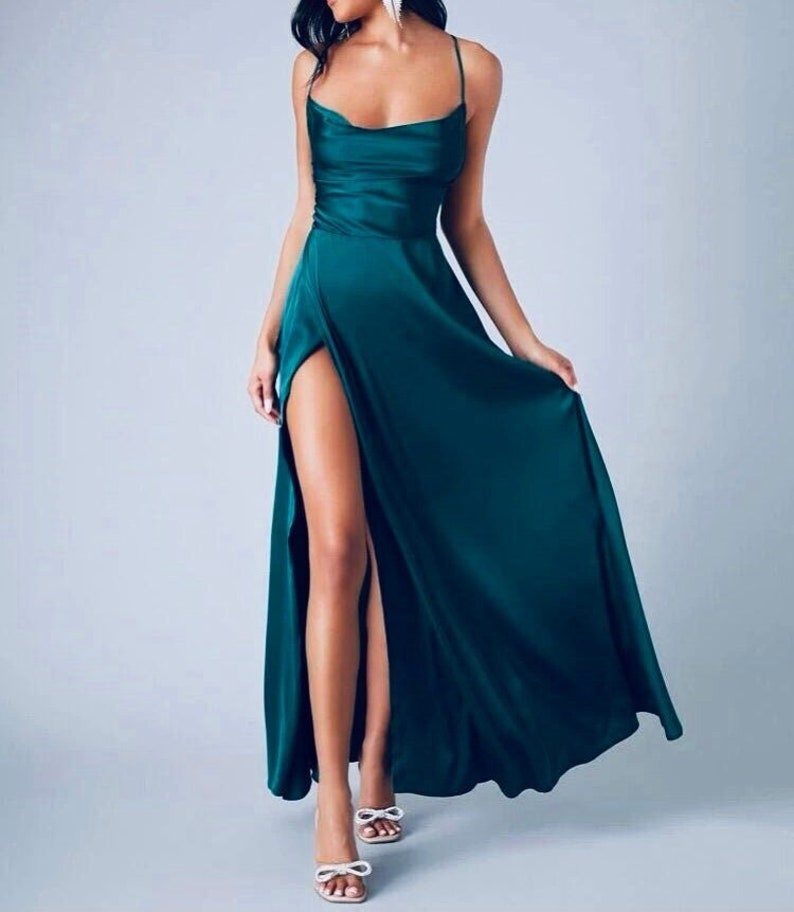 Wedding Rings Box
And with this ring…. our adventure begins. These are not the standard wedding vows but when you think about it, the exchange of wedding rings starts the adventure of the lifetime.
No longer just you and me, but us. Us, on our journey, sharing all adventure together. Not just for better or for worse, but also for all the excitement, the sunsets, all the small gestures of love and pleasant surprises, the way we make each other laugh, just us and all our adventures.
If this resonates with you, you might like this little keepsake by The Most Special Day, an Etsy seller as a little addition of "something pretty" for your big day.