Sometimes, you see breathtaking wedding photos of flawless wedding decor online and think: "I wish my wedding looked just like that!" You might need a bit of help turning your dream into reality. You might have many questions.
How do I find the right accessories and create a magical atmosphere?
What do I even search for?
What are all the names of the decorations I see?
Incorporating dried flowers into wedding decor is a great idea but finding the right type of grass or dried blooms can become tricky. For this reason, we have put together a simple guide to dried flowers, showing and naming seventeen of some of the most popular types of grasses and dried flowers.
We have teamed up with Etsy and the links below are affiliate links. We might be sent a tiny commission if you make a purchase but this is at no extra cost to you. We think that Etsy is a great place to shop for all things wedding.
Ready Made Arrangements
The easiest option is to purchase ready made arrangements, as these can be simply placed in vases.
The pretty dried flowers you see on the photo are by Rosielda Flowers, an Etsy seller.
The flower arrangements include pale pink larkspur, wheat, linseed, and hare's tails grass.
We think that they are perfect and look so pretty wrapped up in decorative tissue.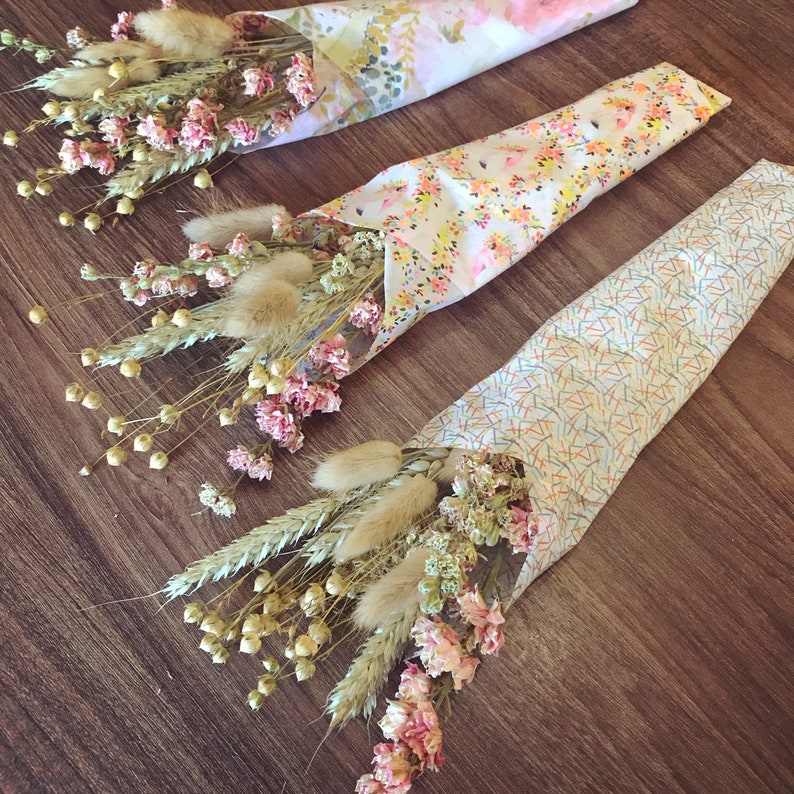 Letterbox Dried Flowers
Ordering letterbox flowers is another option. You could select a pack that is just perfect for your wedding and arrange the flowers yourself.
Once the flowers arrive in post, you could tie them with raffia ribbon or push the stems into foam bricks to hold them in place.
You could place them in simple vases or upcycle pretty vintage jars.
The box you see on the photo is by Nature's Treasure UK, an Etsy seller.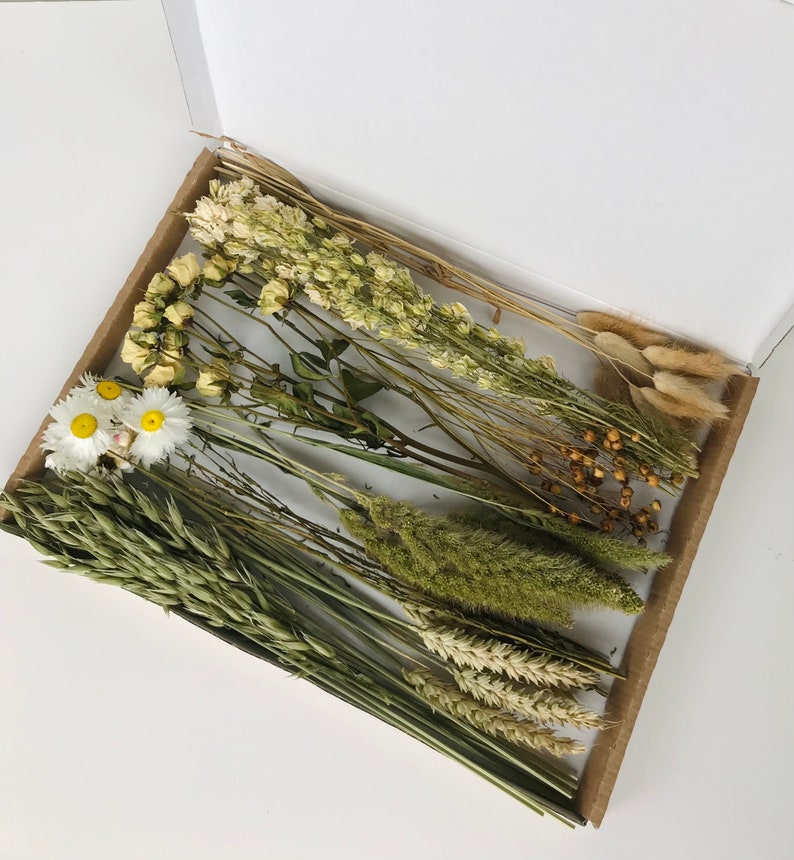 DIY Dried Flower Arrangements
Purchasing ready-made arrangements or letterbox dried flowers is very convenient and worry-free but some of you might feel that the options available are not exactly what you are looking for.
You could either contact sellers and check whether any of the packs can be customised or order individual flowers and make your own flower arrangements.
If you want to learn the names of the flowers and grasses that are often used for wedding arrangements, just keep reading!
1. Lavender
Let's start with an easy project. Lavender is quite easy to work with as it looks gorgeous on its own. Some sellers will tie lavender into bunches for you, such as Salvatore Tripi on Etsy.
Small bunches of lavender could be used as place settings, together with a handwritten or calligraphed name tag.
Lavender can be also used in cones, as confetti.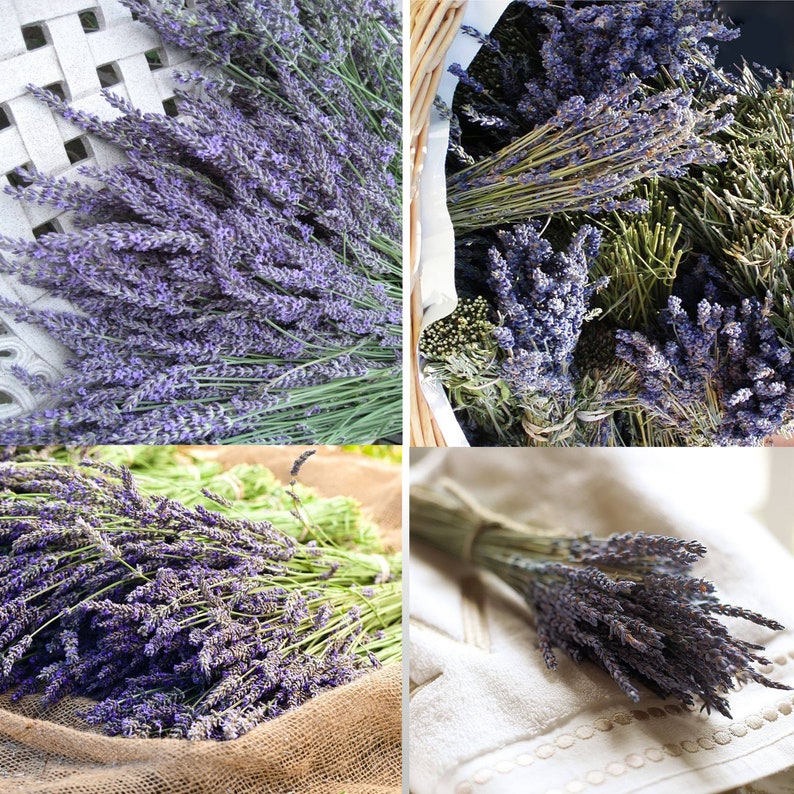 2. Pampas Grass
Let's move onto statement dried flowers. For truly eye-catching arrangements, explore various types of pampas grass.
Pampas grass is especially popular with boho brides and grooms as arrangements with this type of grass look very effortless. The perfect choice for couples who like a relaxed, bohemian style.
The dried grass you see on the photo is by
Love products ltd B tony, an Etsy seller.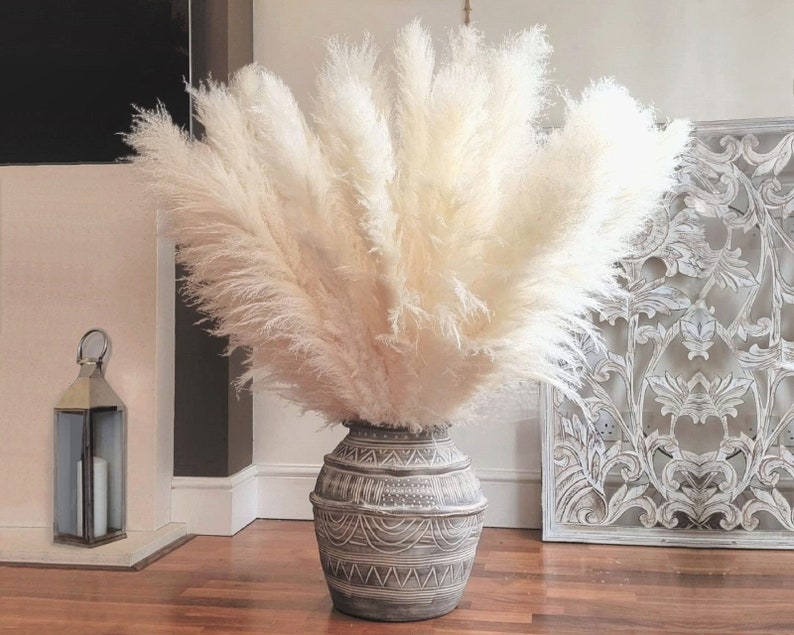 3. Protea
To add a splash of colour to your floral arrangements, add some dried protea. The protea on the photo is by Sneg Craft, an Etsy seller.
Protea is perfect for creating statement arrangements as the flower heads are often over 10cm long.
As protea flowers are native to South Africa and Australia, you can be sure that these dried blooms give your flower arrangements a warm feel.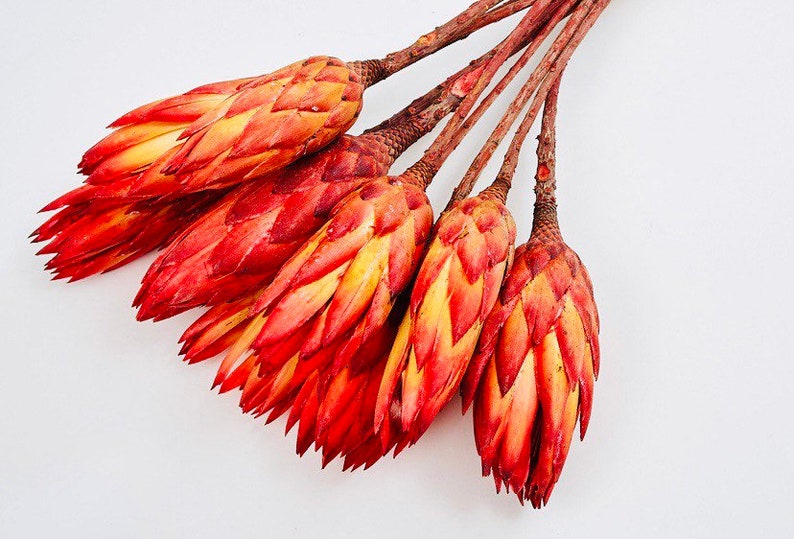 4. Delphinium
If your aim is to create a country cottage feel, you might like gentle flowers such as delphinium.
The hand-tied posy you see on the photo is by Shropshire Petals, an Etsy seller.
Delphinium looks amazing when combined with other cottage flowers. You could even add wheat or various types of grass.
Delphinium is delicate and has to be handled with care, but it does look amazing.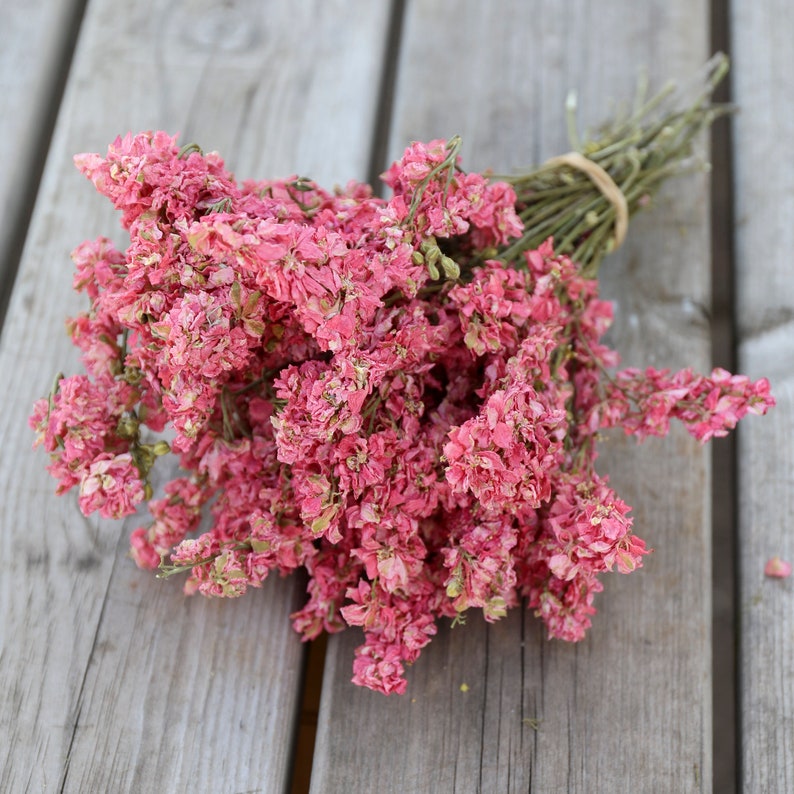 5. Eucalyptus
The eucalyptus you see on the photo is available from Vegan Bunny Co on Etsy. We applaud the idea behind this product. While some flowers, whether fresh or dried, are wrapped in plastic, this eucalyptus is brought to you completely plastic free.
And what's more, the eucalyptus branches are grown in Europe and are shipped to the small UK business with the environment always kept in mind.
Eucalyptus has a classic look but also looks wonderful at weddings styled in a contemporary style.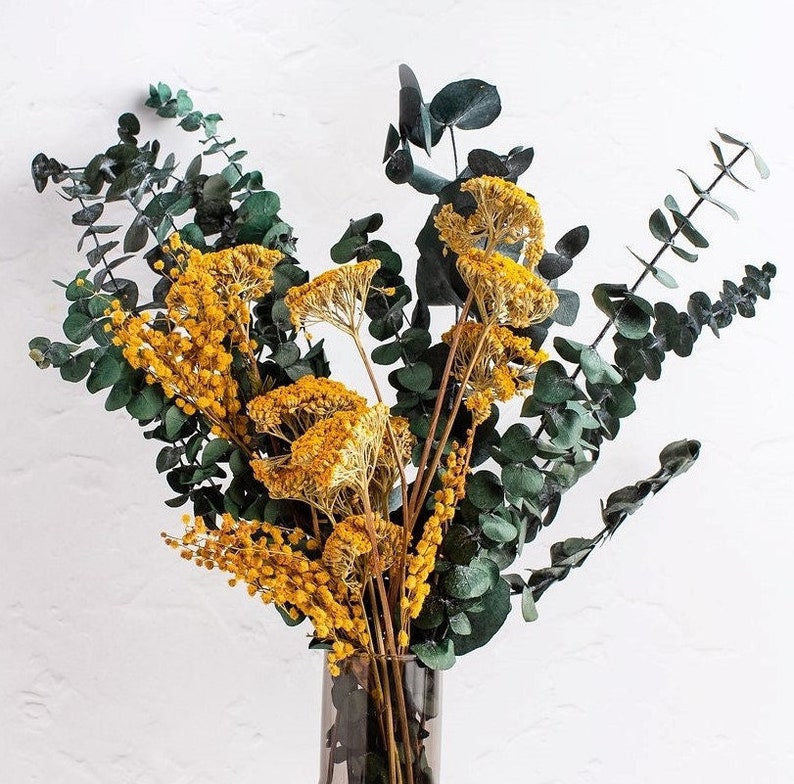 6. Lunaria
Lunaria, also called "honesty" is a beautiful translucent plant. The plant on the photo is by Lavender Lady Paris, an Etsy seller.
Lunaria is sure not too disappoint if you are looking for something out of the ordinary. The translucent petals look perfect at weddings.
Tall lunaria can be placed in vases and form an unusual wishtree. Small lunaria in simple vintage vases also looks special.
Lunaria gives the venue decor a dreamy, misty look and is definitely not out of place at boho weddings, thanks to its natural look.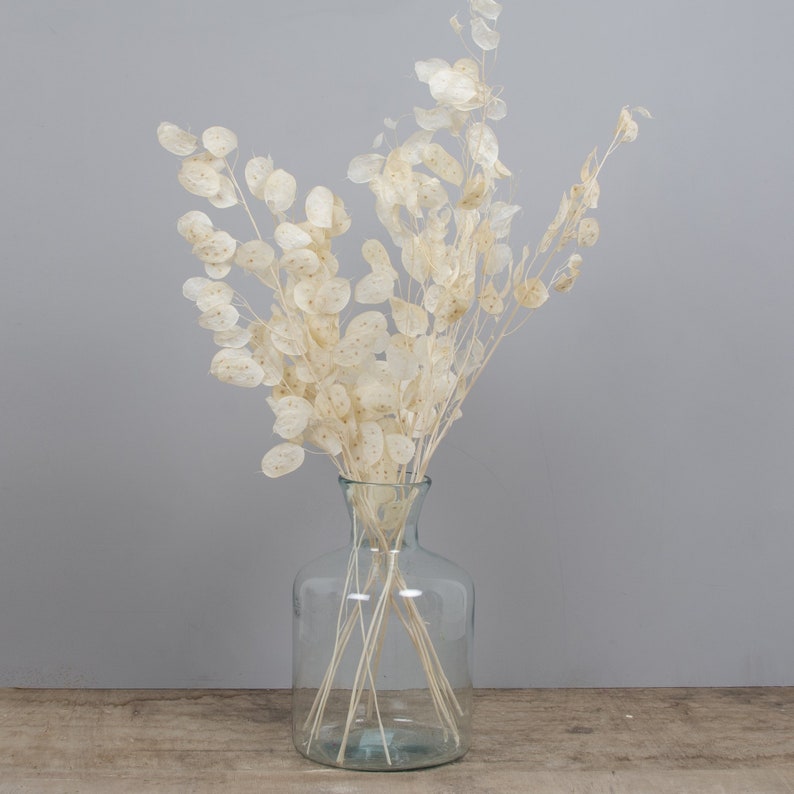 7. Bunny Tails
Bunny tails add an amusing element to flower arangements. They are fluffy and look like bunny tails indeed! Who does not love bunnies?
The bunny tails on the photo are by Cotton Box Company, an Etsy seller.
Bunny tales can be natural, in which case they are beige. They can be also bleached. The combination of natural and bleached bunny tails always looks harmonic.
Some sellers also offer coloured bunny tails, in colours such as pale pink, blue and grey.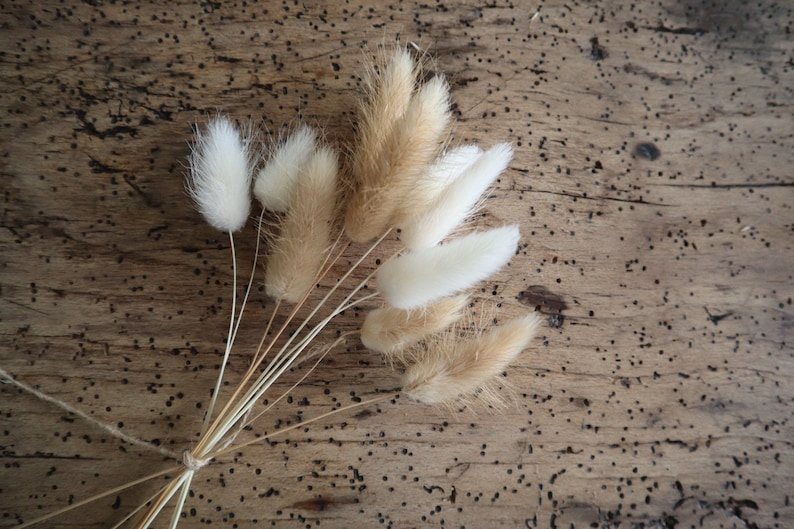 8. Helichrysum
Helichrysum is one of the most popular dried flowers. It comes in gentle shades of white and pink, as well as in vibrant shades of yellow and orange.
Helichrysum does not loose any of its beauty when it's dried, it possibly looks even more amazing than when it is fresh.
Perfect for creating a nostalgic atmosphere, placed in vintage vases with dainty detailing.
We love Helichrysum by Dried and Floral, an Etsy Seller.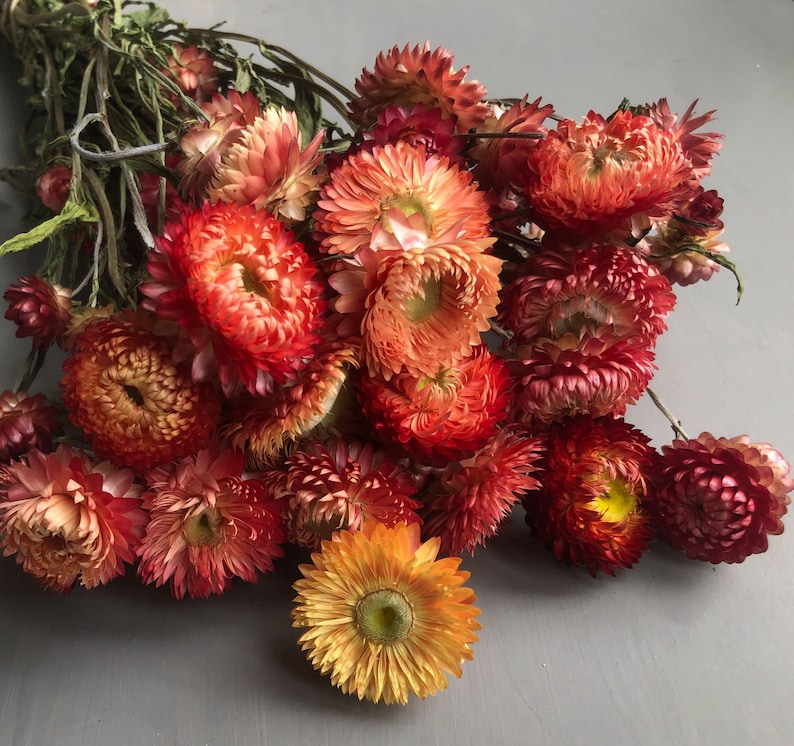 9. Broom Flower
Broom flower looks amazing when mixed with other flowers. It makes the arrangement fuller.
Broom flower is very similar to gypsophila but looks little bit more gentle, creating a dreamy look.
You might like this pale pink dried broom flower by Urban Bloom Creative on Etsy.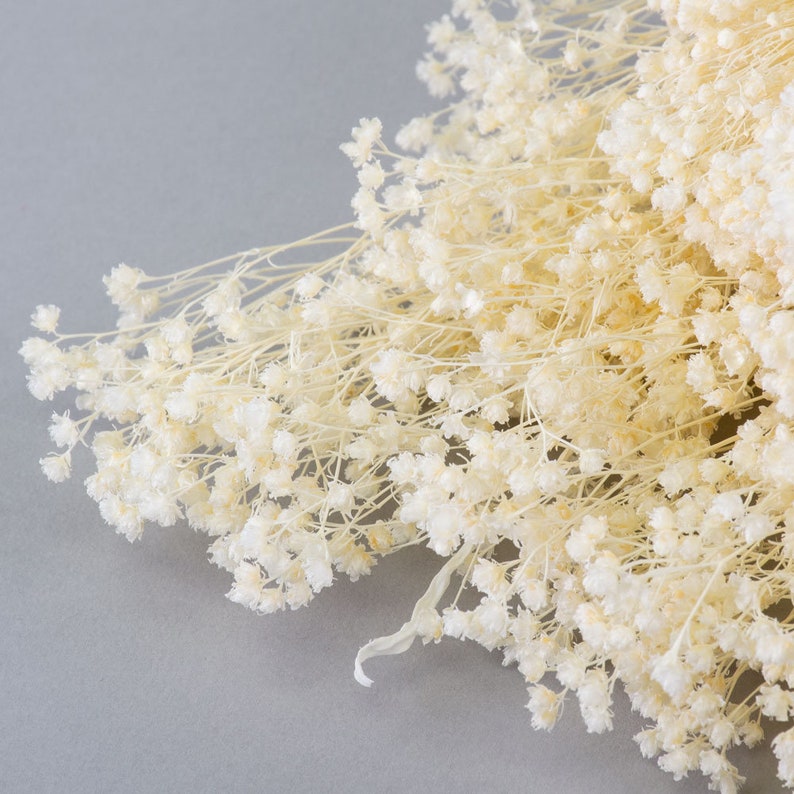 10. Gypsophila
Gypsophila is a member of the carnation family. It looks like thousand of miniature carnations, and is one of the wedding favourites.
Gysophila is often tied into bouquets or used to decorate church pews. Placed in flower girl baskets, gysophila looks very charming.
The rustic bouquet you see on the photo is by Hello Floral Design, an Etsy Seller.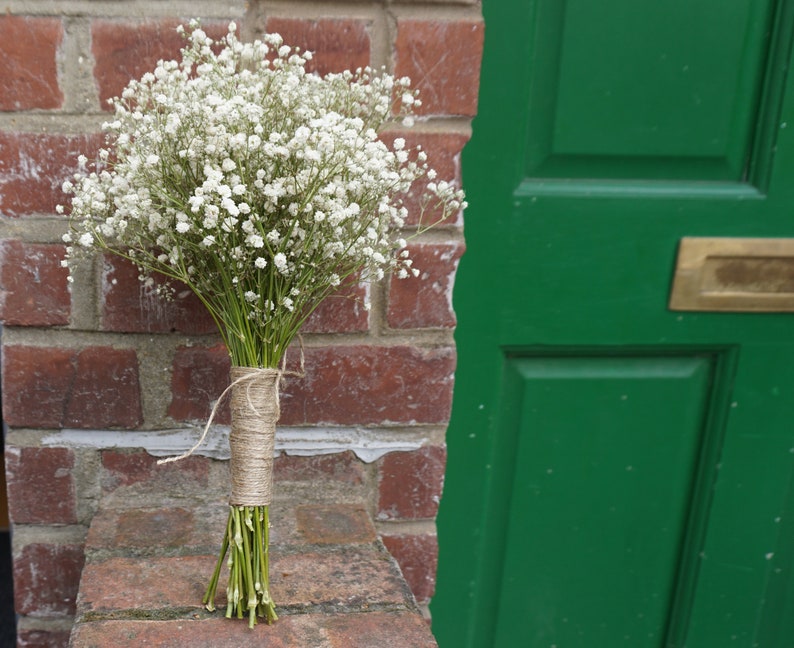 11. Eryngium
For something striking, how about eryngium? Eryngium could be your something blue or just something pretty to decorate your venue with.
The flowers on the photo are by Shropshire Petals, Etsy
You could combine erynthium with other flowers, to create very colourful arrangements. Eryngium also combines well with white and beige flowers, especially at weddings inspired by vintage eras.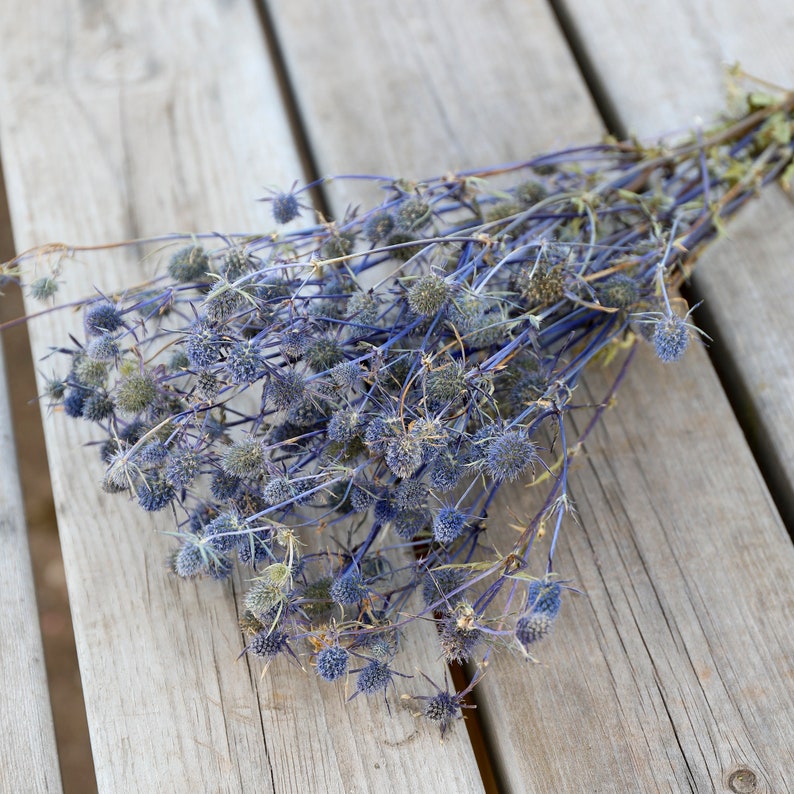 12. Nigella
If you are looking for something out of the ordinary, nigella might be just the right plant for you.
The symmetrical blossom, looking almost like an exotic spice bouquet, is very eye-pleasing.
Nigella can be used to add greenery to colourful dried floral arrangement. It will also look amazing in gentle floral bouquets, when combined with other flowers in neutral tones such as green, beige, off-white and brown.
The plants you see on the photo are by Shropshire Petals.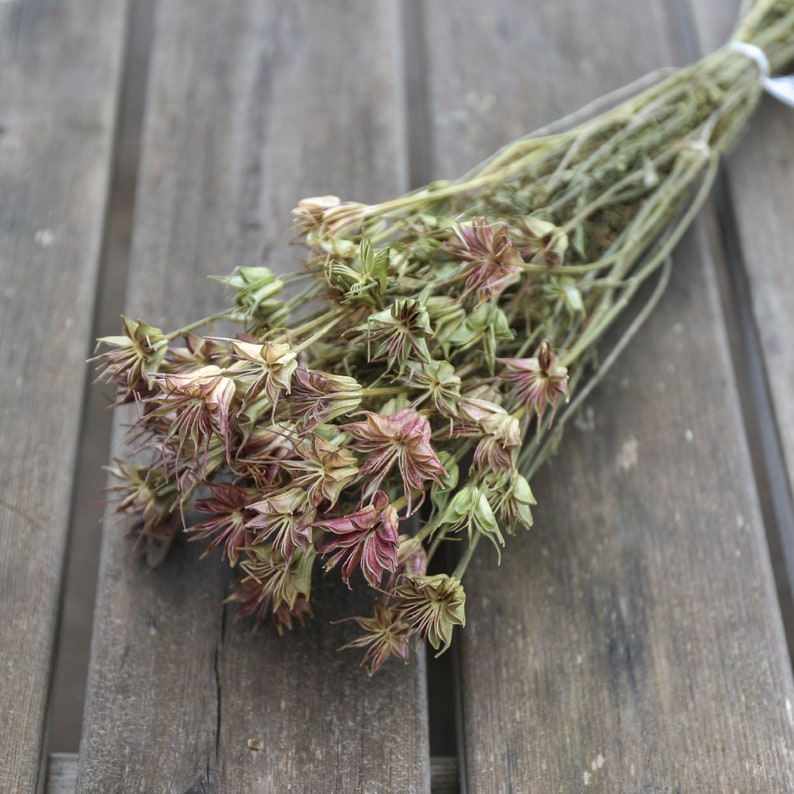 13. Hydrangea
Hydrangea looks amazing when dried. It needs to be handled with care but it most surely is the perfect design element at a vintage wedding.
The original colour of hydrangea fades slightly when dried and blends perfectly well with sepia tone petal leaves, looking like an old photograph.
For a nostalgic look, place hydrangea into simple ceramic vases or include it in large flower arrangements.
The hydrangea on the photo is by Jackal Berry, Etsy.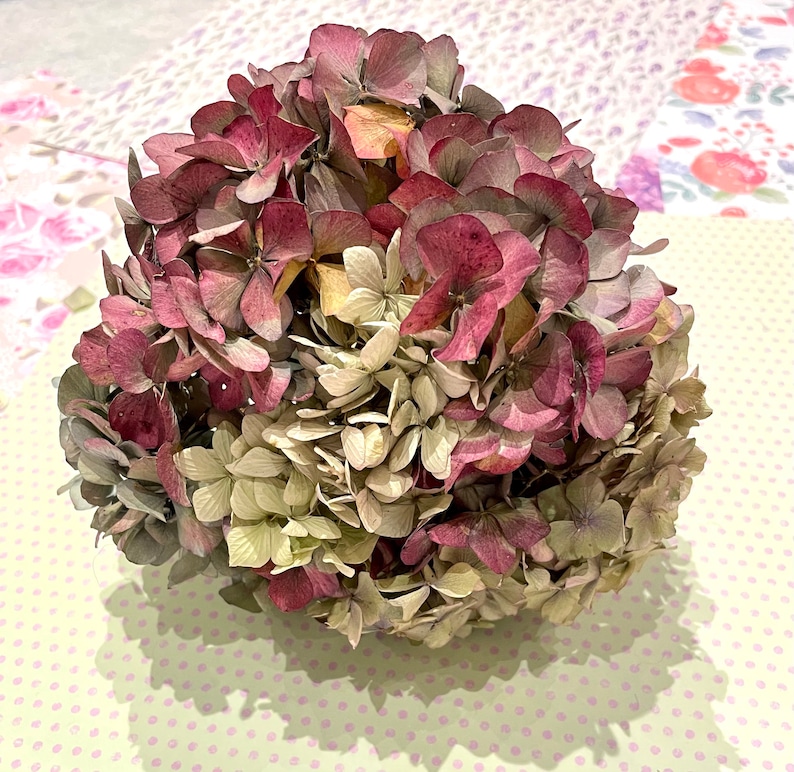 14. Wheat
Wheat has a symbolic meaning. It represents abundance, generosity and our connection with mother nature.
It has a very pleasant, natural feel and will blend in well with almost any other type of grass or dried flowers.
Wheat can be also tied into decorative wreaths, round or heart shaped.
We like the pale tone of dried wheat The perfect choice for eco friendly weddings as well as rustic weddings.
The wheat grass on the photo below is by Blooming Pretty Flowers, Etsy.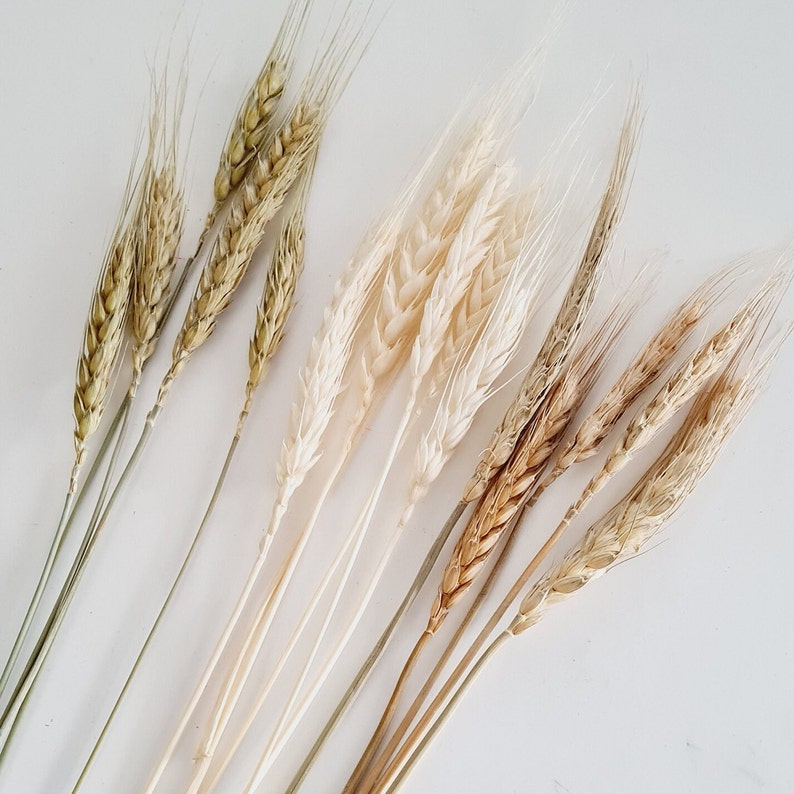 15. Craspedia
To create an uplifting atmosphere, you could add craspedia into your floral arrangements.
Craspedia blooms resemble tiny yellow pompoms and will add a breath of freshness to your wedding venue.
Craspedia looks wonderful when combined with dried blue flowers and can liven up any colourful, vibrant bouquets.
The craspedia you see on the photo is by Dried and Floral.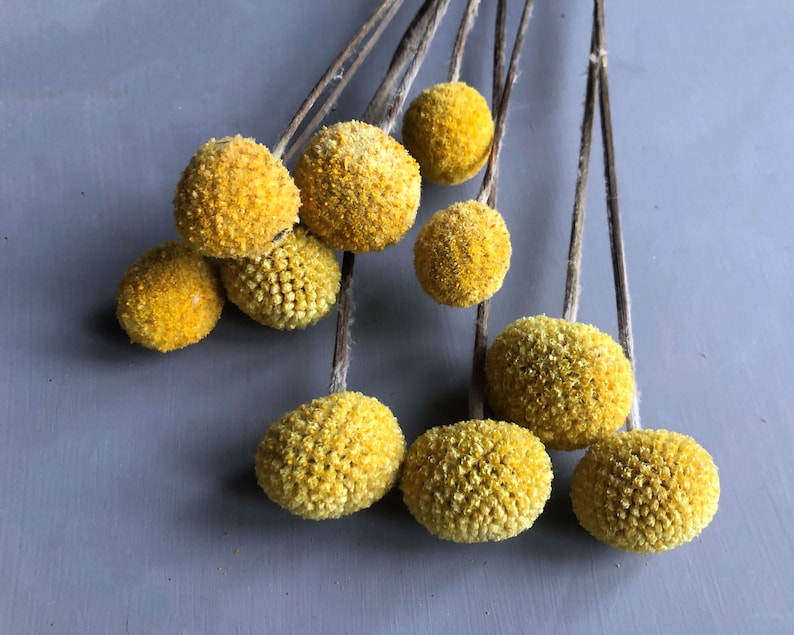 16. Amaranthus
To make a statement, choose amaranthus for your wedding. It will make an amazing ceremony backdrop or could be used to decorate a porch.
Amaranthus can be also incorporated into hanging floral chandeliers or mixed with branches, used as atypical wishing trees.
The plant you see on the photo is by House of Ivy Boutique, Etsy.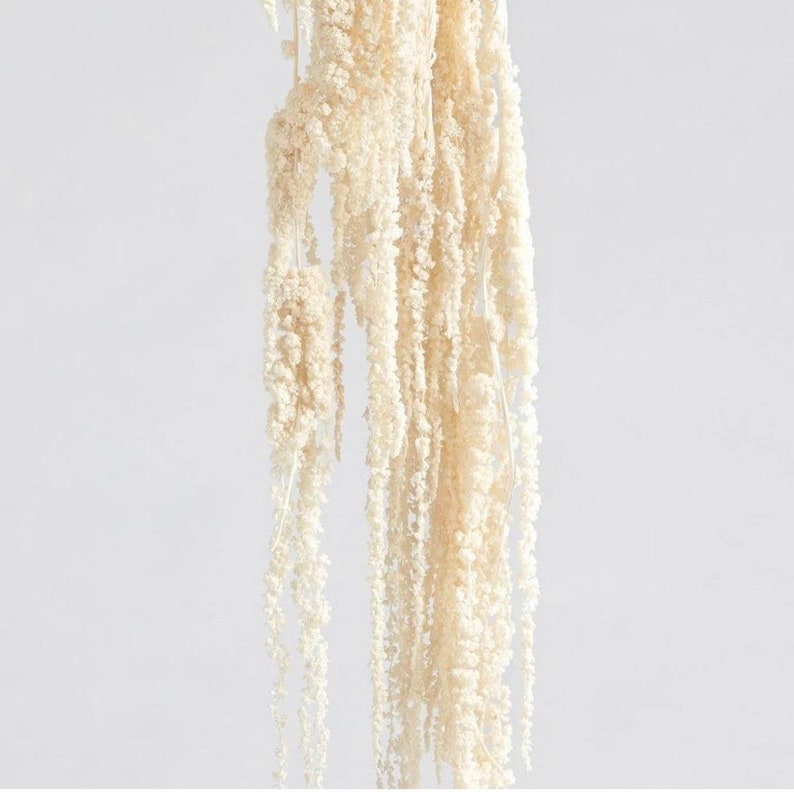 17. Phleum
Phleum is another type of plant that can turn a simple flower arrangement into an eye-catching work of arts.
The dried phleum you see on the photo is by Didos Dried Flower, Etsy.
Phleum can add extra height to a bouquet and have a very eye-pleasing, natural feel.
Tall and elegant, phleum is definitely one of the most popular choices of dried grasses.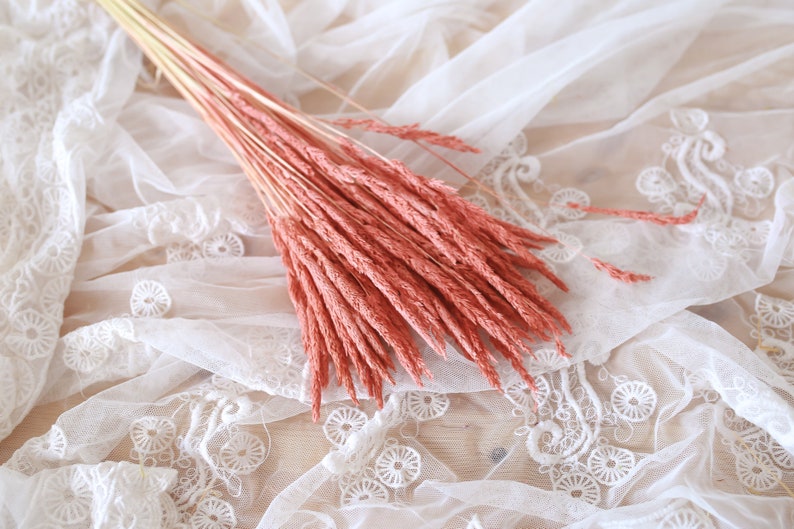 How to use Dried Flowers
Dried flowers can be used in numerous ways. We have already mentioned some easy options such as placing them in a jar or using a foam block. But there is much more! Actually, we might dedicate one of our future blog posts to this topic.
You might like some personal items such as this hair comb by Sirrah Flowers.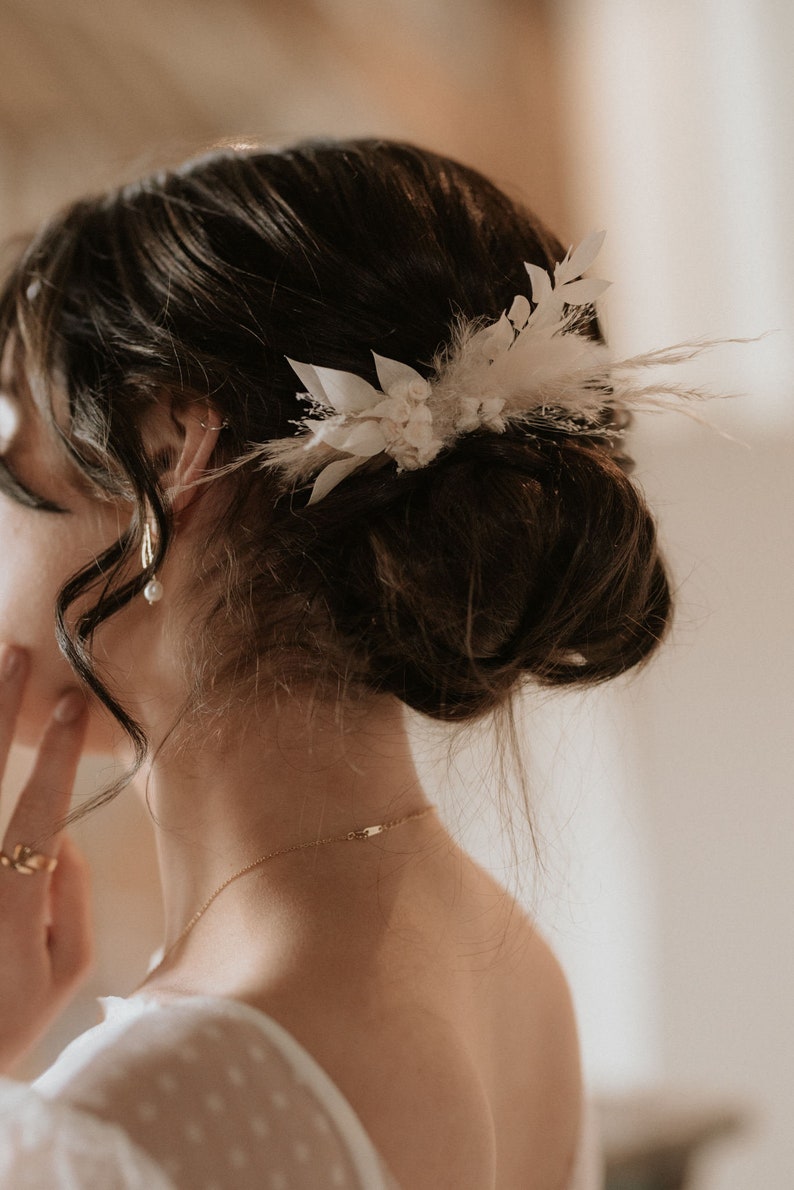 You could also glue dried flowers onto place cards, menus and table seating plans.
Ceremony backdrops and arches made with dried flowers can look breathtaking.
And there are also simple round wreaths, beautiful heart-shaped lavender wreaths, hanging decorations and dried flower confetti.
Or how about buttonholes for the groom and groomsmen? Or gorgeous corsages or your special wedding guests?
Whichever option you choose, you can look forward to holding onto a little keepsake from your wedding, either safely tucked into a memory box or proudly displayed on a shelf.