Let's talk about pebble art today. How can you use pebbles? You could use them to create beautiful and unique decorations for your wedding. Pebble art is a form of art that uses natural pebbles of different shapes, sizes and colours to create stunning pictures and sculptures. You can find pebbles on the beach, in the river, or even in your backyard. All you need is some glue, maybe a frame, and your imagination!
In this post, I will show you some examples of pebble art, made by independent Etsy shop owners for weddings. Pebble art is a great way to add a personal touch to your wedding and make it memorable for you and your guests. It is also eco-friendly, affordable, and adds a fun element to your wedding décor.
Disclaimer: All Etsy links on this page are affiliate links. If you click through any of the links and make a purchase, we might earn a small commission, but this is at no extra cost to you.
Pebble Guest Book
One of the most popular ways to use pebble art for weddings is to make a guest book. Instead of having a traditional guest book where people sign their names, you can have a pebble art guest book where people write a name and perhaps a short message onto a pebble. You can collect your pebble messages in a beautiful jar.
Or, you could place a canvas and a glue gun next to a bowl with pebbles and your guest and glue their wedding wishes, written on pebbles onto the canvass. You can also add some flowers, leaves, or other embellishments to make it more colourful and attractive. This way, you will have a unique and lasting keepsake of your wedding day that you can hang on your wall. The image a below is an example of carefully selected pebbles, all collected and prepared for you and your guests, by Black See Wood Glass, and Etsy seller, based in Bulgaria >>>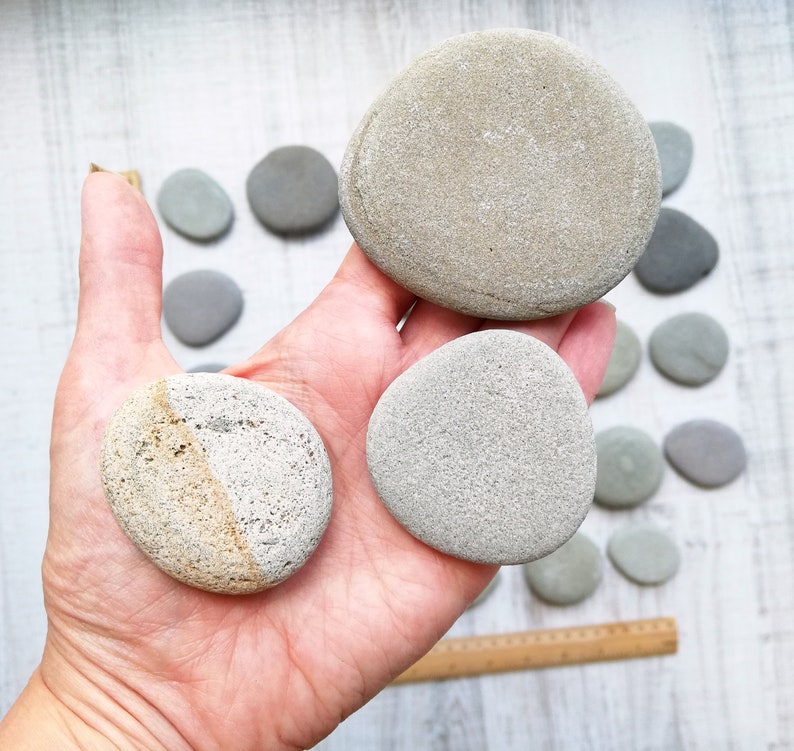 Table Numbers and Place Cards
Another way to use pebble art for weddings is to make table numbers or place cards. You can use pebbles to spell out the numbers or the names of your guests on a small piece of wood or cardboard. You can also add some ribbons, lace, or beads to make them more elegant and festive. These pebble art table numbers or place cards will look lovely on your tables and help your guests find their seats.
For a neat look, hire a modern calligrapher of search of Pebble place cards on Etsy. The pebble place cards yo see on the photo are by LoveLelize and are available on Etsy >>>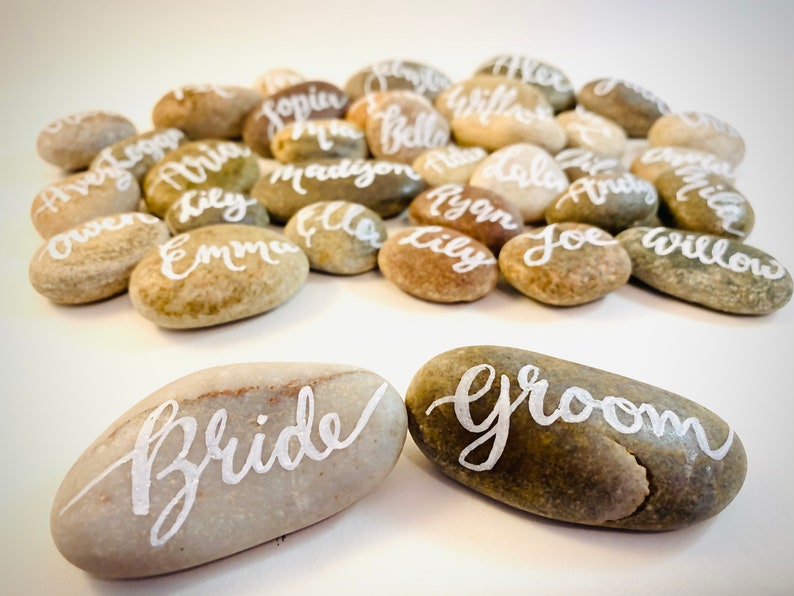 Pebble Art Wedding Favours
A third way to use pebble art for weddings is to make favorus or gifts for your guests. You can make small pebble art magnets, keychains, coasters, or ornaments that your guests can take home as a souvenir of your wedding. You can personalize them with your names, initials, wedding date, or a thank you message. You can also use different themes or colorus to match your wedding style. These pebble art favours or gifts will show your appreciation to your guests and remind them of your special day. Working with an artist and ordering hand painted pebbles of your wedding might be a more viable option. Here is an example of painted pebbles by G Veyz Crafts, an Etsy shop based in Wales >>>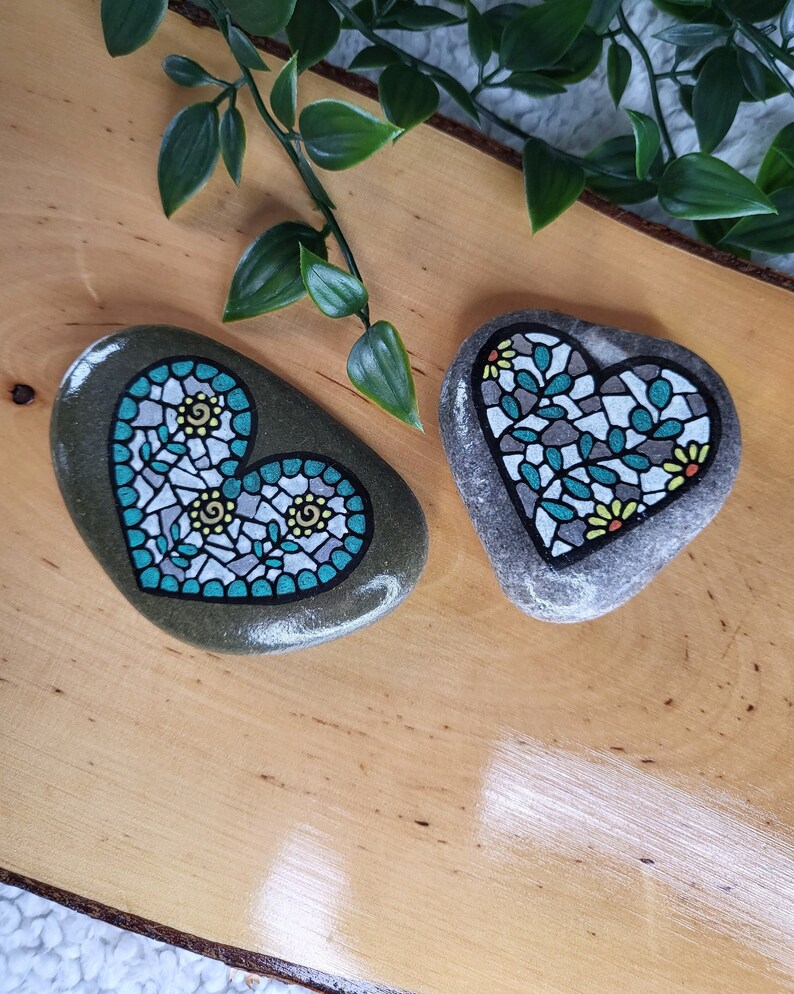 As you can see, pebble art is a wonderful way to express your creativity and personality in your wedding. It is easy to do and you can involve your family and friends in the process. Pebble art will make your wedding more beautiful and unique and leave a lasting impression on everyone. I hope you enjoyed this post and learned something new about pebble art for weddings.
Just a few more examples of Pebble Art by Etsy Sellers:
A painted pebble with cute penguins by Calm Cameleons on Etsy >>>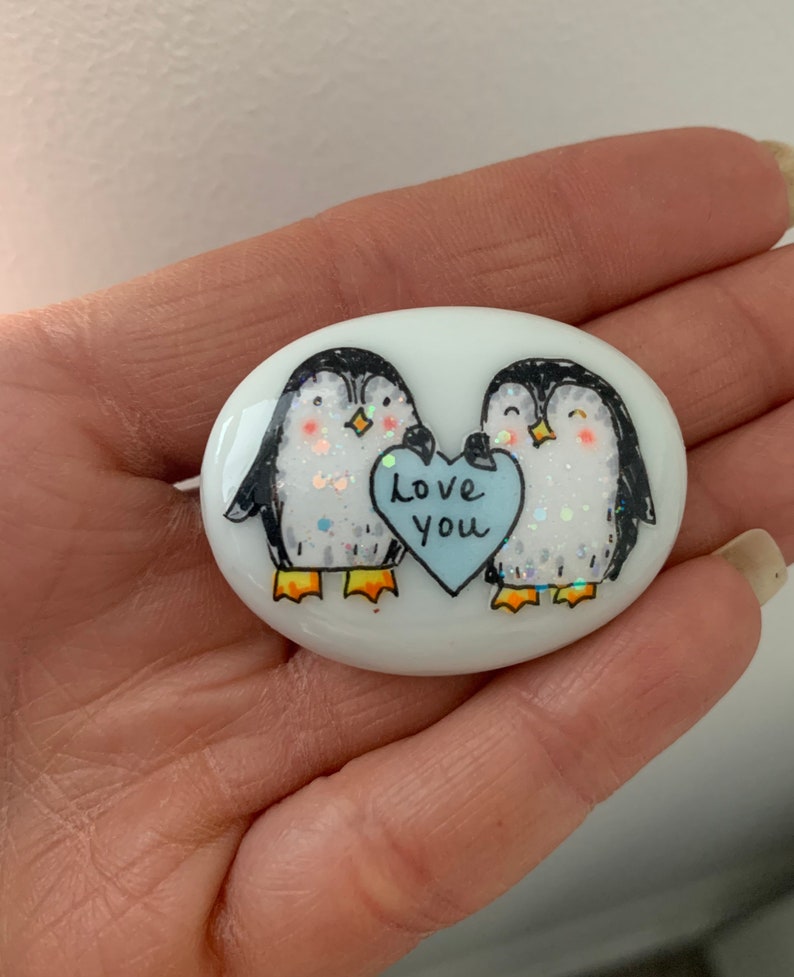 Just married pebble art card by Trudi Jo Design on Etsy >>>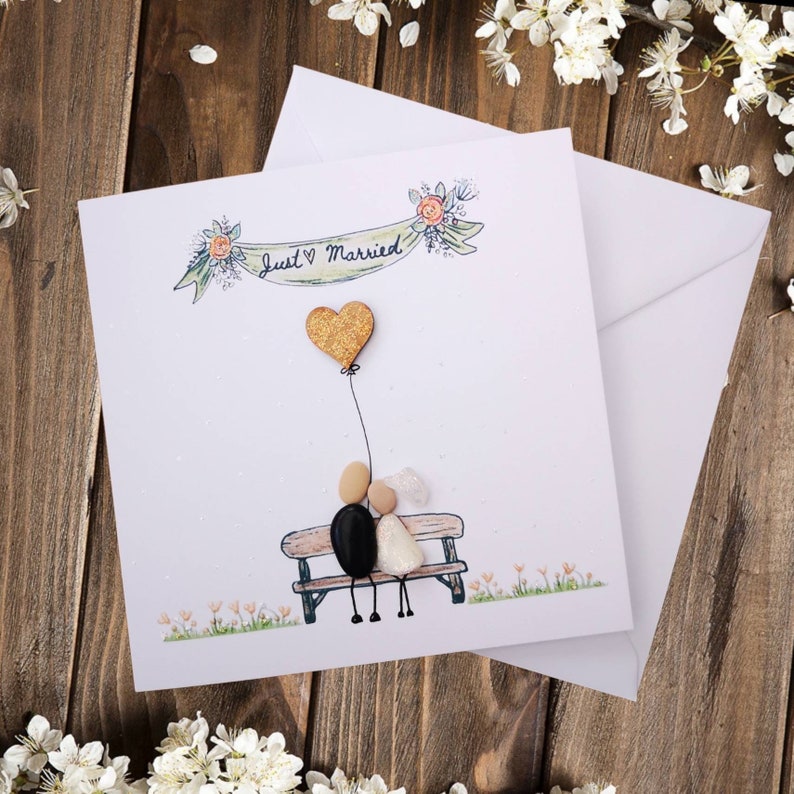 A pebble art gift from the bridesmaids, for the bride, by SB Crafts 13 on Etsy >>>