If you are planning to tie the knot around Easter, you might be looking for some creative and festive ways to decorate your wedding venue. Here are some ideas that will help you create a beautiful and memorable Easter wedding. Disclaimer: In this blog post, we bring you some ideas, with links to independent Etsy sellers. The links below are affiliate links. If you click through the links and make a purchase, we might earn a small commission but this is at no extra cost to you.
Pastel Colours
Use pastel colours for your tablecloths, napkins, flowers and other accents. Pastel colours are perfect for spring and Easter, and they will add a soft and romantic touch to your venue. You can also mix and match different pastel shades for a more whimsical look. The decoration you see on the picture below is by Hooray Days, an Etsy seller >>>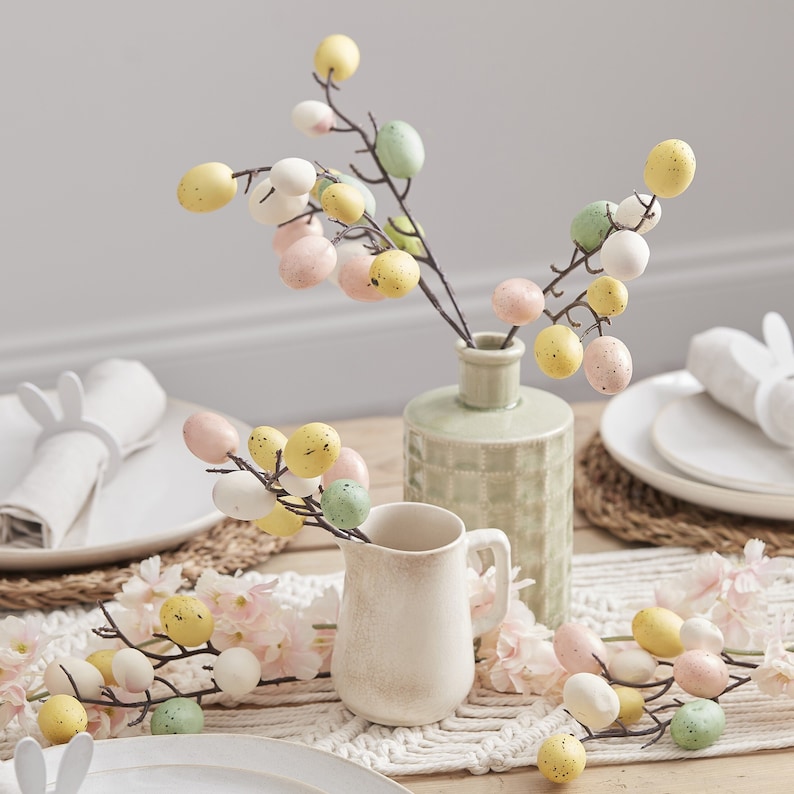 Easter Eggs

Incorporate Easter eggs into your decor. You can use real or artificial eggs, and paint them, dye them, or decorate them with glitter, stickers, ribbons or lace. You can use them as place cards, favours, centerpieces, or hang them from branches or strings. You can also fill them with confetti, candy, or seeds for your guests to take home. If you are not in the mood for a DIY project but would love to impress your guests with handmade decorations, try searching on Etsy. You will find treasure such as the foliage garland you see on the photo below, by Party Touches UK >>>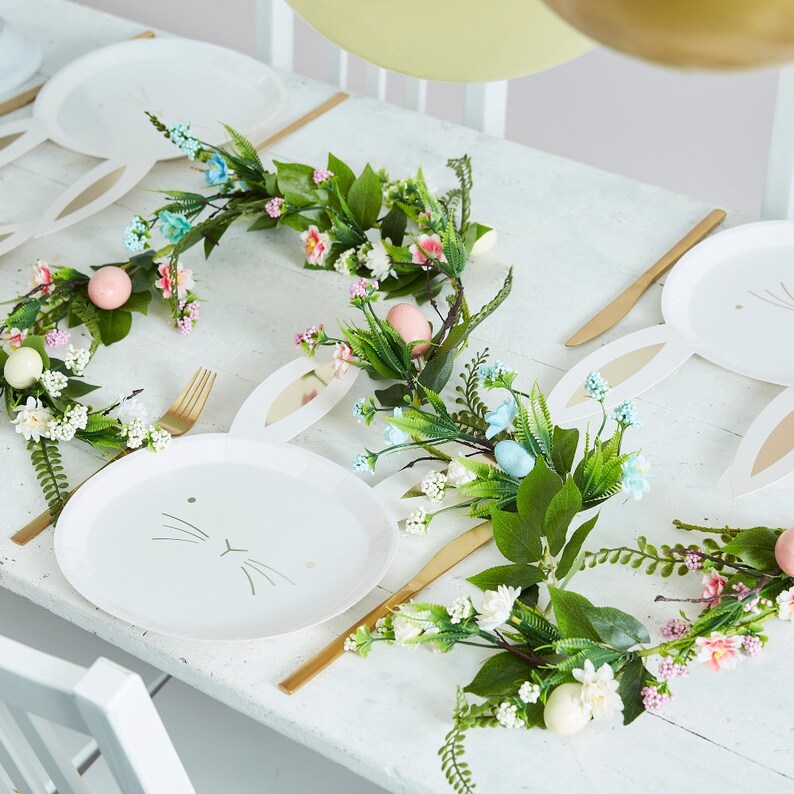 Terracotta pots and Lavender

Create a romantic atmosphere with candles in small terracotta pots. You can line the outside of the pots with sprigs of dried lavender, or other flowers, for a fragrant touch. Place the candles on the tables, along the aisle, or around the dance floor for a cozy glow. Hand-painted terracotta pots are also a great way of how to impress your wedding guests. How about these painted pots by WitherWood Designs on Etsy ? >>>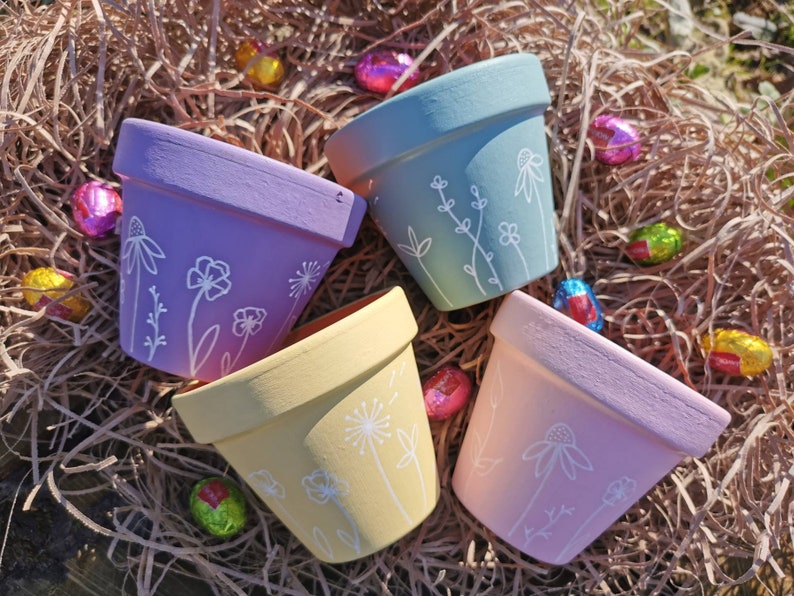 Have an Easter egg hunt for your guests.

This is a fun and interactive way to entertain your guests, especially if you have children at your wedding. You can hide eggs around your venue, either indoors or outdoors, depending on the space and weather. You can fill the eggs with small prizes, such as chocolates, toys, or coupons. You can also provide baskets, bags, or hats for your guests to collect the eggs. And if you think that your guess would appreciate handmade decorations instead of chocolate eggs, you might light these hanging decorations by Pauline's Rainbow Craft on Etsy >>>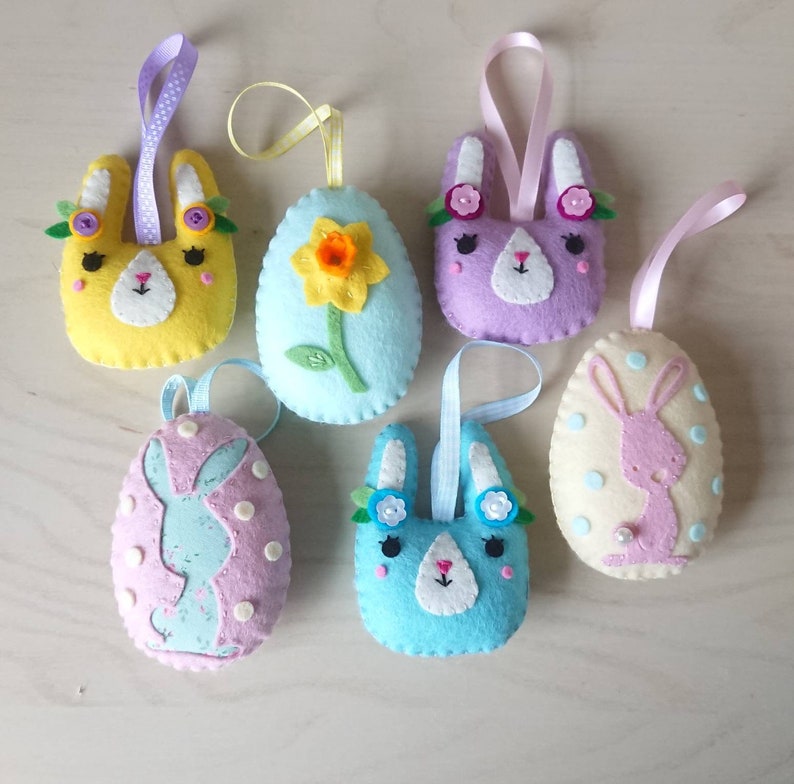 Hang a floral wreath on your door.

A wreath is a simple but elegant way to welcome your guests and set the tone for your wedding. You can make your own wreath with fresh or artificial flowers, or buy one on Etsy. You can choose flowers that match your colour scheme, or go for a more eclectic mix. You can also add some Easter elements, such as eggs, bunnies, or birds. The artisan wreath you see on the photo is by Style Sparkle, Etsy >>>