Dried flowers are a beautiful and natural way to add some color and charm to your hair. They can be used for various occasions, such as weddings, festivals, parties, or just for fun. Here are some tips on how to use dried flowers to decorate your hair. Disclaimer: The links below are affiliate links. If you click through any o the links and make a purchase, we might earn a small commission but this is at no extra cost to you.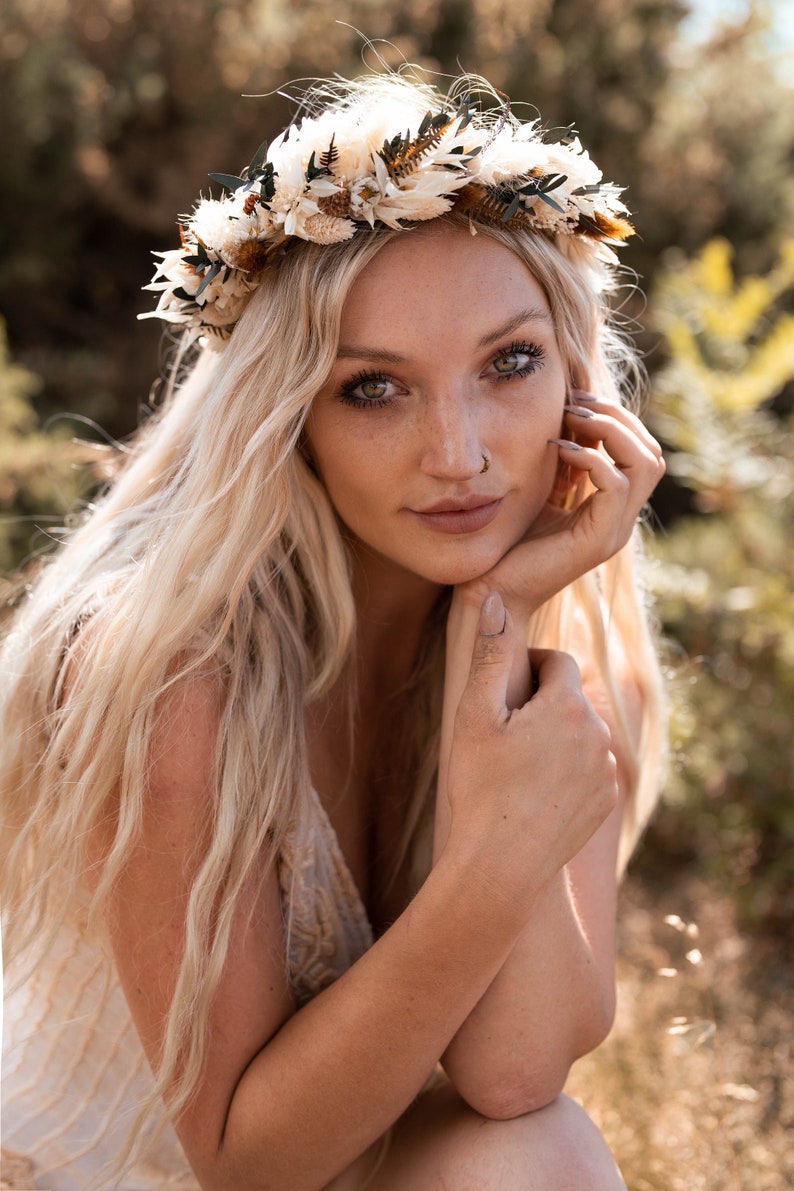 The dried flowers on the photos above are by LunaandWild, an Etsy seller >>>
Here are few tips on choosing dried flowers for your bridal hair style:
Choose dried flowers that match your hair color and style. You can use a single type of flower or mix and match different ones for a more eclectic look. Some popular choices are lavender, rose buds, baby's breath, daisies, and cornflowers
Prepare your dried flowers by trimming the stems and removing any leaves or thorns. You can also spray them with some hairspray or clear coat to make them last longer and prevent shedding.
Decide how you want to arrange your dried flowers in your hair. You can use them as a headband, a crown, a bun, a braid, or a clip. You can also weave them into your hair or attach them with bobby pins or elastic bands.
Secure your dried flowers in place with some glue, wire, or thread. You can also use some ribbon, lace, or beads to add some extra flair. Make sure your dried flowers are firmly attached and won't fall off easily.
Enjoy your lovely floral hairdo and get ready to receive compliments from everyone. You can also take some photos and share them on social media to show off your creativity and style.
Dried flowers are a wonderful way to express yourself and enhance your beauty. They are also eco-friendly and affordable. Try using dried flowers to decorate your hair and see how they transform your look.
If you like the idea of dried flowers in your hair, but don't have the time to grow them or prepare them, you will love these flowers by independent Etsy sellers:
Eucalyptus and baby's breath crown:
This crown by HBotanicsWeddings on Etsy >>> can be made with or without a ribbon and will be the perfect finishing touch. The style can be described as timeless elegance. It's easy to wear but looks absolutely stunning.
Forget me not hair pins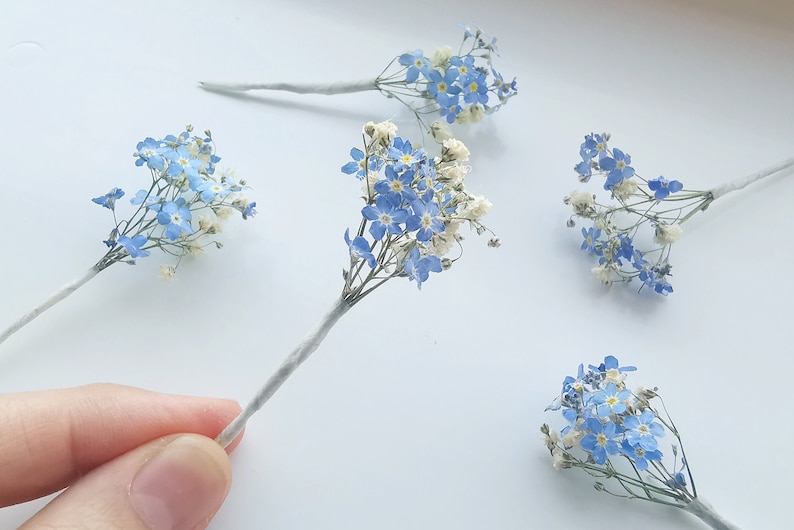 These gentle and delicate hair pis are made with real forget me not flowers. It's perfect for the bride, to be worn as her Something Blue, or could be worn by bridesmaids. These pins are by Design by Emily Brown, an Etsy seller >>>
Statement Flower Comb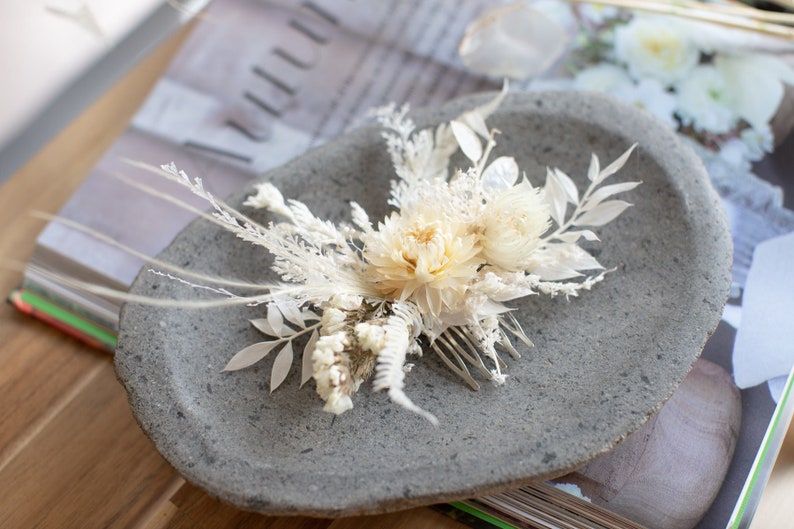 Made with ivory straw flowers and a selection of grasses, this hair comb could be your perfect statement piece, completing your bridal look. It was made by Hidden Botanics and is availabe on Etsy >>>
Helichrysum Hair Pins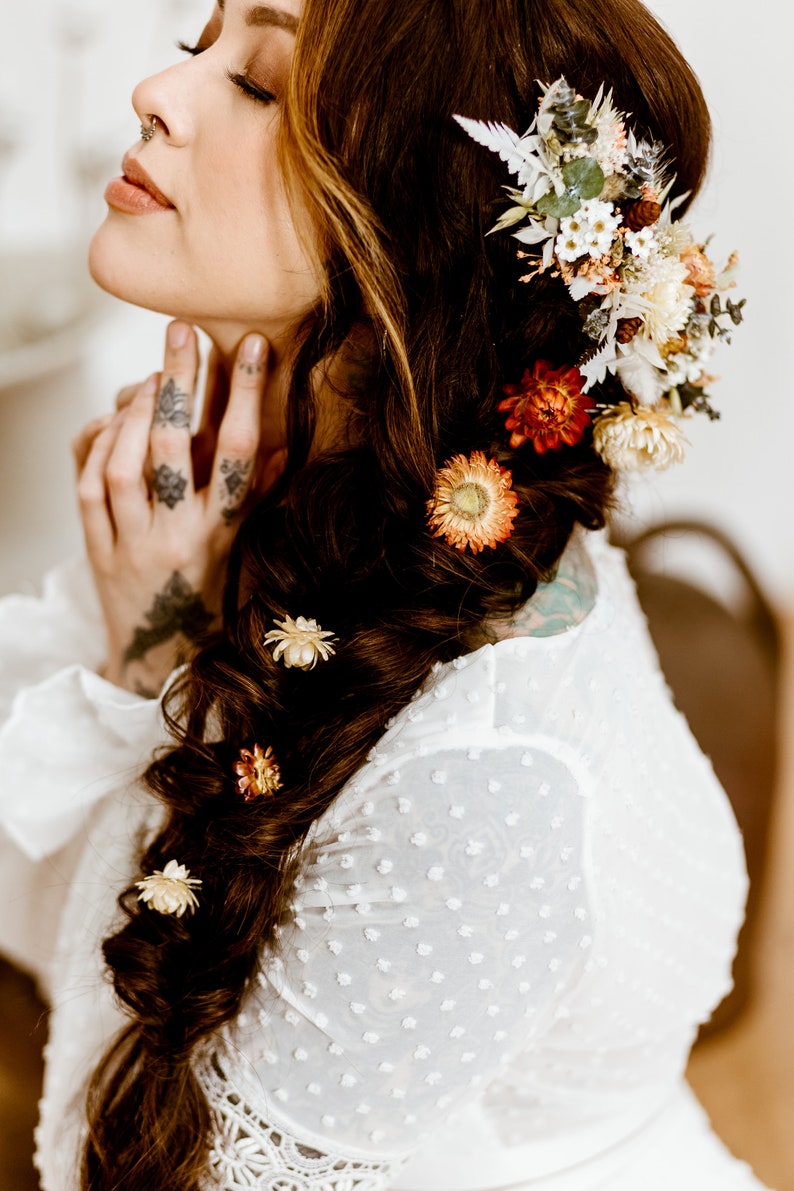 Individual flowers scattered in the bridal hair style can look truly magical. We love this look by LunaandWild, an Etsy Seller >>> If you are looking for a warm, autumn look, there are definitely worth considering, either for the bride, or for the bridesmaids.
Statement Headband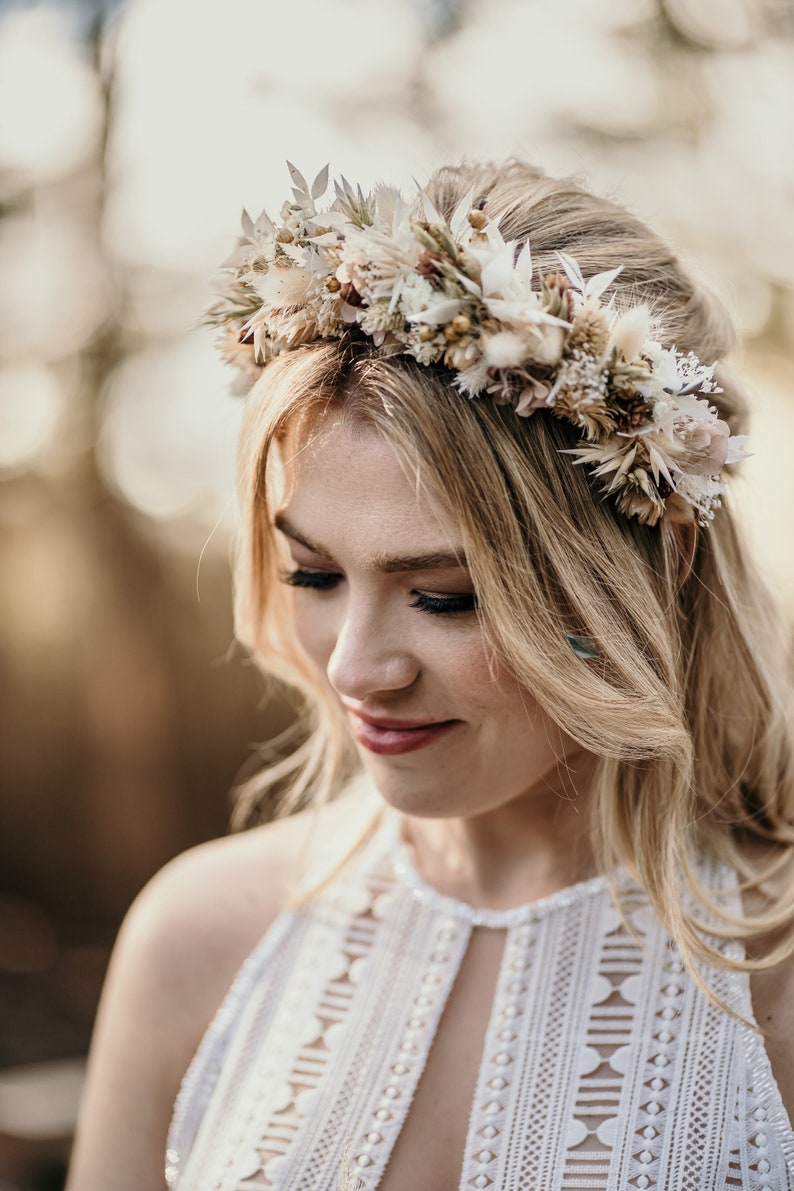 Made with a selection of preserved flowers including straw flowers, ruscus, bunny tails and preserved hydrangeas, this is another stunning piece by Luna and Wild and is available on Etsy >>>
Have you decided which piece if your favourite yet? The main problem you might have is deciding which hair piece to choose as the selection is just amazing, with so many handcrafted pieces available. Hopefully the tips we shared above will be a good starting point. Be playful when choosing dried flower hair pieces and don't forget to ask friends for advice. You bridal hair stylist will be also able to point you to the right direction when you are choosing your hair accessories.