If you love crafting and decorating, you might have a stash of paper doilies lying around. Paper doilies are delicate and beautiful, and they can add a touch of elegance to any project. But did you know that paper doilies are also very versatile and can be used for many different crafts? In this blog post, I will show you some of the amazing things you can do with paper doilies, and how you can transform them into stunning creations. We will also look at some handmade products by Etsy sellers. Disclaimer: The links in this article are affiliate links. If you click through any of the links and make a purchase, we might earn a small commission but that is at no extra cost to you.
When selecting doilies for your project, pay attention not only to quality, but also to the doily patter. Here is an example of a nice pack of doilies, available from Me and My Journals, an Etsy Seller >>>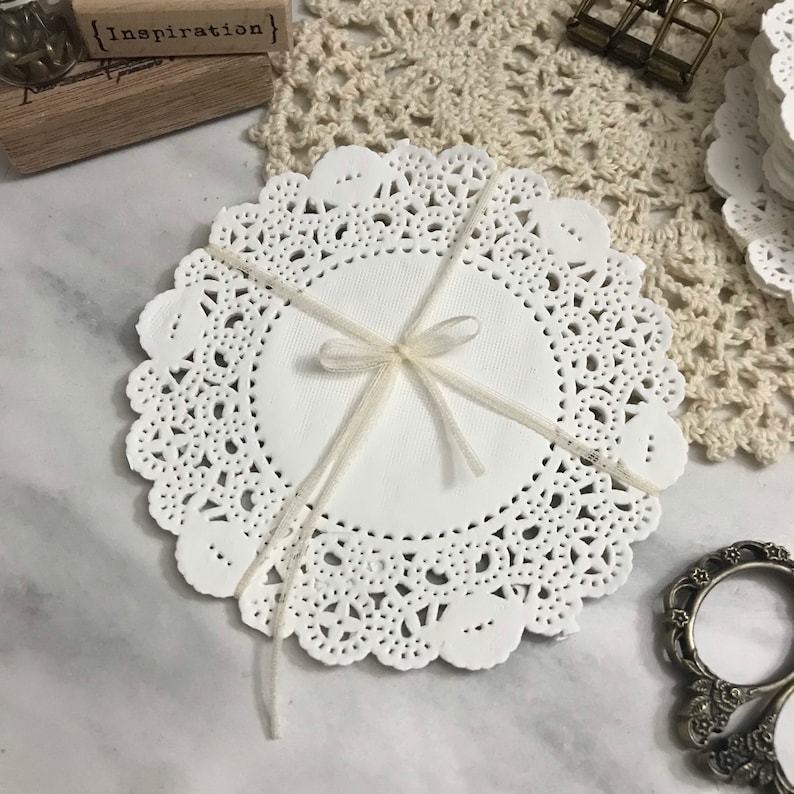 Garlands
One of the simplest ways to use paper doilies is to make them into garlands. You can string them together with a needle and thread, or use glue or tape to attach them to a ribbon or twine. You can hang them on your walls, windows, mantels, or anywhere you want to add some charm. You can also mix and match different sizes, colors, and shapes of paper doilies to create a unique look.
Or try using mini doilies, as we did in our video, and pair them up with laser cut decorations.
The garland will be even more special if you choose a doily that reflects your wedding theme, such as these paper doilies from an independent seller on Etsy, from Charming Llama by Joanna >>>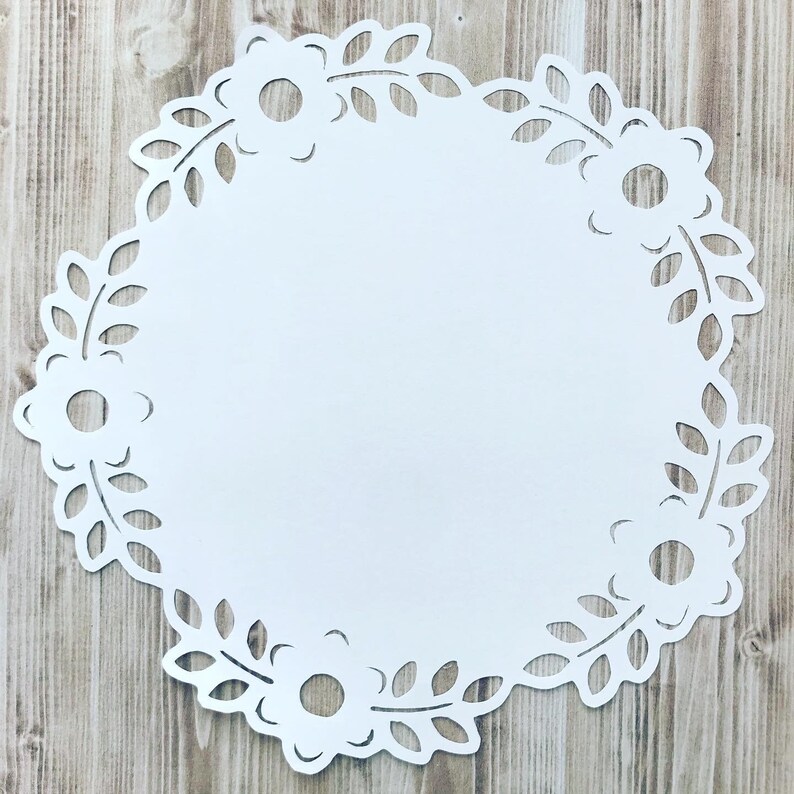 Flowers
Another way to use paper doilies is to make them into flowers. You can fold them in half, then in quarters, then in eighths, and then cut out a petal shape along the curved edge. Then you can unfold them and layer them together, using a glue dot or a brad to secure them in the center. You can also curl the edges of the petals with a pencil or a skewer to give them some dimension. You can use these paper doily flowers to embellish cards, gift bags, wreaths, or anything else you like.
Another ways is cutting of the decorative part of the doily and creating a ruffle effect as in this video:
Here again, choosing beautiful doilies for your project is important. How about these floral print doilies by an Etsy seller, Tatiana Craft Shop? >>>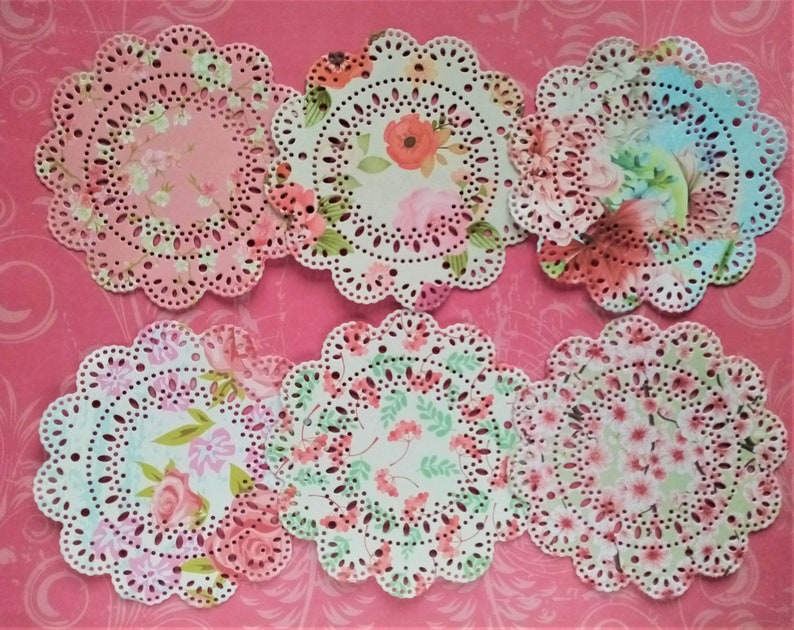 Lanterns
You can also use paper doilies to make beautiful lanterns. You will need some balloons, some white glue, some water, and some LED lights. First, you need to blow up the balloons and tie them. Then you need to mix some glue and water in a bowl until you get a thin consistency. Next, you need to dip the paper doilies in the glue mixture and wrap them around the balloons, overlapping them slightly. You can use as many paper doilies as you want, depending on how big and how dense you want your lanterns to be. Then you need to let them dry completely, preferably overnight. Once they are dry, you can pop the balloons and remove them from the paper doily shells. Finally, you can insert some LED lights inside the lanterns and hang them from the ceiling or place them on a table.
These are just some of the amazing crafts you can make with paper doilies. Paper doilies are inexpensive and easy to find at any craft store or online. They are also fun and easy to work with, and they can add a lot of beauty and elegance to your projects. So next time you have some paper doilies lying around, don't throw them away. Instead, use them to create something wonderful!
When choosing doilies for this lantern DIY craft project, you might like something with intricate detailing such as these doilies by Charming Llama by Joanna on Etsy >>>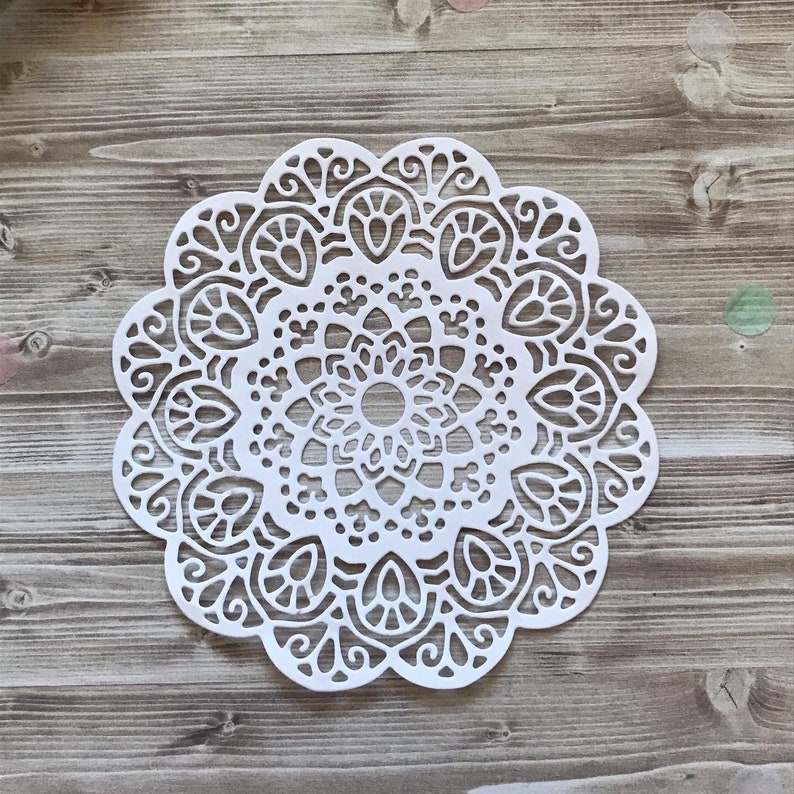 Cards for Bridesmaids
Are you ready to try a simple DIY project? … Make "Will you be my Bridesmaid?" cards, following our video. All you will need is paper doilies, a piece of plain paper, scissors, glue and a little piece of ribbon. Plus a pen, if you decide to write a message at the back.
Doilies and Your Wedding Theme
If you are styling your wedding in a vintage theme, you might like off-white doilies, or even brown doilies, such as those below by Charming Llama by Joanna on Etsy >>> You might be surprised how many different styles you can find. Choose gold for glamorous occasions, floral print for countryside themes, or gentle pastel colours for Spring weddings.