If you're looking for a creative and fun way to add some personal touch to your wedding, why not try decorating your own wedding favour boxes? Wedding favour boxes are small containers that hold a token of appreciation for your guests, such as traditional sugared almonds, chocolates, candles or other goodies. They can also serve as a beautiful decoration for your reception tables and a memorable souvenir for your loved ones. Let's explore some option together.
Disclaimer: This blog post contains affiliate links. If you click through any of the links below and make a purchase, we might earn a small commission, but this is at no extra cost to you.
Decorating wedding favour boxes is easy and enjoyable, and you can customize them to match your theme, colour scheme, and personality. Here are five tips and ideas on how to decorate wedding favour boxes that will wow your guests and make your special day even more special.
Let's start with a DIY video. We will decorate pillow boxes with laser cut wooden flowers.
But let's get back to our top five tips now.
---
1. Consider different shapes and choose the right box.
The first step is to choose the type and size of box that suits your needs and budget. You can find a variety of boxes online or at craft stores, such as cardboard boxes, paper boxes, metal tins, wooden boxes or plastic boxes. You can also use recycled materials, such as jars, bottles or cans. Make sure the box is big enough to fit your chosen favour inside, and sturdy enough to withstand some handling. You can't go wrong by choosing some of the most popular shapes, such as pillow boxes, heart boxes or square boxes with a lid. We love these boxes with a heart on top by Krafteria by Paula on Etsy >>>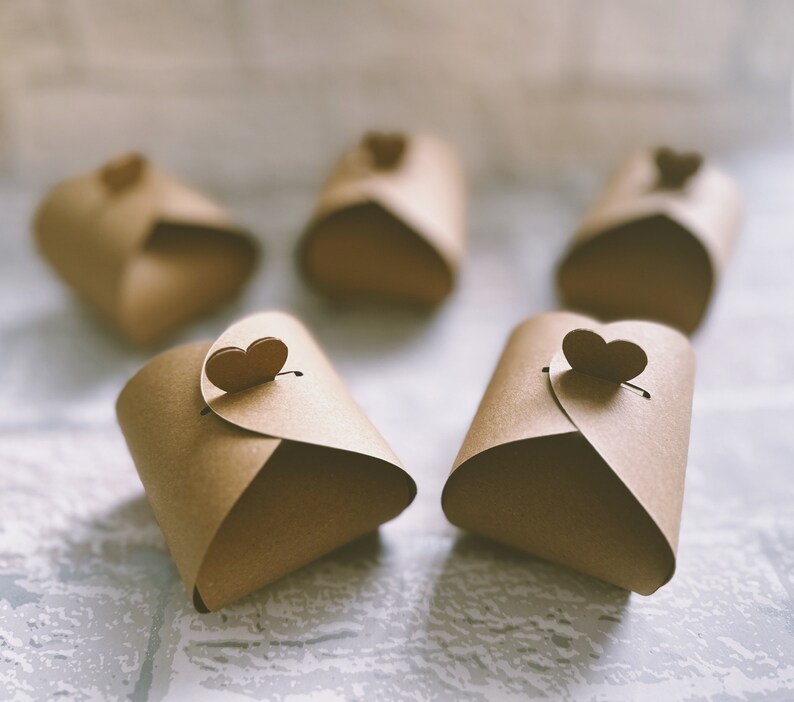 ---
2. Pick a colour reflecting your wedding theme.
Pick a colour that matches your wedding theme and style. You can use one colour or a combination of colours, depending on your preference. You can paint the box with acrylic paint, spray paint, or watercolour paint, or cover it with coloured paper, fabric, or ribbon. You can also add some glitter, sequins, beads, or stickers for some extra sparkle. Or, simply order a coloured box. Wedding favour boxes don't need to be white or ivory, you will be surprised how many options there are. You can go for pink, purple, turquoise or any other colour that matches your wedding theme. How about these pink pearlised boxes from Perfect Tables on Etsy? >>>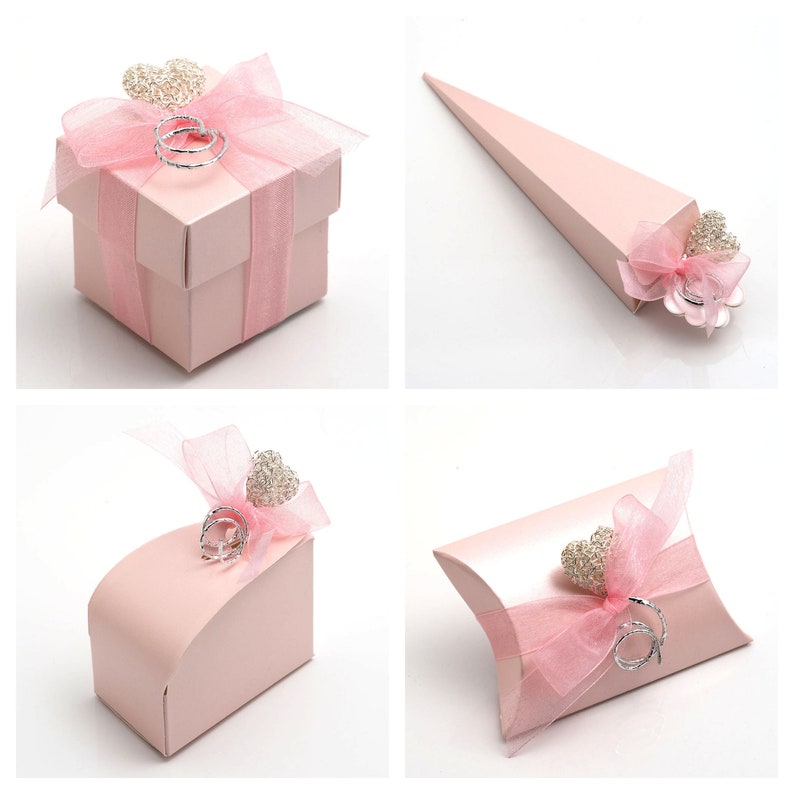 Here is a DIY video with a pink heart shaped box, that can add a splash of colour to your wedding table arrangements.
---
3. Have fun adding embellishments.
The fun part is to add some embellishments that reflect your personality and taste. You can use anything you like, such as flowers, lace, buttons, pearls, feathers, shells, charms, or tags. You can also write or print your names and wedding date on the box, or a thank you message for your guests. You can use a glue gun, double-sided tape, or string to attach the embellishments to the box. Or how about purchasing a DIY kit? We love these DIY wedding favours embellished with ribbon and a diamante ornament by Quills Wedding Favours on Etsy >>>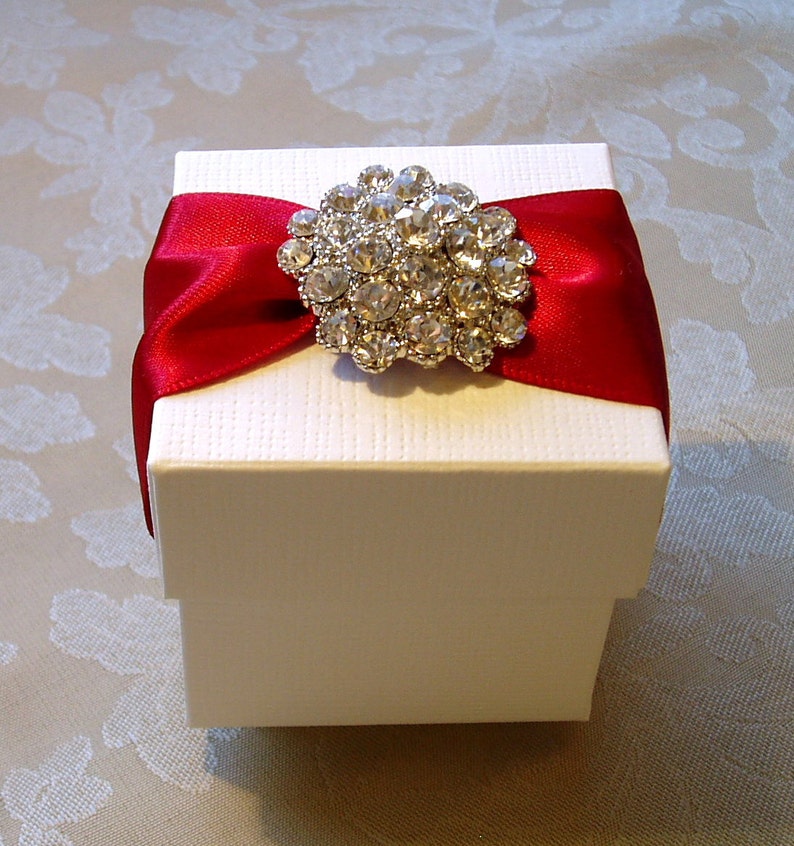 ---
4. Pick special treats to fill the box with
The final step is to fill the box with your chosen favour. You can use anything that suits your theme and budget, such as sugared almonds, macarons, chocolates, candles, soap, seeds, tea bags, magnets, or keychains. You can also make your own favours, such as cookies, brownies, jam, or honey. Make sure the favour is wrapped or sealed properly to avoid any spills or messes. If you choose special treats such as luxury macarons, you might like transparent boxes such as these by Perfect Tables on Etsy >>>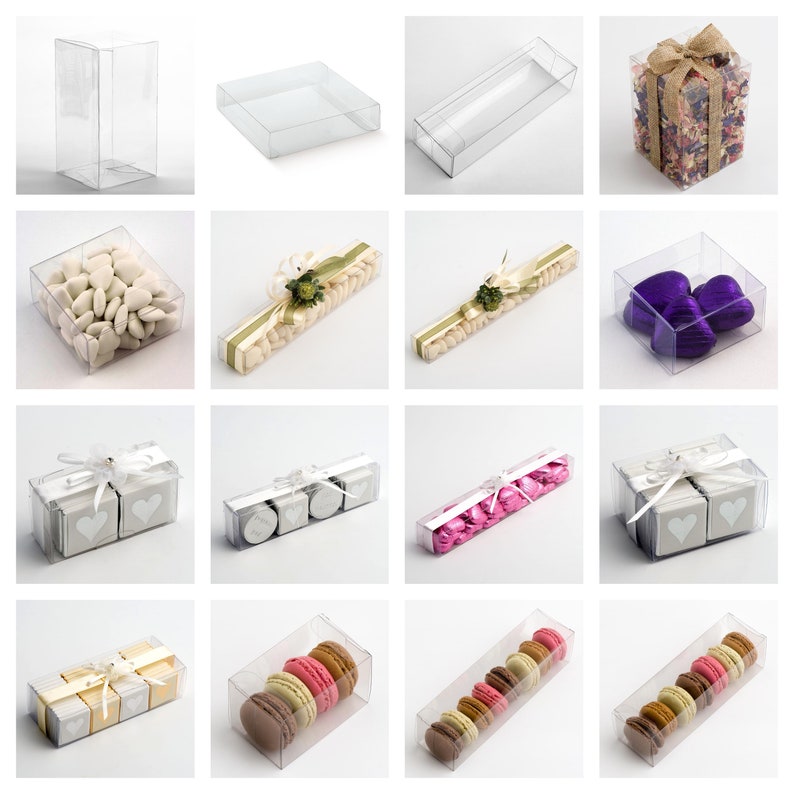 Maybe you would like to watch a video where we add chocolate dragees to a handmade wedding favour box?
---
5. Add a Thank You tag to make your wedding favours more special.
To make each wedding favour even more special, add thank you tags or labels. You could hand write the messages yourself, or opt out for ready made tags, such as the tag by Theia Rocks on Etsy you can see on the photo below. Display the box on your reception table in a way that complements your table setting and decor. You can place the box on each guest's plate or napkin, or arrange them in a basket or tray on a separate table. You can also add some confetti, petals, or leaves around the box for some extra flair.
Decorating wedding favour boxes is a fun and easy way to add some personal touch to your wedding and show your gratitude to your guests. With these tips and ideas, you can create beautiful and unique wedding favour boxes that will impress your guests and make your wedding day unforgettable.