One of the most important decisions you'll make for your big day is what kind of wedding dress you'll wear. There are so many styles, colors, fabrics and details to choose from, but one of the most basic questions is: do you want a dress with sleeves or without sleeves? Let's explore both options together. Let's start by saying that there's no right or wrong answer to this question. Both options have their pros and cons. But let's talk about factors to consider when deciding between a sleeved or sleeveless wedding dress.
Disclaimer: The links below are affiliate links. If you click through any of the links and make a purchase, we might earn a small commission but that is at no extra cost to you.
Sown Sleeves or Detachable Sleeves
If you decide that sleeves is the way to go, but also like that sleeveless look, how about detachable sleeves such as those on the photo below by Tres Chic Dress on Etsy? The sleeves you see on the photo are made of tulle and will look gorgeous on photos, thanks to their soft romantic look. You could choose detachable sleeves or a top to wear over sleeveless dress made with other materials. Lace sleeves look especially elegant.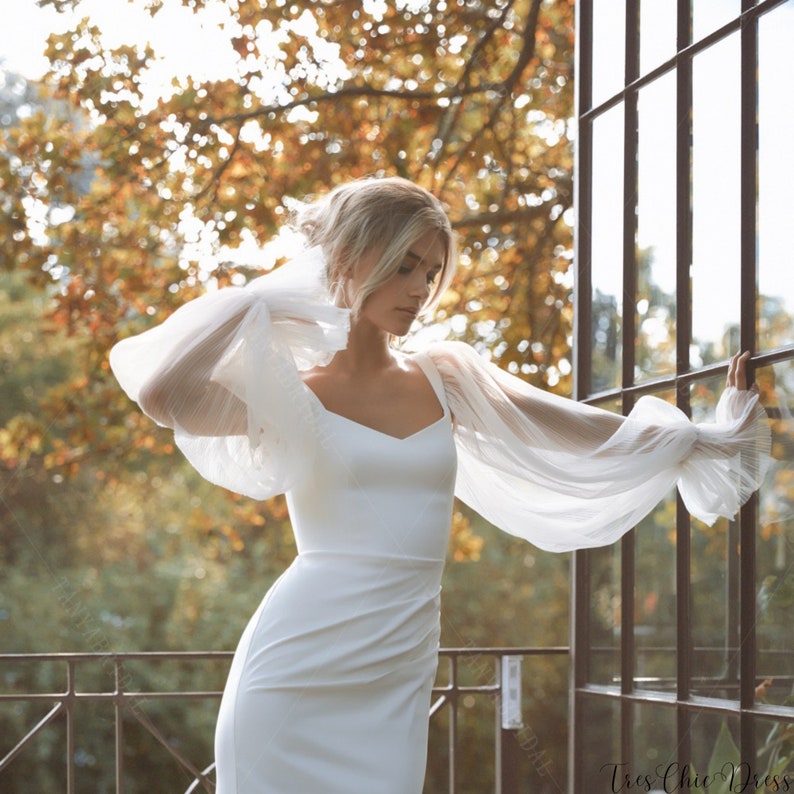 The Wedding Theme
The choice of your wedding theme can also influence your choice of dress. For example, if you're having a formal or traditional wedding in a church or a castle, you might want to go for a more conservative look with sleeves. Sleeves can also add some elegance and sophistication to your outfit. However, if you're having a casual or modern wedding in a beach or a garden, you might want to choose a more relaxed and playful look with no sleeves. No sleeves can also show off your arms and shoulders and make you feel more confident and sexy. If you are choosing an outfit with sleeves for a wedding on a sunny beach, sleeves with lace, such as those on the photo below, on a gown by Blossoms Bride on Etsy, might be your best bet.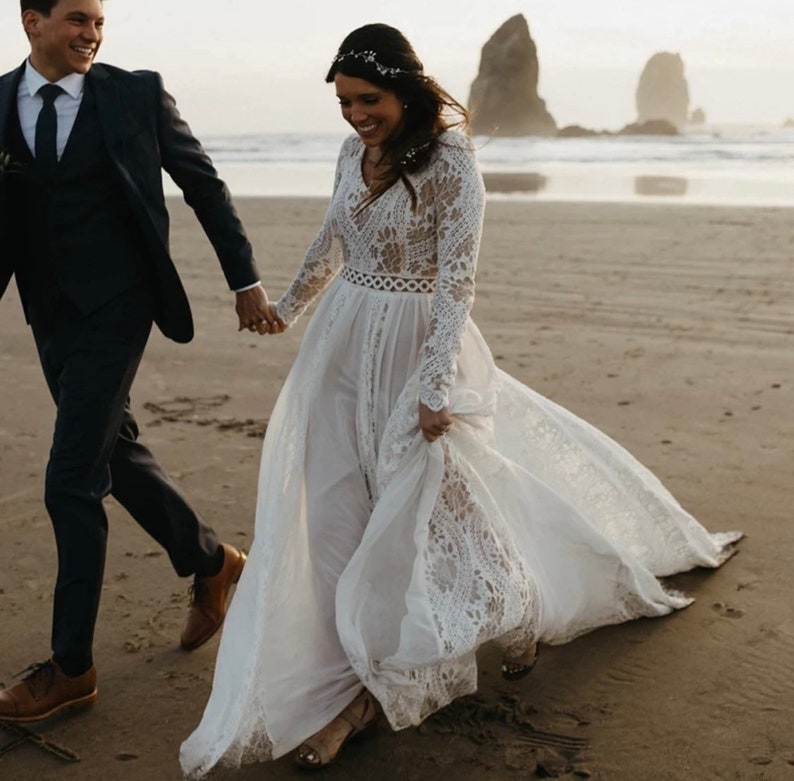 The Season and Weather
If you're getting married in a cold or windy climate, you might want to opt for a dress with sleeves to keep you warm and comfortable. Sleeves can also protect your skin from sunburn if you're having an outdoor ceremony in a sunny location. On the other hand, if you're tying the knot in a hot or humid place, you might prefer a sleeveless dress to avoid sweating and feeling overheated. Here is an example of a gown with sleeves that looks really comfortable to wear by The Prancing Hare on Etsy.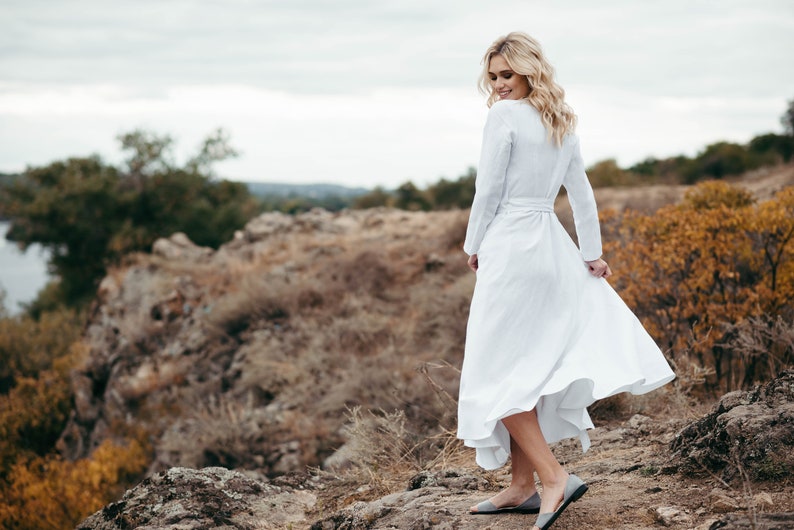 The Fit and Comfort
Another important factor to consider is how well the dress fits you and how comfortable you feel in it. Some brides find sleeves restrictive and uncomfortable, especially if they're tight or made of heavy fabric. Sleeves can also limit your movement and make it harder to dance or hug your guests. Others find no sleeves too revealing and uncomfortable, especially if they're self-conscious about their arms or have issues with bra straps. No sleeves can also make you feel cold or exposed in certain situations. If you find it hard to decide you could purchase a beautiful full tulle skirt such as the one on the photo below Olive Lane Weddings and pair it up with different tops which you can slip into easily on your wedding day.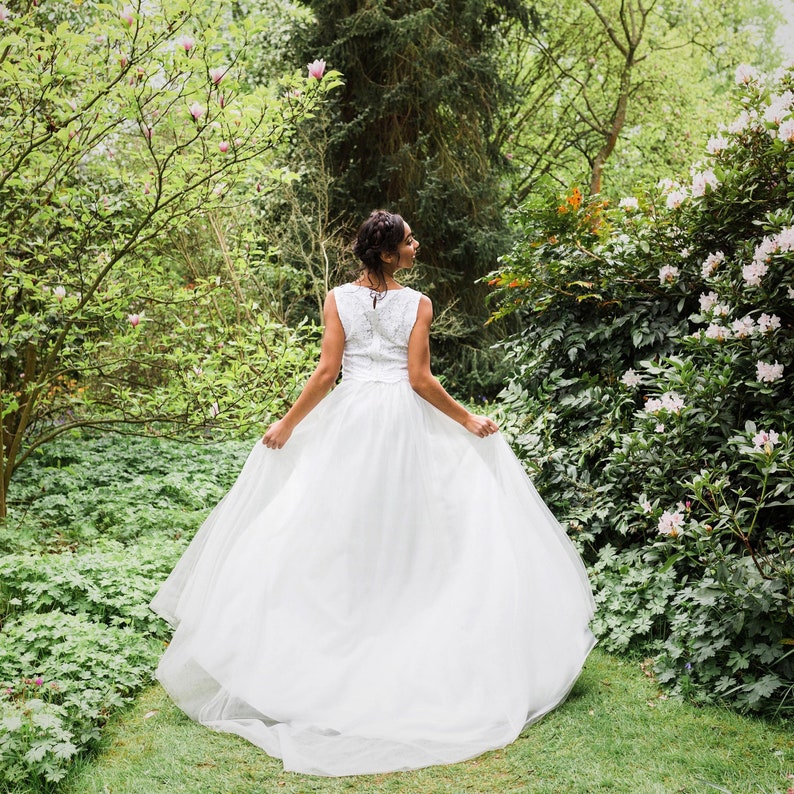 Your Personal Preference
Ultimately, the most important factor is your personal preference and taste. You should choose a dress that reflects your personality and style, and that makes you feel happy and beautiful. Sleeves might give you some extra confidence on your wedding day and will look gorgeous on photos, as you can see on the photo below, with a dress by House of Bali on Etsy, but if you are not comfortable with this look, a sleeveless dress might be a far better option. Don't let anyone else pressure you into choosing a dress that you don't love or that doesn't suit you. It's your wedding day, and you deserve to wear whatever makes you feel like the best version of yourself. So, whether you choose a wedding dress with sleeves or without sleeves, remember that the most important thing is that you love your dress and that it makes you feel amazing on your special day.