Doughnuts are a delicious and fun alternative (or a great addition to) the traditional wedding cake. They are easy to customize, serve and enjoy, and they can fit any wedding style and theme. Doughnuts are also a fun and creative way to express your personality and style.
Disclaimer: This post contains affiliate links. If you click through any of the links below and make a purchase, we might earn a small commission, but that is at no extra cost to you.
.You can personalise your doughnuts with different flavours, toppings, fillings, and sprinkles. You could also add your names, initials, monograms, or wedding date to your doughnut displays, or to directly to your doughnuts! You can even have fun with the shapes and sizes of your doughnuts, such as making them into hearts or letters. You can also use doughnuts as favours, centerpieces, or props for your photos. Doughnuts can add a lot of charm and character to your wedding day.
Doughnuts are a convenient option for weddings. They are easy to order, transport, and display. Doughnuts are meant to slightly wonky, and not too perfect, so there is no need to worry about perfection here. You can order doughnuts from your local bakery or doughnut shop, or even make them yourself if you have the time and skills. You can arrange them in various ways, such as stacking them on a tiered stand, hanging them on a wall, or placing them in individual boxes or bags.
Doughnut Wall
A doughnut wall is a creative and eye-catching way to display your doughnuts. And it's so much fun! You can use a wooden board, a pegboard, or a metal grid to hang your doughnuts on hooks or skewers. You can decorate your wall with signs, banners, or balloons to label the flavors or add some personality. You can also mix and match different shapes and sizes of doughnuts to create a fun pattern. There are some amazing ready-made doughnut walls available on Etsy, let's have a look at a few examples:
Treat Yourself Display by Hooray Days, Etsy: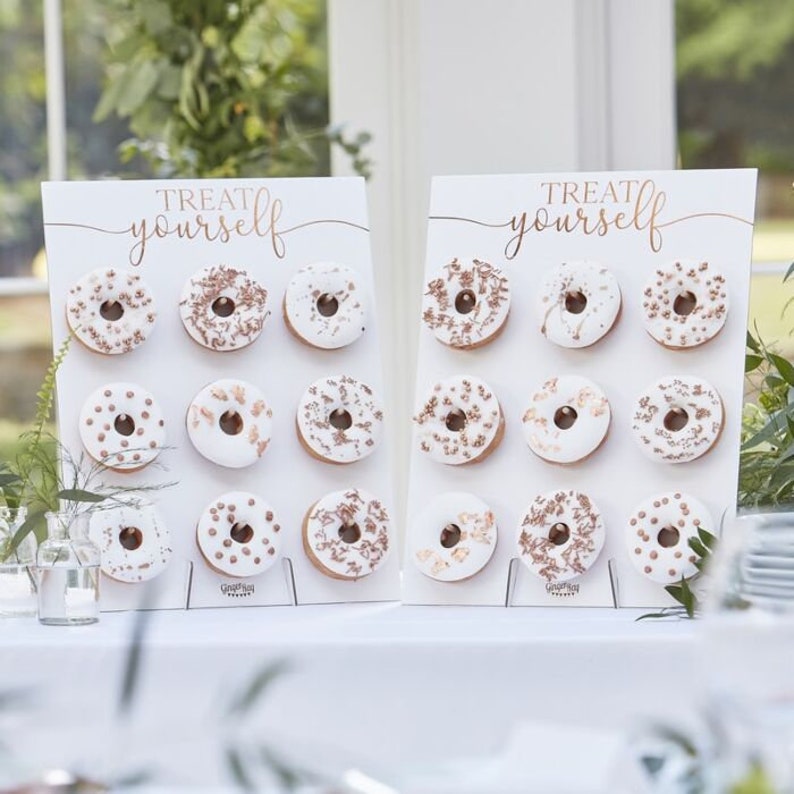 Large Doughnut Board by DAFFYD, Etsy: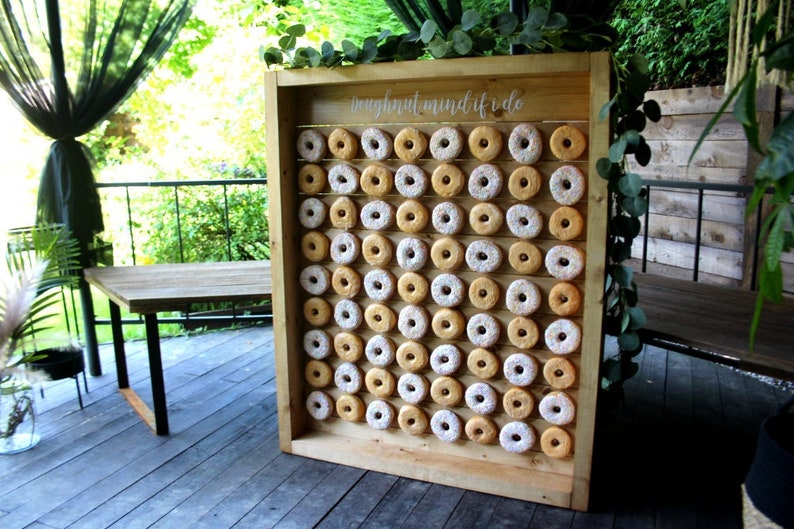 Rustic Display by ParTbox, Etsy :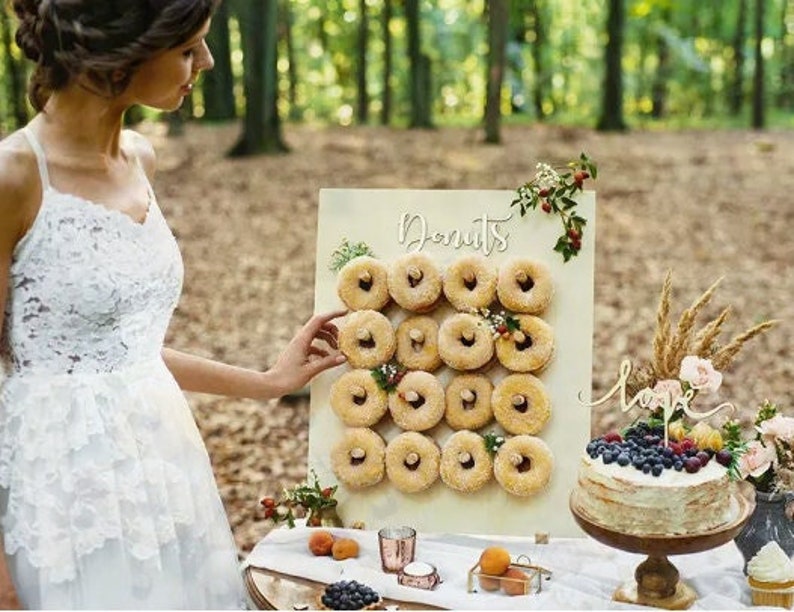 Doughnut Stands / Sweets Table
A sweets table is a cute way of displaying treats. You can use cake stands, trays, boxes, or baskets to arrange your doughnuts, together with other sweets on a table. Doughnuts will look great displayed together with cupcakes, cookies, or candy, to create a sweet buffet. You can also provide some toppings, such as sprinkles, nuts, or chocolate sauce, for your guests to customize their own doughnuts. You might like these doughnut stack stands by PrettyLittlePresents, Etsy: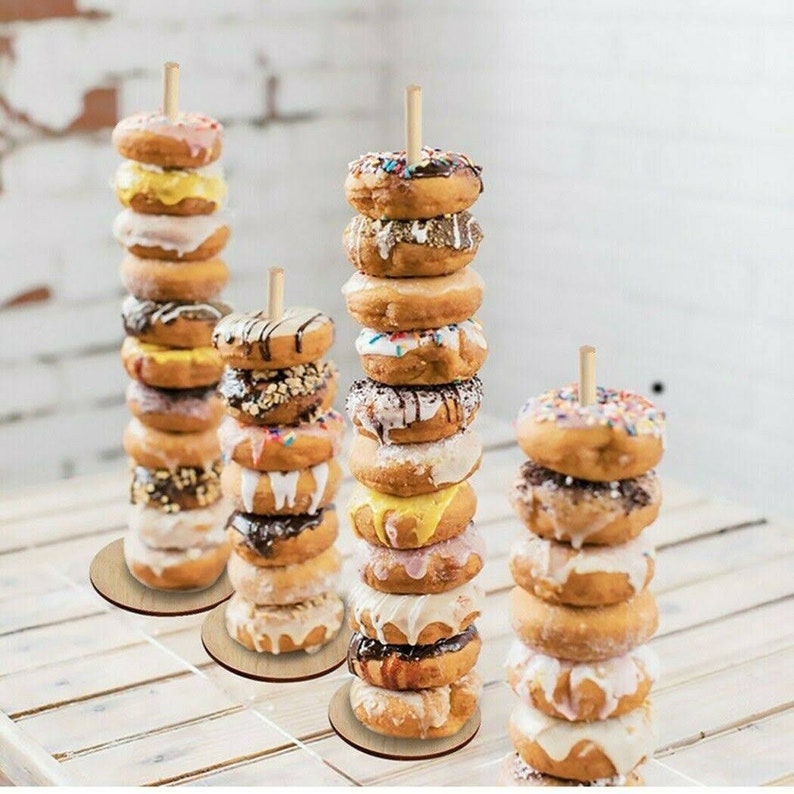 If you decide to include jars with sprinkles on the sweets table, consider getting some pretty scoops as well, to complete the look.
We love these pastel colour ones by Sugar Stamp Ltd, Etsy: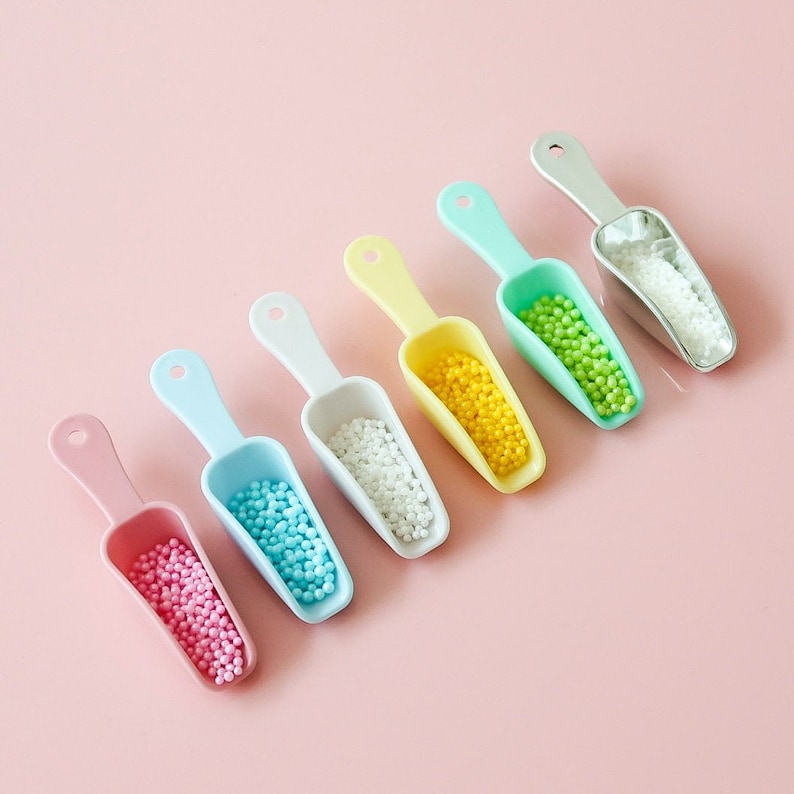 Doughnut Tower
A doughnut tower is a simple and elegant way to showcase your doughnuts. You can use a tiered cake stand or a stack of plates to create a pyramid of doughnuts. You can choose different flavors and colors of doughnuts to match your wedding palette, or go for a monochromatic look with white doughnuts. You can also add some flowers, greenery, or a cake topper to make it more festive. The great thing about tower display stands is that they can be re-used for other treats, such as cupcakes, macarons or brownies. Here is an example of a tower stand by PropOptions, Etsy.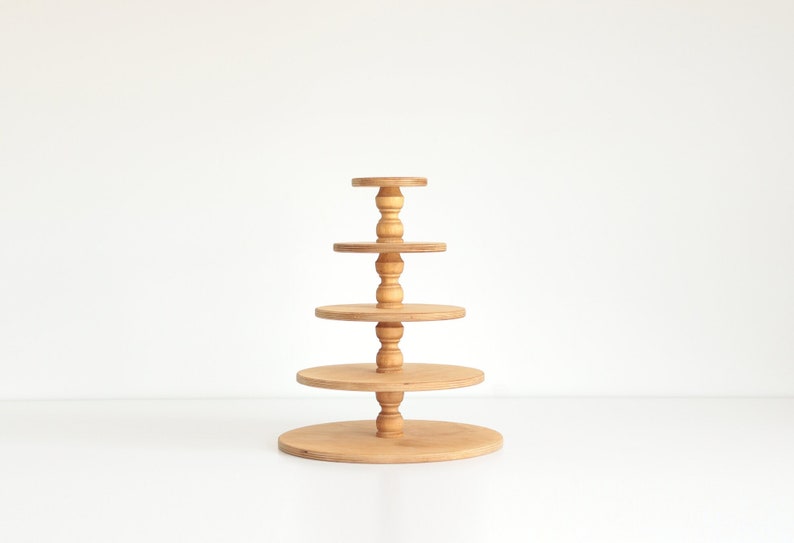 Doughnuts as Wedding Favours
Why not consider doughnuts as wedding favours? You can choose from different flavours and toppings, matching your wedding theme. Ask a baker to pipe your initials or your wedding date onto the icing, to make each doughnut even more special. Or, order some personalised bag, so that each guest leaves with a truly special treat. Here is an example of a printed paper bag you might like by Simply Stationery UK, Etsy.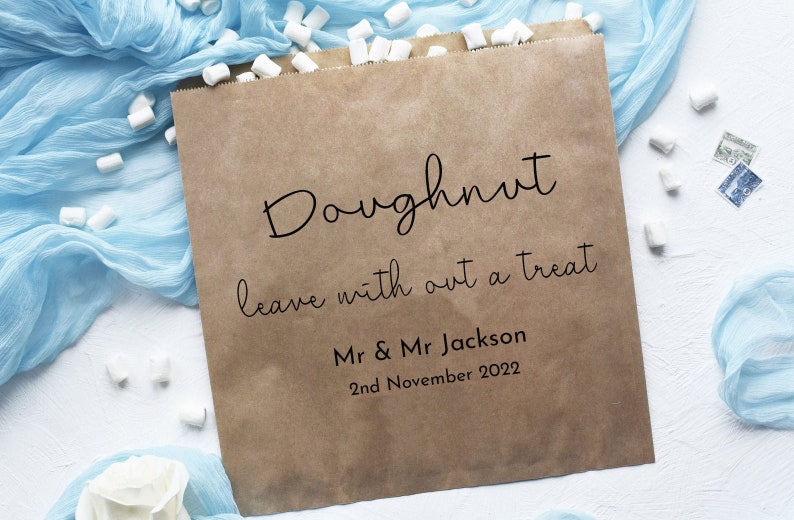 Don't forget to leave a comment below, letting us know whether you love doughnuts and whether you find the idea of doughnuts at weddings exciting. We would also love to hear what doughnuts you love most, as it might help engaged couples with choosing doughnut flavours for their wedding guests.