Disclaimer: This blog post contain affiliate links. If you click through the links and make a purchase, we might earn a small commission but that is at no extra cost to you.
Practical Tips on Hosting the Perfect Summer Wedding:
Summer is a wonderful season to tie the knot, with long days, warm weather and beautiful flowers blooming everywhere. It is the most popular time of the year for weddings, so venues and suppliers tend to get booked up quickly so our first tip is to book as early as possible, to secure your preferred date and venue. You can also consider getting married on a weekday or in the early or late summer months, which are less busy and more affordable than weekends or mid-summer.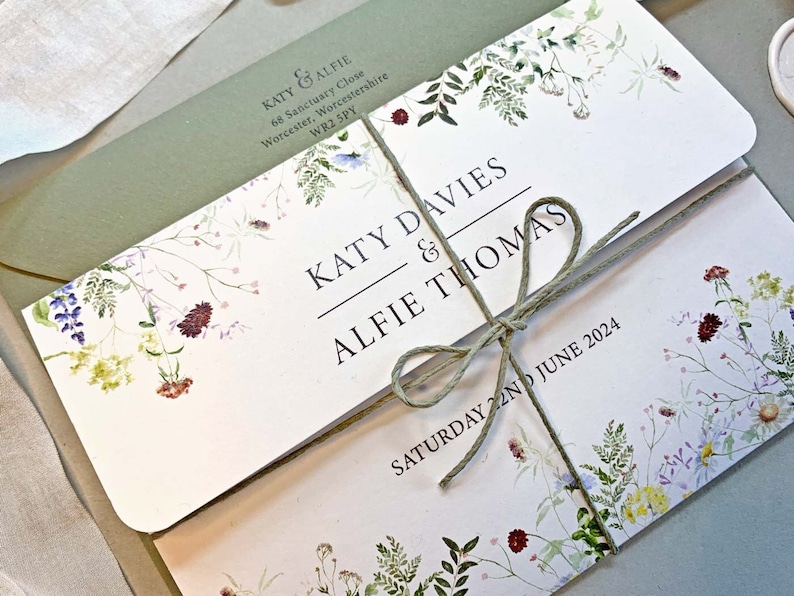 Image: Summer Wedding Invitation by Tiny Fox UK, Etsy.
You have a wide choice of venue to choose from, from country houses and barns to gardens and marquees. However, not all venues are suitable for all weather conditions, so make sure you choose one that can accommodate both sunny and rainy scenarios. For example, if you want an outdoor ceremony or reception, look for a venue that has an indoor or covered option as well, or that can provide umbrellas, heaters or fans if needed.
The location of your wedding can make a big difference in how you style it. For example, if you want a beach wedding, you might opt for a casual and breezy vibe with light fabrics, natural elements and bright colors. If you prefer a garden wedding, you might go for a romantic and elegant look with floral arrangements, lace and pastels. Whatever venue you choose, make sure it has enough shade, ventilation and cooling options to keep you and your guests comfortable. Handcrafted Items such as vintage fans will add a personal touch to your summer wedding.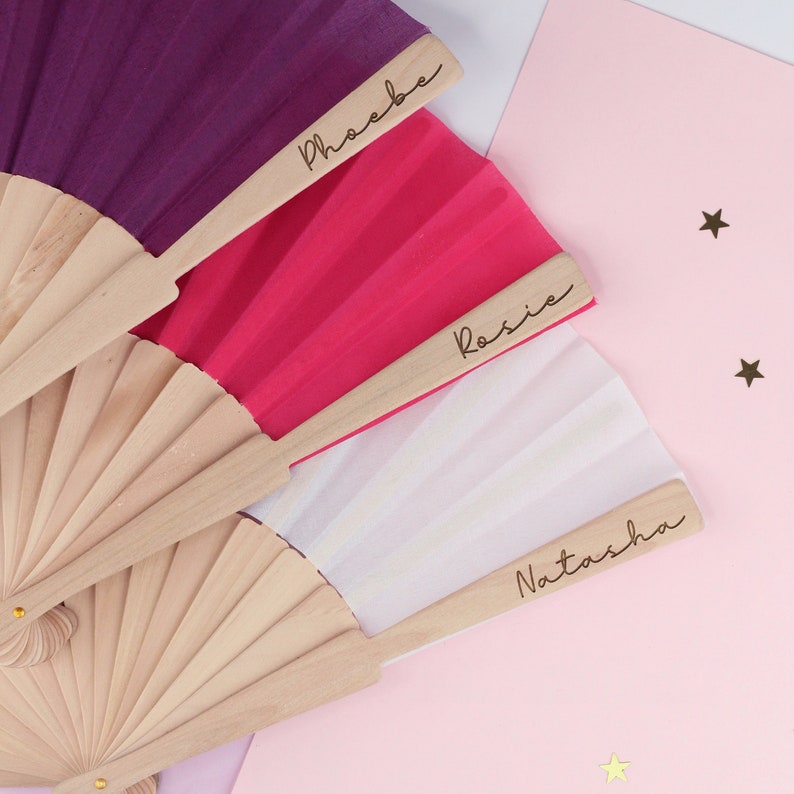 Image: Personalised Wooden Fans by Gifts Ina Giffy, Etsy
The colors you choose for your wedding can set the mood and reflect your personality. For a summer wedding, you might want to avoid dark and heavy colors that can make you feel hot and stuffy. Instead, opt for lighter and brighter colors that can create a fresh and cheerful atmosphere. You can also mix and match different shades of the same color family to create some contrast and interest.
Flowers are an essential part of any wedding, but they can also wilt and fade in the summer heat. To avoid this, choose flowers that are in season and can withstand high temperatures. Some examples are sunflowers, roses, dahlias and hydrangeas. You can also use artificial flowers or non-floral alternatives such as succulents, fruits, candles or lanterns.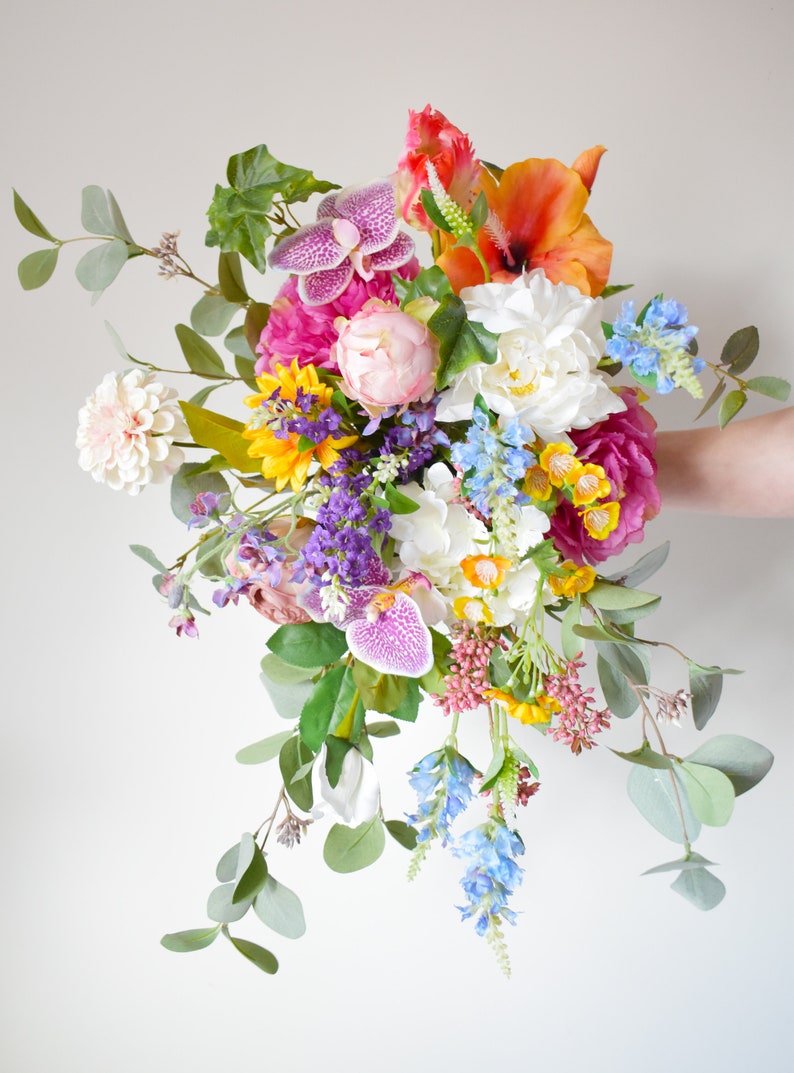 Image: Silk Flower Bouquet by Falcado Flowers, Etsy.
Summer is a great time to incorporate seasonal elements into your wedding theme and decor, such as fresh flowers, fruits, herbs and colours. You can also use seasonal food and drinks for your catering, such as salads, barbecue, ice cream, lemonade and Pimm's. Summer weddings also lend themselves well to fun and relaxed themes, such as festival, beach or garden party.
While summer weddings can be lovely, they can also be too hot, perhaps even uncomfortable for you and your guests, especially your elderly guests. To avoid this, make sure you provide plenty of shade and water for your guests, if they are outdoors for a long time. You can also consider giving them welcome bags with summer essentials, such as sunglasses, hats, flip flops or other practical items such as natural insect repellent, made with essential oils.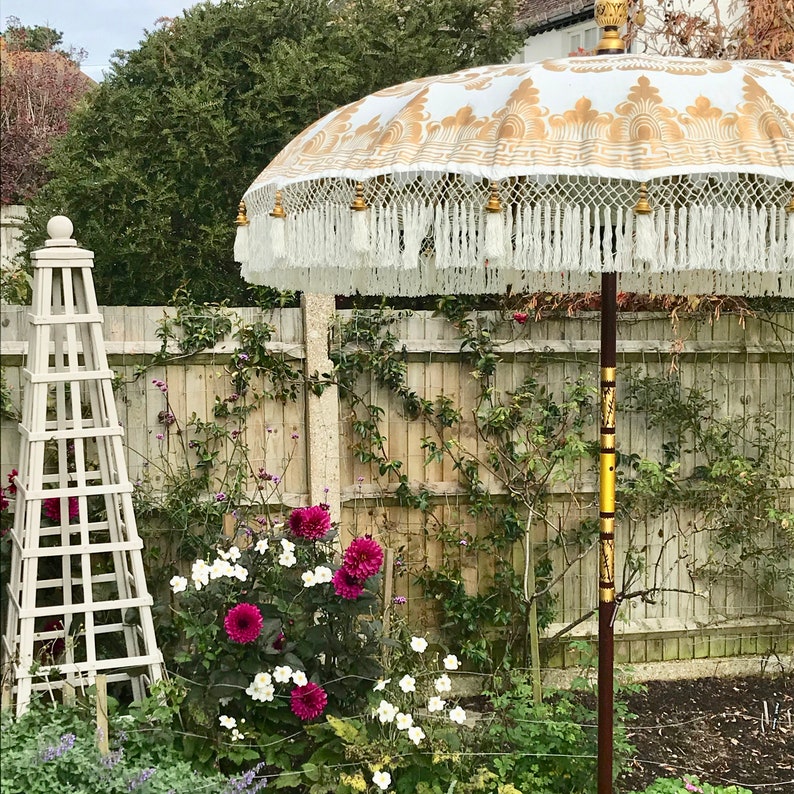 Image: Handcrafted Parasol, by Balinese Parasols UK, Etsy.
Summer weather can be unpredictable, so even if you plan your wedding for the sunniest month of the year, you might still end up with rain or wind on your big day. To avoid disappointment and stress, have a backup plan for every aspect of your wedding that depends on the weather, such as your ceremony location, your photography spots, your entertainment options and your transportation arrangements.
A summer wedding is a great opportunity to add some fun and whimsical details to your styling. For example, you can use parasols, fans, sunglasses or hats as favors or props for your guests. You can also incorporate some summer-themed elements such as seashells, starfish, pineapples or flamingos into your decor. You can also have some fun activities such as lawn games, photo booths or ice cream carts to entertain your guests.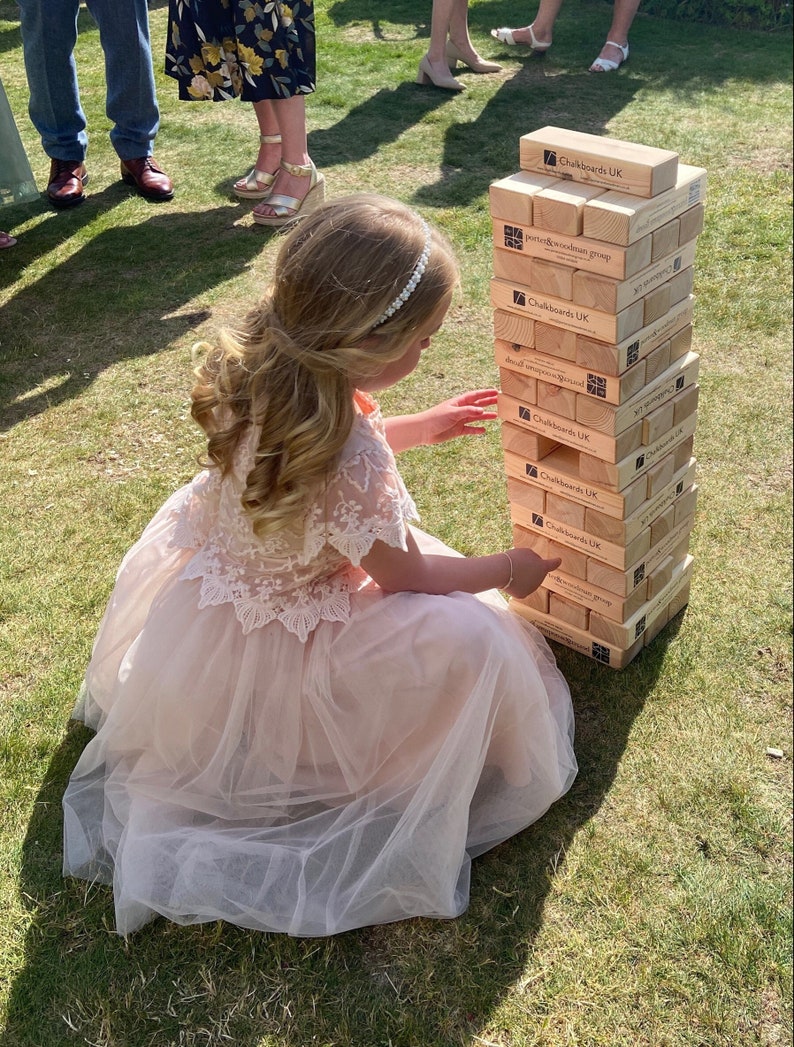 Image: Tumbling Blocks by Porter and Woodman, Etsy.
Last but not least, don't forget to keep yourself and your guests hydrated and refreshed throughout your wedding. Provide plenty of water stations with ice, lemon slices or mint leaves. You can also serve some refreshing drinks such as lemonade, iced tea or cocktails. You can also offer some light and fresh snacks such as fruit salads, cheese platters or mini sandwiches.
Our last tip for you is to remember to have fun and enjoy every moment of your special day!