Disclaimer: The post below contains affiliate links. If you click through any of the of the links below and make a purchase, we might earn a small commission but that is at no extra cost to you.
Are you planning a wedding and looking for some unique and meaningful ways to celebrate your love? If so, you might want to consider incorporating some Celtic wedding traditions into your big day. Celtic culture is rich with symbolism, history and folklore, and there are many beautiful customs that you can use to make your wedding more special and memorable. Here are some of the most popular Celtic wedding traditions and how you can use them in your own ceremony and reception.
Photo: Celtic ring by Royal Mile Silver, Etsy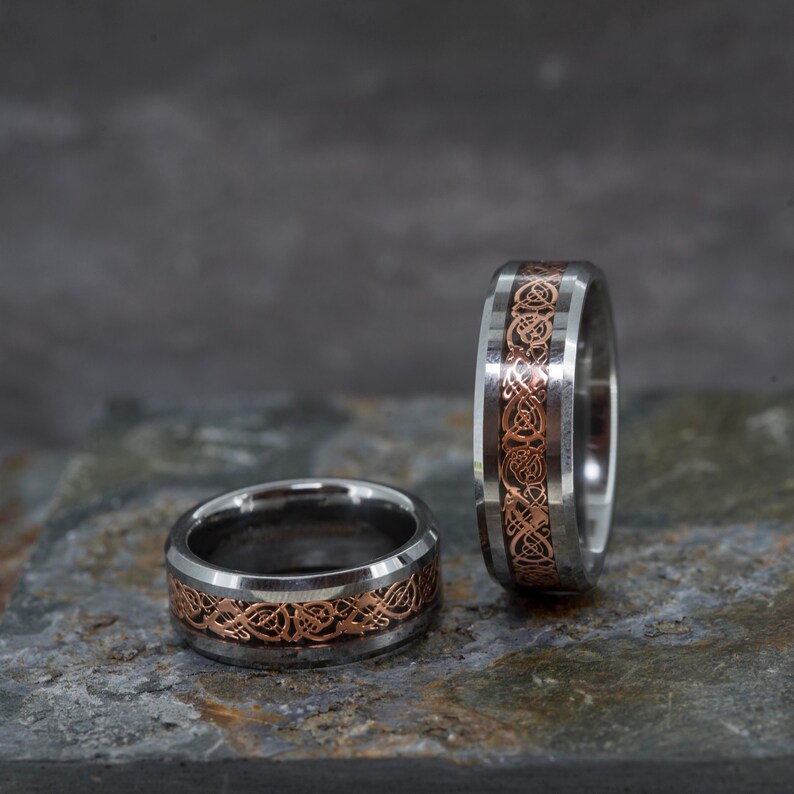 Special Dates in the Celtic Calendar
Pick a date that coincides with a celtic festival or season.
The Celts had a rich calendar of festivals that marked the changes of the year and the cycles of life.
Some of the most popular ones are Imbolc (February 1st), Beltane (May 1st), Lughnasadh (August 1st), and Samhain (October 31st). These festivals are associated with different aspects of celtic culture, such as fertility, fire, harvest, and ancestors.
The wedding dress you see on the photo below, by Celtic Fusion Design, Etsy is inspired by the Beltane festival.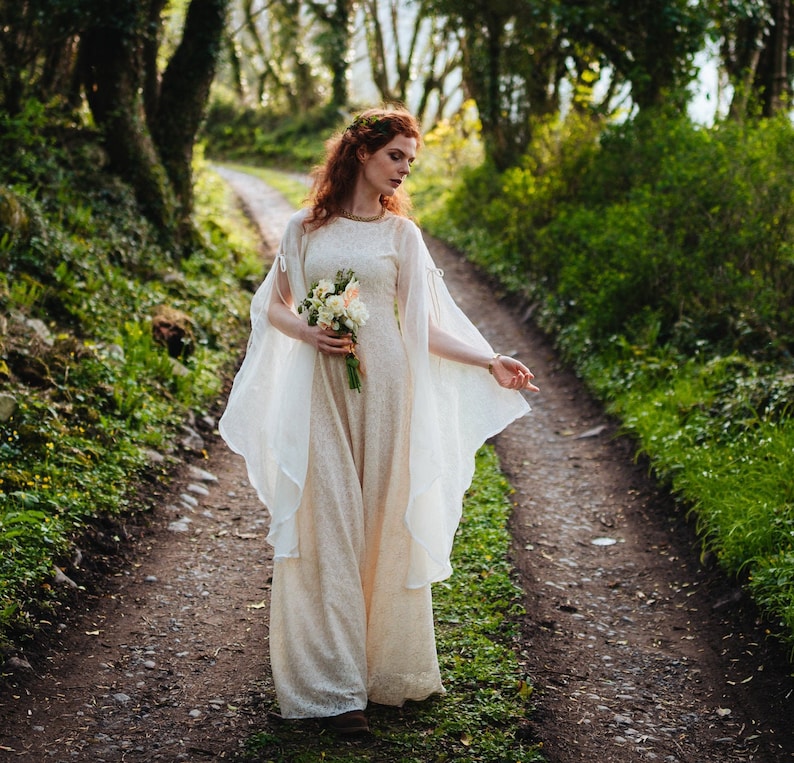 Celtic Symbols and Motifs
You can wear a traditional celtic dress or kilt, or accessorize with items such as a torc, a cloak, or a brooch.
You can also use celtic knotwork, spirals, triskeles, and other patterns to adorn your invitations, cake, rings, and favours.
When choosing your colour palette, you migh want to choose colours that represent the celtic elements. This would be green for earth, blue for water, red for fire and yellow for air.
Photo: Celtic Heart Stud Earring by Eden Raine London, Etsy.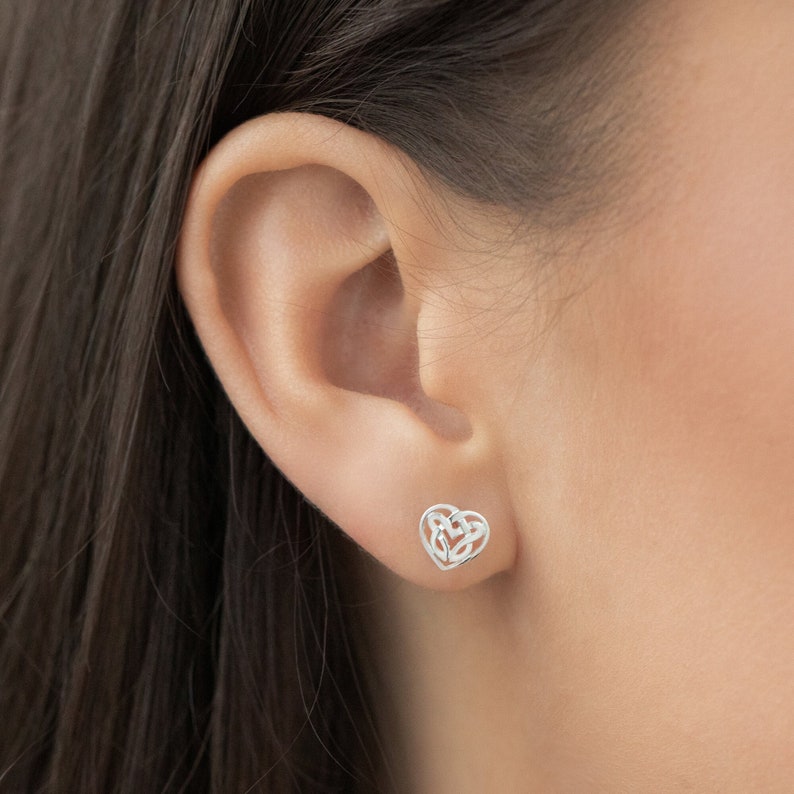 Celtic Music and Dance
Celtic music is really beautiful and is perfect for special occasions, especially the romantic ones. You can hire a band or a DJ that plays celtic music, such as harp, flute, fiddle, bagpipes, or drums.
You can also learn some celtic dances, such as jigs, reels, hornpipes, or ceilidhs, and invite your guests to join you on the dance floor.
You can also have a storyteller or a bard who can recite some celtic poems or tales.
Reciting a blessing will also be a nice touch. You might like the blessing on the photo below, by Laser Etching Art, Etsy.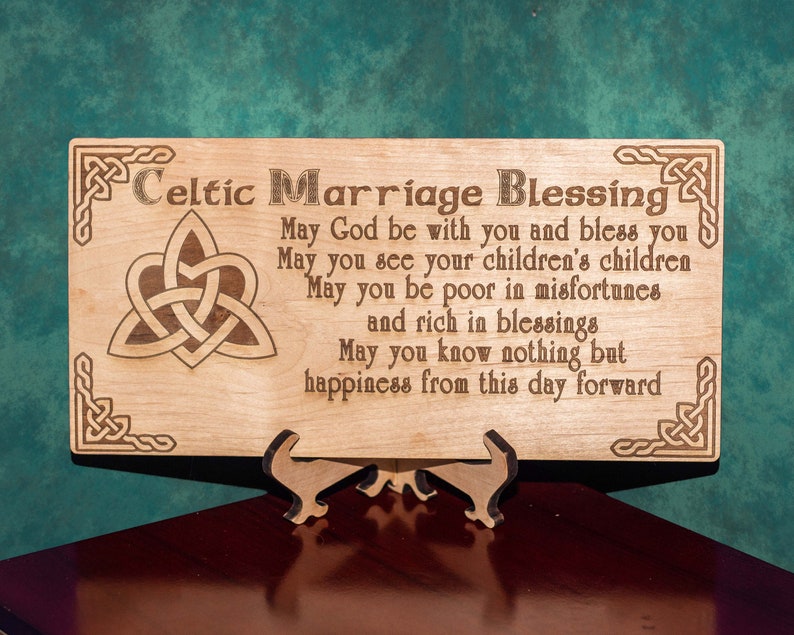 The Tradition of Handfasting
This is one of the oldest and most recognizable Celtic wedding traditions, dating back to ancient times. It involves tying the hands of the bride and groom together with a cord or ribbon, symbolizing their union and commitment.
The cord can be made of any material or color, but some common choices are tartan, silk, lace or wool.
The knot can be tied by the officiant, a family member or a friend, or by the couple themselves. Some couples choose to have their hands tied for the entire ceremony, while others untie them after exchanging vows or rings.
Handfasting can also be done as a separate ritual before or after the main ceremony.
Here is an example of a beautiful handfasting cord by Fable and Drifter, Etsy.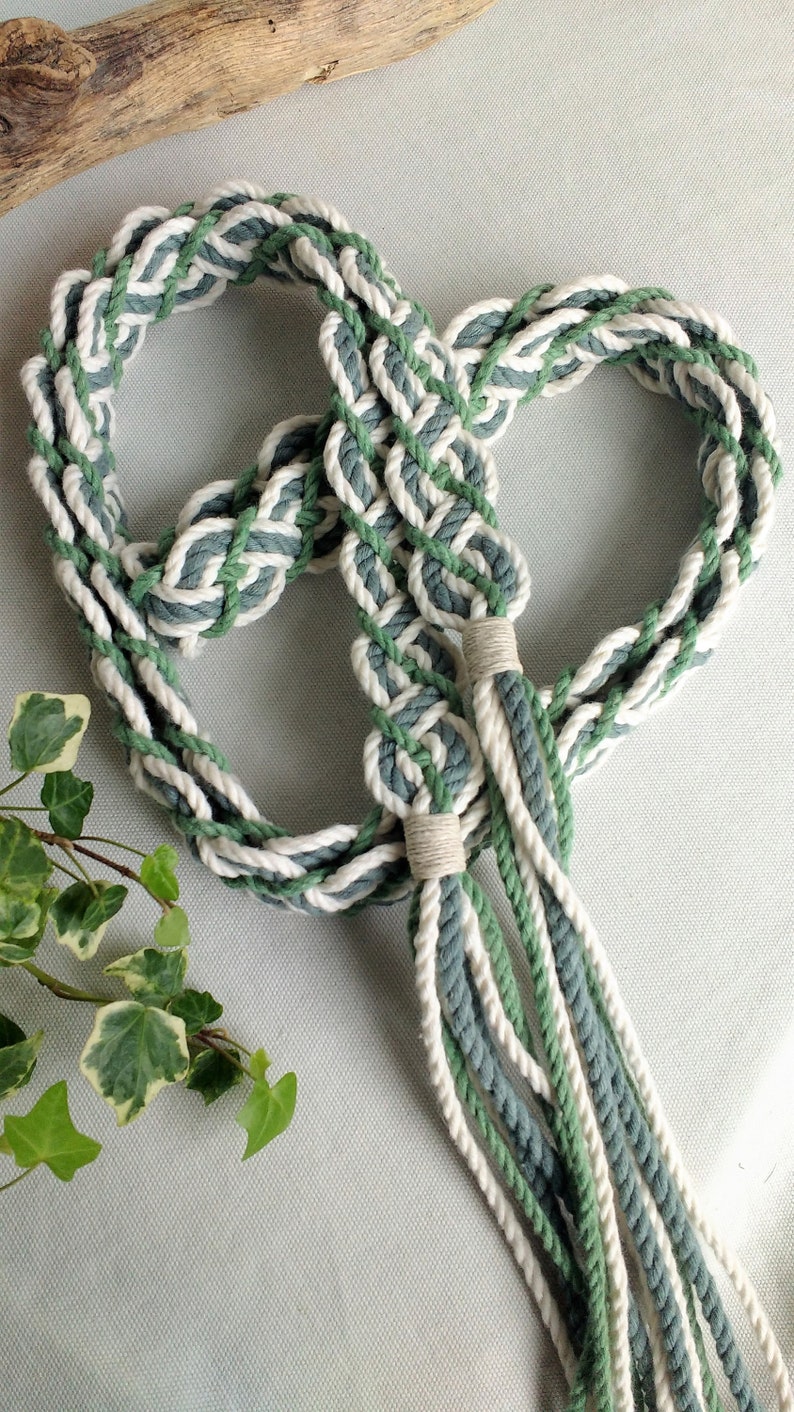 The Tradition of Oathing Stone
Another ancient Celtic tradition is to hold an oathing stone while saying your vows.
The stone can be any shape or size, but it should have some personal significance to you or your partner. It can be a stone from your hometown, a place you visited together, a gift from a loved one or something else.
The idea is that the stone represents the solidity and permanence of your marriage, and that your vows are etched into it as you speak them.
You can keep the stone as a keepsake after the wedding, or bury it in a special place.
We love this handpainted oathing stone by The Little Stone Shop on Etsy.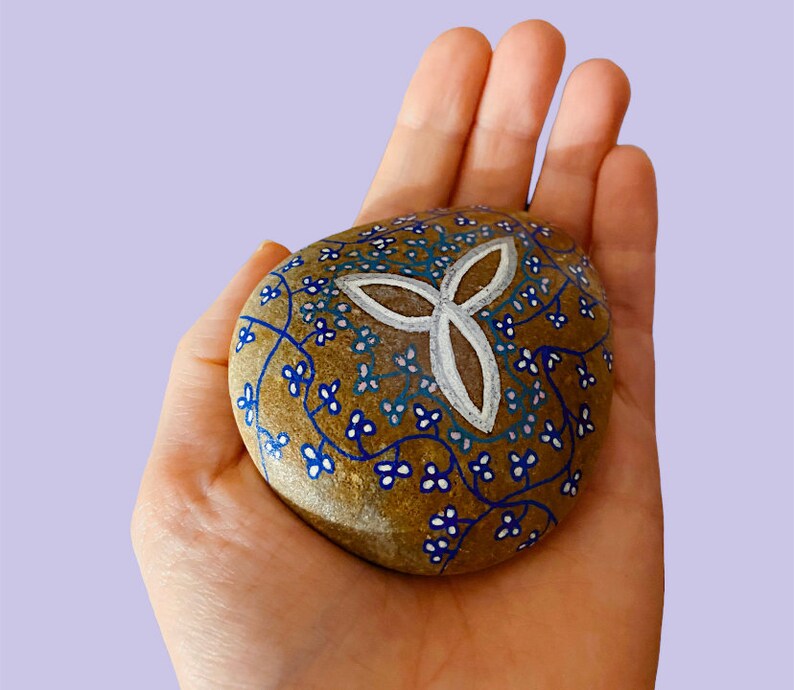 A Special Drinking Cup called Quaich
A quaich is a two-handled drinking cup that is used to share a toast between the bride and groom, and sometimes with their guests as well.
The quaich can be made of wood, metal, glass or ceramic, and it can be engraved with your names, initials, wedding date or a meaningful message.
The drink inside can be anything you like, but some traditional options are whiskey, mead, wine or ale.
The quaich symbolizes the sharing of love, friendship and hospitality between the couple and their families.
The quaich you see on the photo below is by The Kilted Scott, Etsy.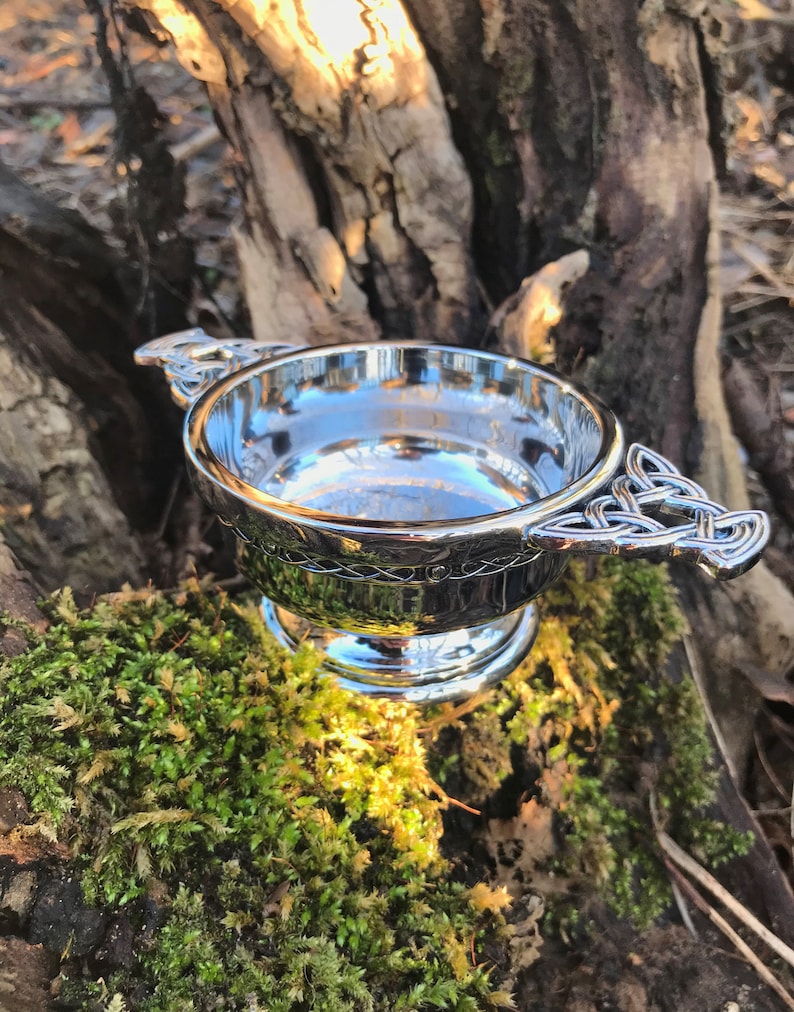 Celtic Knot
The Celtic knot is a well-known symbol of Celtic art and culture, and it can be used in many ways to decorate your wedding.
The knot has no beginning or end, representing eternity, continuity and interconnection. You can find or make jewelry, accessories, cake toppers, invitations, favours and more with Celtic knot designs.
You can also incorporate the knot into your wedding rings, either as an engraving or a shape.
Here is an example of a wedding guest book with celtic knot decorations, by The Most Special Day, Etsy.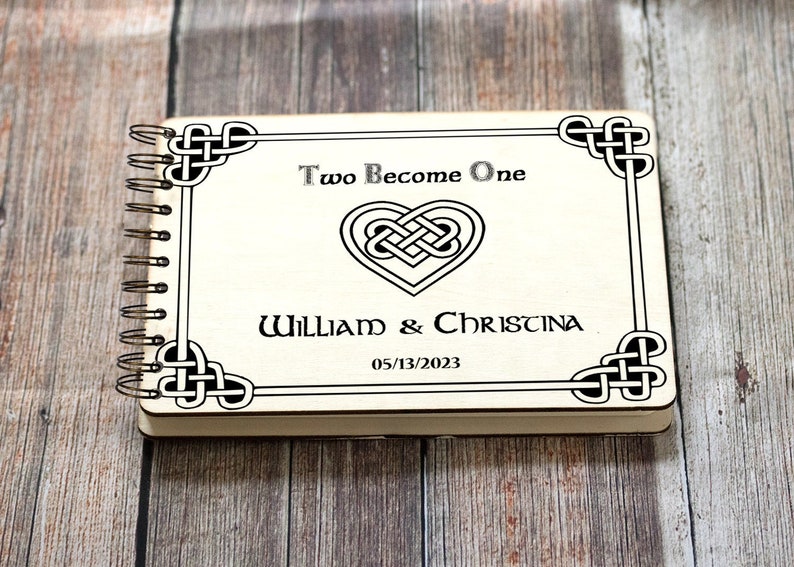 Claddagh Ring
The Claddagh ring is a traditional Irish ring that features two hands holding a heart with a crown on top.
The hands represent friendship, the heart represents love and the crown represents loyalty.
The ring can be worn as an engagement ring, a wedding ring or both.
The way you wear it also has a meaning: if you wear it on your right hand with the heart facing outwards, it means you are single; if you wear it on your right hand with the heart facing inwards, it means you are in a relationship; if you wear it on your left hand with the heart facing inwards, it means you are married.
The ring can be silver or gold, and sometimes has emeralds, or other stones, set within the heart. Here is an example of gold Claddagh ring by Jewellery 4 Less, Etsy.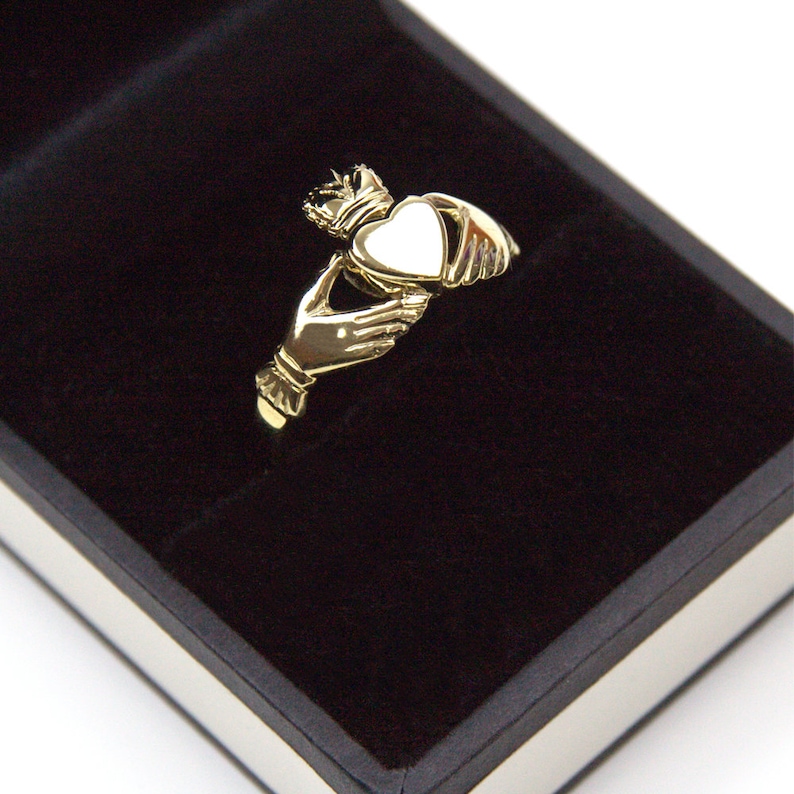 Celtic Bridal Headpieces
Celtic headpieces typically feature intricate knotwork, spirals, crosses, or other symbols that represent the Celtic heritage and beliefs. Some of them also incorporate natural elements such as flowers, leaves, or feathers.
Celtic headpieces can be made of metal, fabric, leather, or even fresh or dried flowers.
They can be worn as tiaras, crowns, circlets, or hair clips.
Here is an example of a headpiece that would look amazing at a Celtic wedding, by Celtic Fusion Design, Etsy.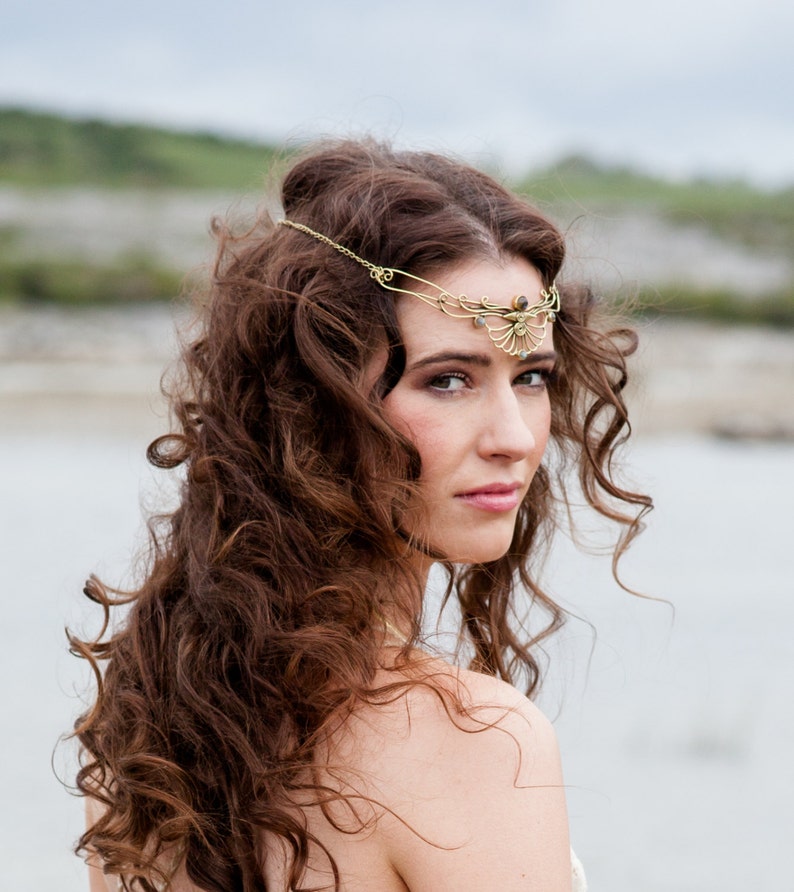 Celtic Wedding Spoon
A Celtic wedding wooden spoon is a beautiful and meaningful gift for a newly married couple. It symbolizes love, harmony, and prosperity in their new life together.
The spoon is hand-carved from a single piece of wood, usually oak or ash, and decorated with intricate patterns and symbols. Some of the common motifs are hearts, knots, horseshoes, and bells.
The spoon can be used to stir food, serve soup, or hang on the wall as a decorative piece.
It is a tradition that dates back to the 17th century in Wales, where young men would carve spoons for their sweethearts as a token of their affection and intention to marry. Today, Celtic wedding wooden spoons are popular among couples who want to celebrate their heritage and culture, or who simply appreciate the craftsmanship and beauty of these unique items.
The Celtic love spoon on the photo below is by Wood Craft Anglesey, Etsy.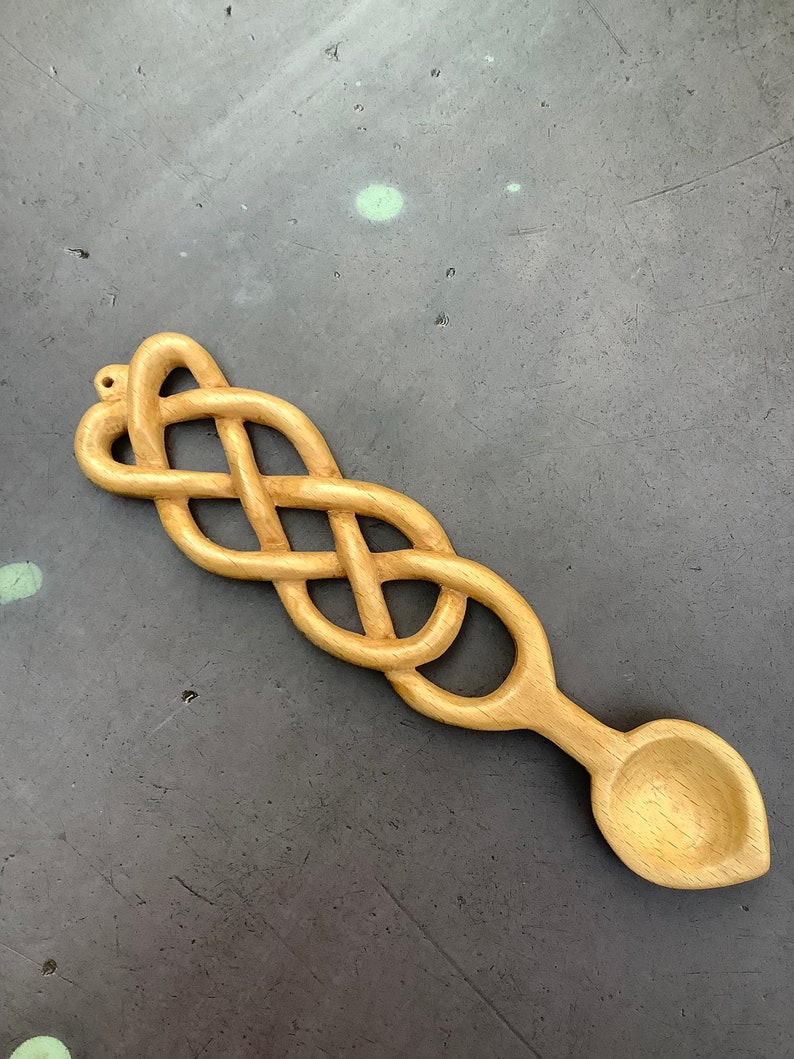 These are just some of the many Celtic wedding traditions that you can choose from to make your wedding more personal and meaningful. You don't have to be of Celtic descent to use them; anyone who appreciates Celtic culture and heritage can enjoy them. They are also very adaptable and customizable, so you can make them fit your style and preferences. Whether you use one or several of these traditions, you will surely create a beautiful and unforgettable wedding that celebrates your love in a special way.