Disclaimer: This blog post contains affiliate links. If you click through the links below and make a purchase, we might earn a small commission but that is at no extra cost to you.
Wedding Favours – Traditional or Contemporary?
You might be wondering what kind of favours to give your guests. The first question you could ask yourself is whether you want to give out traditional wedding favours, or contemporary ones. Contemporary ones could be practical keepsakes, such as a pack of tea or seeds to plant. The traditional ones are often filled with sugared almonds. Let's have a closer look at sugared almonds today, also known as confetti or dragées. Why do we give these sweet treats at weddings, and what do they symbolize?
Image below: Sugared Almonds by Perfect Tables, Etsy.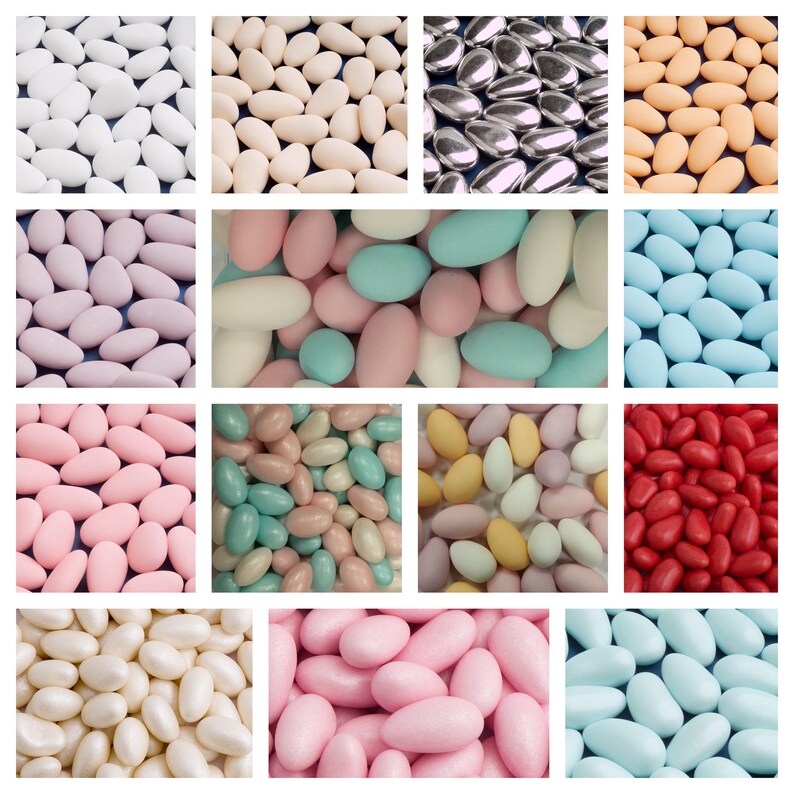 When did the tradition of sugared almonds start?
Sugared almonds have a long history that dates back to ancient Rome, where they were given as gifts to celebrate births, anniversaries, and other important occasions.The Romans believed that almonds had health benefits and could ward off evil spirits. In the Middle Ages, sugared almonds became associated with weddings, especially in Italy and France. They were seen as a symbol of the union between the bride and groom, as well as their families and friends. The hard sugar coating represented the durability and strength of their marriage, while the bitter almond inside represented the challenges and difficulties they would face together. The sweetness of the sugar also signified the hope for a happy and prosperous future.
What do sugared almonds represent?
Today, sugared almonds are still a common wedding favor in many cultures and countries. They are usually given in groups of five, which represent five wishes for the newlyweds:
health
wealth
happiness
fertility
longevity
How to add a meaning to sugared almonds
Some people also add different colors or flavors to the almonds to convey different meanings. For example, white almonds symbolize purity and innocence, pink or blue almonds symbolize a baby boy or girl at christening celebrations, and silver or gold almonds symbolize elegance and sophistication.Sugared almonds are not only delicious, but also meaningful and sentimental. They are a way of thanking your guests for sharing your special day, and of wishing them good luck and joy in their own lives. They are also a reminder of the love and commitment that you and your spouse share, and of the sweet moments that you will cherish forever.
Sugared Almonds in Organza Bags
Organza bags are available in various sizes, shapes and colors. You can find them online or at craft stores. You can also make your own organza bags by cutting and sewing organza fabric. Organza bags look nice together with personalised tags with your names, wedding date and a thank-you message. Organza bags are a classic and affordable wedding favor that your guests will appreciate and enjoy. They are also easy to transport and store until the big day. You can display them on a table near the exit or place them on each guest's seat. They will add a touch of sweetness and elegance to your wedding celebration.
The ready made organza bag favours on the photo below are by The Pure Moment, Etsy.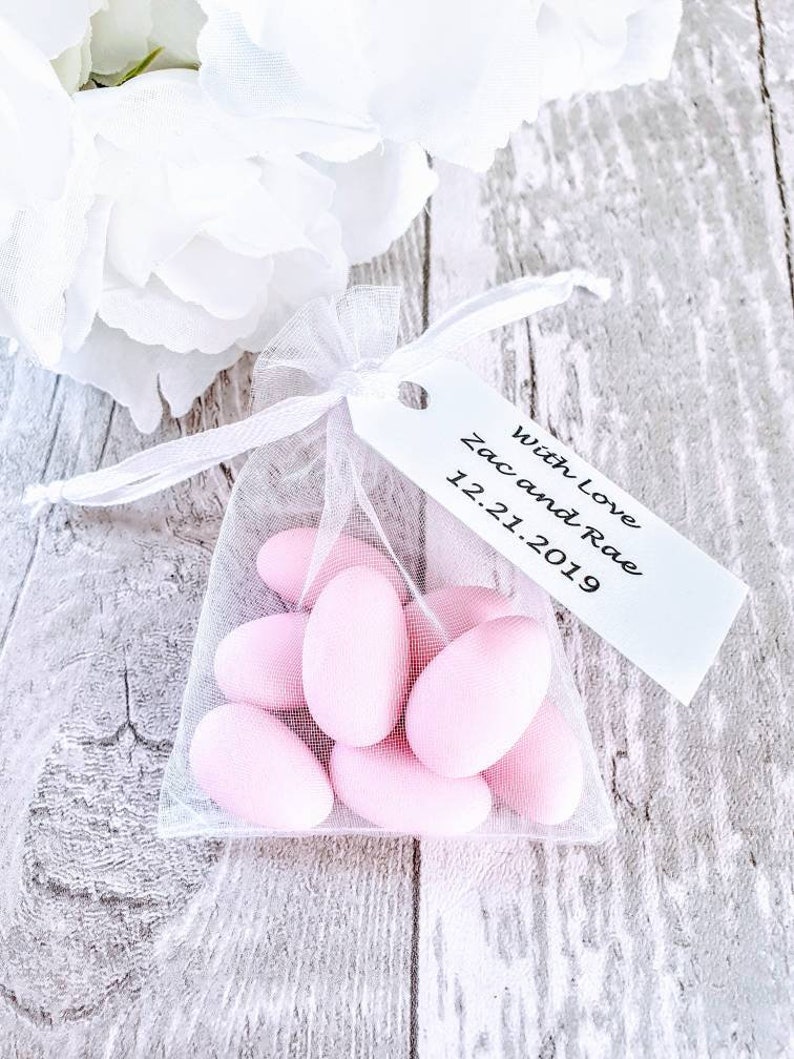 Wedding Bonbonieres
If you would like wedding favours with a very classic look, you might want to consider bonbonieres with tulle layers, or organza layers. Tulle and organza are both lightweight, sheer fabrics that are often used for veils, tutus, and wedding dresses. They comes in various colors and textures, and it can create a beautiful effect when layered. Addring ribbon, lace, or flowers to will make bonbonieres more personalised and attractive. The bonboniere could also have a tag with your names and wedding date, or a thank you message for your guests.
The beautifully made bonboniere you can see on the photo below was made by Karen's Favour, Etsy.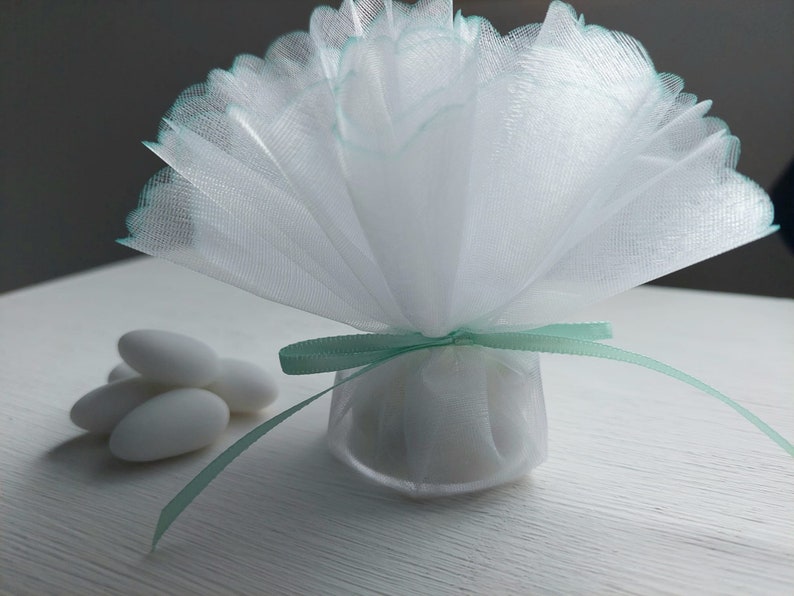 Hessian Bags with Sugared Almonds
Hessian gift bags are a popular choice for eco-friendly and stylish wedding favours and look very nice when filled with sugared almonds. They are made of hessian, which is a type of coarse woven fabric that is derived from the jute plant. Jute is a natural fiber that is biodegradable, renewable and durable.
Hessian gift bags have a rustic and natural look that suit weddings perfectly.They can also be customized with different colors, prints, ribbons and tags to match your theme and preferences. Hessian looks wonderful when combine with other types of fabrics such as lace, which is ideal for displaying sweets.
The wedding favours on the photo below are by Made by Me by Georgina, Etsy.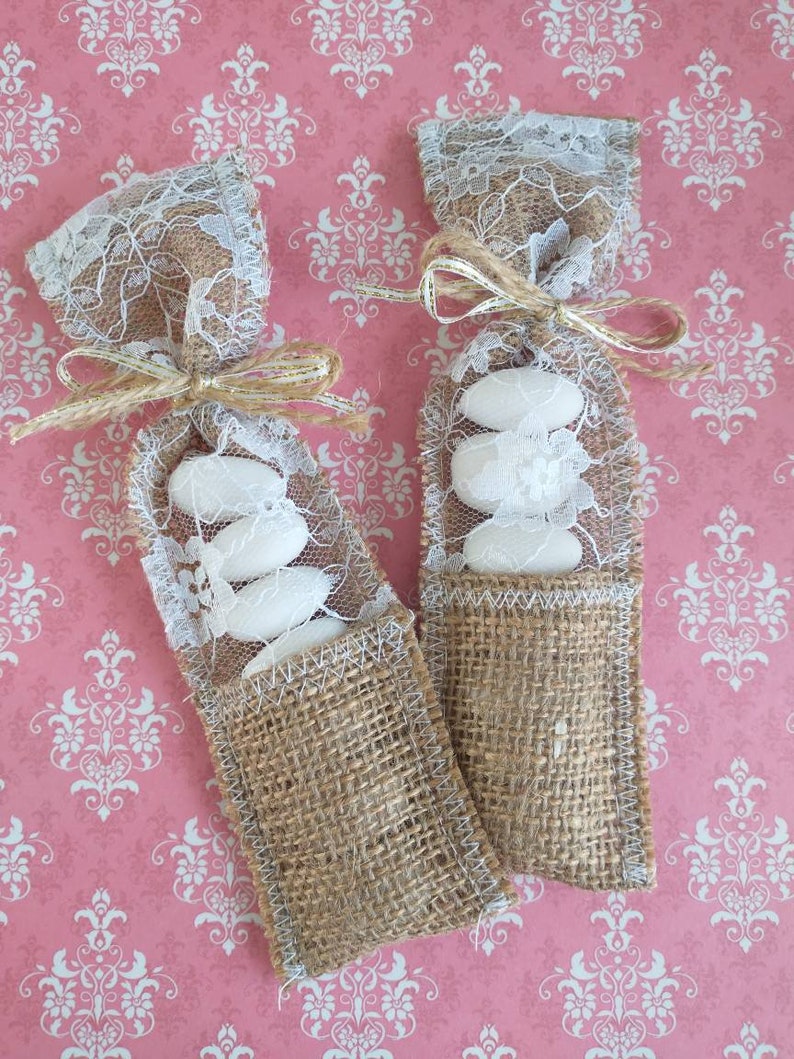 Confetti Ribbon Wedding Favours
Another way of presenting sugared almonds to wedding guests is by handcrafted decorations, such as the one on the photo below, by Glory Store Gifts, Etsy.
The embossed ribbon the decoration is made with has little built in pockets, which is a very sophisticated ways of packaging sugared almonds. These wedding favours are perfect for traditional weddings but would not look out of place at a contemporary venue.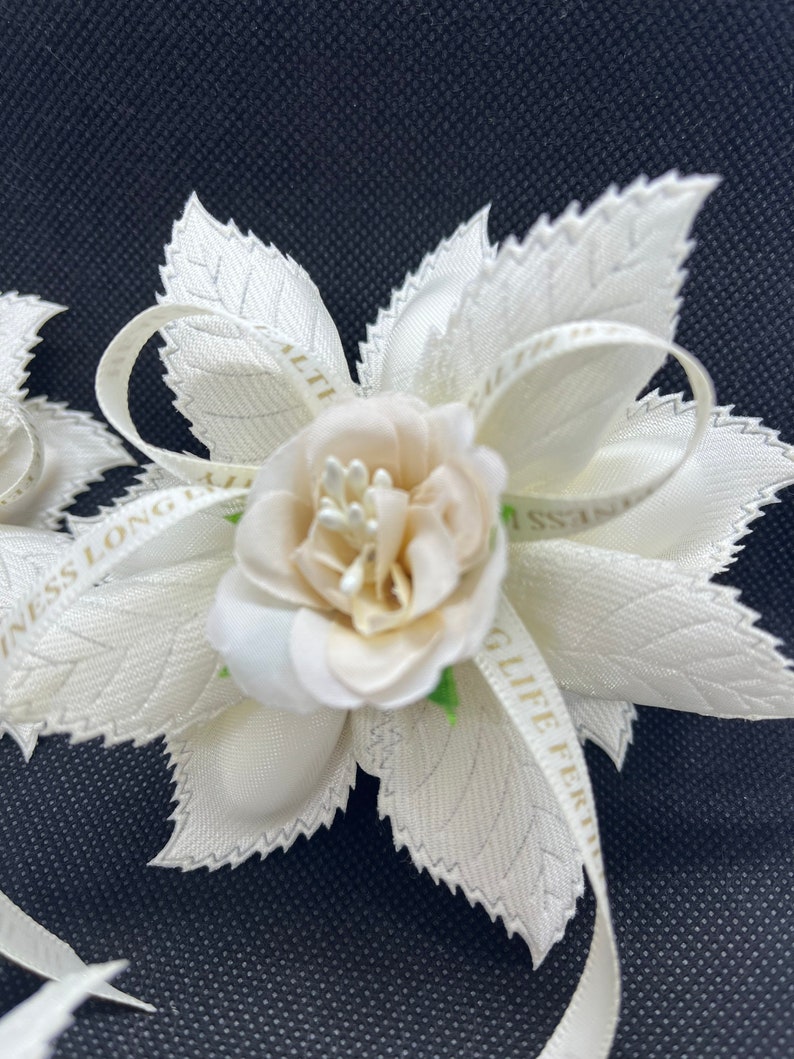 Test Tubes with Sugared Almonds
To give wedding favours with sugared almonds a modern twist, go for test tubes with decorations and tags, such as those on the photo below by The Pure Moment.
Test tubes are a creative way to package sugared, and your guests will appreciate that they look so cute and artistic. Plus, test tubes are very affordable and easy to find online or at craft stores although you might prefer ready made options such as the favours on the photo below by The Pure Moment, Etsy.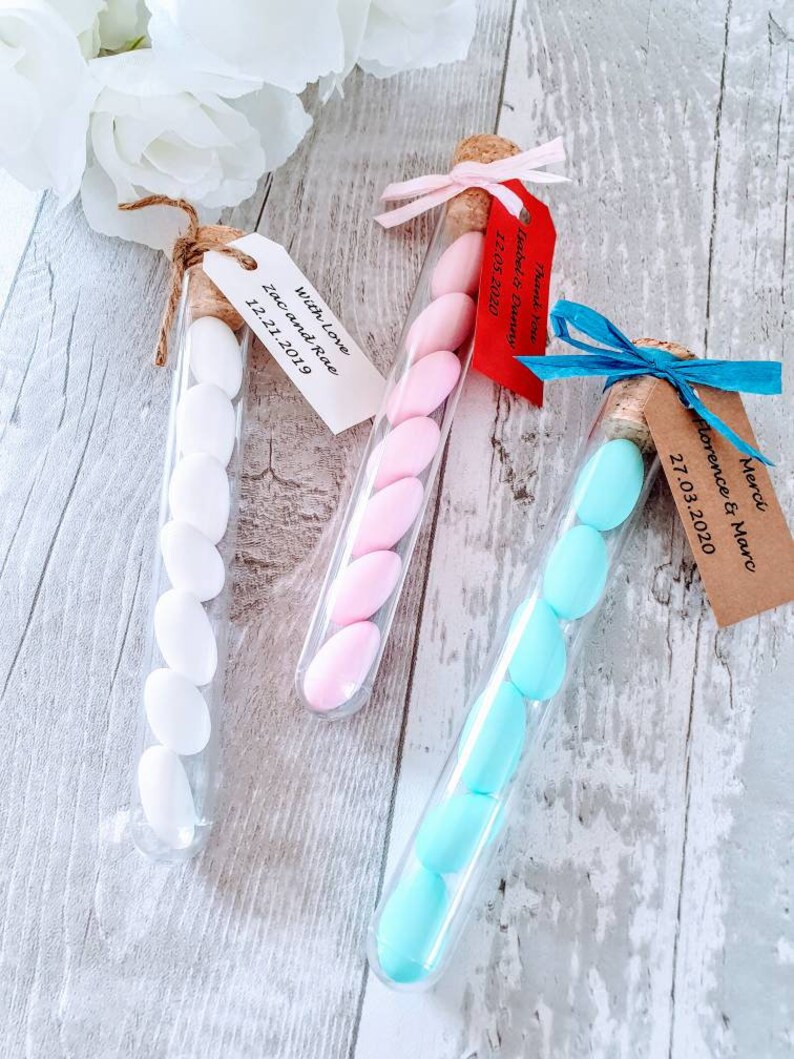 Satin Pouches
Satin pouches are yet another option of how to present sugared almonds to wedding guests.
Satin is one of the most popular fabrics for wedding decorations as it is smooth and shiny. Satin is not a type of fiber, but a type of weave. That means it can be made from different materials, such as silk, polyester, nylon or cotton.
The satin weave is characterized by having four or more warp threads interwoven. This creates a smooth surface with a glossy sheen, because the light reflects off the long threads
The handcrafted pouch with satin ribbon and a diamante decoration in the shape of a heart on the photo below is by Bomboniere by Maria, Etsy..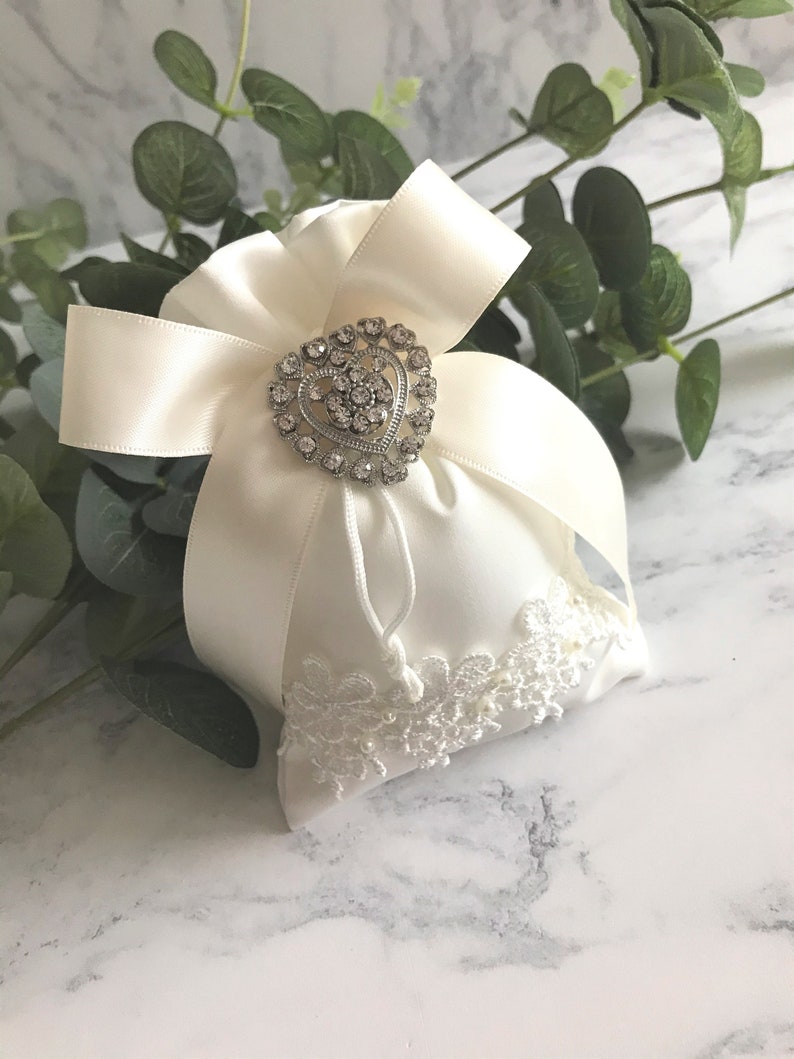 DIY Wedding Favour Boxes
For inspiration on DIY ideas for your wedding favour boxes, visit our YouTube Channel. We have created a playlist dedicated to decorating wedding favour boxes. You could make your wedding favours as elaborate as you like, adding diamante buckles, different types of ribbons, glue on gems or embossed paper decorations.
The example of DIY boxes on the photo below are by Perfect Tables, Etsy. They are made with rustic craft paper and look very natural.